Geely and Changan in strategic alliance for drivetrains, platforms, tech
The two Chinese giants plan to explore opportunities in new energy technologies, vehicle intelligence, new energy powertrains, overseas development, mobility, and industrial ecology.
Zhejiang Geely Holding Group (Geely Group) and Chongqing Changan Automobile Co (Changan Automobile) have signed a strategic cooperation framework agreement.
The two companies plan to explore strategic cooperation opportunities around new energy technologies, vehicle intelligence, new energy powertrains, overseas development, mobility, and industrial ecology. The partnership agreement, signed on May 9, also aims to "jointly promote the development of Chinese brands, create a better mobility experience for users, and support the transformation, elevation, and high-quality development of China's automotive industry."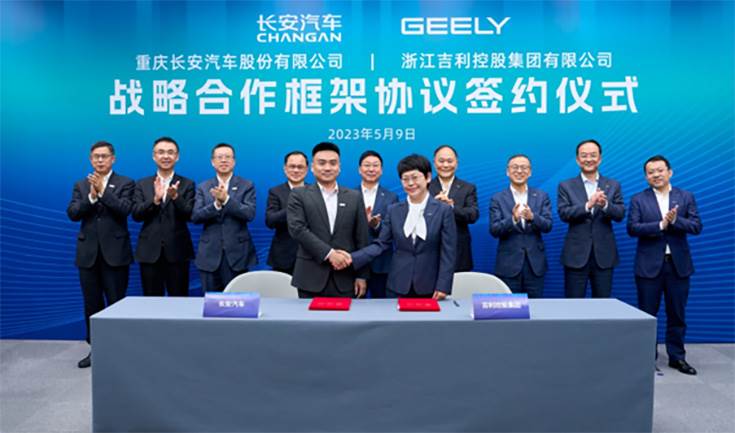 Fu Bingfeng, Executive Vice-President and Secretary General of China Association of Automobile Manufacturers, said: "Chinese automobiles are at a critical stage of their transformation, going from follower to leader. The cooperation between Changan and Geely, the two outstanding representatives among Chinese automakers, is conducive to building a better brand image of Chinese automobiles, give rise to industry synergy, and open the door to a new stage of high-level competition and cooperation between companies in the context of high-quality industrial development and high-intensity competition in the market."
Electrification, a key opportunity for Chinese automobile brands, is also the focus of the strategic cooperation.
In the field of new energy, the two automakers will cooperate on batteries cells, charging and battery swapping technology, new energy vehicle product safety, and new energy industrial ecosystem.
Meanwhile, they will also cooperate in developmental activities around chips, operating systems, connectivity between vehicle and mobile devices, high precision maps, and autonomous driving. The two companies will also explore cooperation on new energy powertrain technology, shared development overseas, mobility ecology, industrial internet, block chain, supply chain traceability, digital carbon management, and carbon trading to accelerate the real world application of forward-looking technologies.
Zhu Huarong, Chairman of Changan Automobile, said: "This strategic cooperation is a model of alliance between giants. Taking this as a new starting point, the two companies will play to their respective advantages and share resources to bring better services and experiences to global users and promote the high-quality development of the auto industry. "
Eric Li, Chairman of Geely Holding Group, said: " We are now in an era of change centered around the limitless technological development, free and open cooperation across sectors and industries, co-creating and sharing. Geely and Changan will work closely together to increase investment and complement each other's strengths to create better experiences for users and accelerate innovation in the industry. We will work together to strengthen our core competitiveness and help Chinese automobiles rise up in the global automotive value chain as soon as possible."
RELATED ARTICLES