Ferruccio Lamborghini inducted into Automotive Hall of Fame
Recognized for his immeasurable contributions to the automotive industry.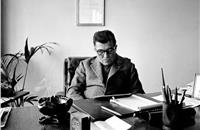 On July 21, top automotive executives and VIPs gathered at The Icon on the Detroit waterfront to celebrate the induction into the Automotive Hall of Fame of a diverse group of automotive and mobility pioneers from around the globe, including the legendary Ferruccio Lamborghini.
Ferruccio Lamborghini was not only instrumental in establishing Automobili Lamborghini in 1963, but his unrelenting desire to always improve and innovate resulted in the creation of two of the brand's most iconic models: the Miura and the Countach. Ferruccio's approach was always daring, fuelled by the belief that the unexpected could be achieved by always striving to be better. His entrepreneurial and pioneering spirit is core to the brand's DNA today.
Andrea Baldi, CEO of Automobili Lamborghini Americas, attended the ceremony to accept this honour on behalf of Lamborghini. A marble plaque etched with Ferruccio Lamborghini's signature has been installed in the Hall of Honor at the Automotive Hall of Fame where visitors celebrate the men and women whose automotive innovations have changed the world and revolutionized our way of life.
Automotive Hall of Fame (AHF) is a non-profit organization that honours and celebrates the automotive / mobility industry's leaders and innovators through awards and programs that challenge young and old alike to higher levels of personal achievement.
Founded in 1939, The Automotive Hall of Fame has honored 757 awardees from around the world, who have impacted and influenced the automotive and mobility industries. The Automotive Hall of Fame is located at 21400 Oakwood Blvd in Dearborn, Michigan and is open to the public Thursdays – Sundays, 10a.m. – 4p.m. You can also visit the Automotive Hall of Fame online at automotivehalloffame.org
RELATED ARTICLES