Chevrolet launches new Orlando seven-seater in China
American carmaker introduces new model with a versatile reconfigurable 5+2 seating layout.
Chevrolet launches new Orlando seven-seater in China
Chevrolet launches new Orlando seven-seater in China
Chevrolet launches new Orlando seven-seater in China
Chevrolet launches new Orlando seven-seater in China
Chevrolet launches new Orlando seven-seater in China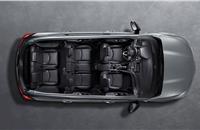 Chevrolet has launched the new Orlando, a new addition to the brand's portfolio, in China. Available in four variants, including two Redline models, it is designed with a versatile reconfigurable 5+2 seating layout. The price of the four Orlando variants ranges between RMB 119,900 and RMB 154,900.
According to Scott Lawson, general director of Chevrolet for SAIC-GM, "As one vehicle with multiple capabilities, the Orlando will meet the dynamic needs of consumers who have varied lifestyles and require a vehicle that can adjust to their everyday demands."
Versatile 5+2 seating configuration
The Orlando has a 2,796-mm wheelbase that helps support a functional 5+2 seating configuration. Its flexible cabin space meets the needs of young car buyers for all-weather, all-around utility.
The interior optimises practicality and comfort. Its second row of seats can be moved 210 mm forward and backward. Backrests allow a 26-degree adjustment, further enhancing comfort. The Orlando's third row of seats has one-button entry. By simply pressing a button on the right side of the second row, the second row of seats can be folded down and moved forward, making it easier for third-row passengers to get in and out. The third row has a comfortable cushion and adjustable headrest as well as excellent space due to the extra-long wheelbase.
The Orlando has a reconfigurable interior. The second row has 4/6 split folding seats and the third row has 5/5 split folding seats. With the second and third rows of seats folded down, interior space totals 1,520 litres. When five seats are being used, the rear has 479 litres of cargo space. Even when the third row of seats is occupied, the back can accommodate up to three large backpacks or two 20-inch suitcases. The Orlando's multifunctional roof rack enhances cargo-carrying capacity.
New design language
The Orlando has been inspired by the Chevrolet FNR-X sporty compact concept vehicle. Rather than being constrained by traditional family sedan styling, it adopts a new-generation design language.
The front fascia of the powerful and stylish exterior has a narrow top and wide bottom, with a shiny black trapezoidal double grille. It is complemented by bulging masculine lines on both sides of the hood that offer an imposing visual impression. Design details such as C-type vents on both sides of the grille, a black spoiler and arched wheel 'eyebrows' enhance the sense of movement while also effectively improving aerodynamics.
The profile of the Orlando showcases the large body visuals that are unique to long-wheelbase models and the model's 17-inch aluminum alloy wheels. It features a stunning rear spoiler, dual-element LED taillights and high-position LED brake lights.
According to Chevrolet, "The Orlando redefines the classic dual-cabin design, creating a sporty and technological atmosphere. The centre console is light and concise, with the first-ever suspended large 8-inch screen. The three-spoke flat steering wheel frees up legroom and is complemented by a sports car-style double-barrel instrument panel. The ergonomic centre armrest design, highly flexible and comfortable seats, a driver's seat with a 10-degree angle, exquisite chrome touches and soft materials give the Orlando a sense of luxury."
The Orlando is claimed to have outstanding handling and fuel economy, making it ideal for daily commutes or road trips. Its new-generation Ecotec dual-jet turbocharged engine is matched with a choice of a six-speed DSS start/stop transmission or a six-speed manual start/stop transmission.
The engine generates maximum power of 120 kW and maximum torque of 230 Nm, which is comparable to that of a 2.0L naturally aspirated engine. It maintains powerful output from 1,800 rpm to 4,400 rpm. Fuel consumption is as low as 6.7 litres per 100 km.
The engine innovatively applies 12 core vibration damping technologies. By reducing airflow and structural noise, its advanced overall acoustic design and optimised operating vibration ensure excellent levels of quiet.
High on safety and connectivity
The Orlando has 39 standard technology configurations. It offers standard LED headlights, daytime running lights and taillights, and high brake lights. It also has four-window one-button closing, fully automatic air-conditioning with a PM2.5 particulate air filter, a dual USB charging interface, independent digital display tire pressure monitoring, an electronic handbrake, six-speaker original theater-class audio, one-button start and fixed-speed cruise control to give users a peaceful and convenient experience.
Other features include the electronic stability control system, anti-lock brakes, electronic brake-force distribution, traction control, hill start assist, emergency auxiliary braking and active rollover prevention. It also comes with side blind zone monitoring and other functions for safer driving.
The Orlando pioneers Chevrolet's new MyLink in-vehicle infotainment system. Its innovative integration of mobile phone connectivity and OnStar supports an array of entertainment features. Users can connect their mobile phones to access smart voice calls, online voice recognition, online navigation and driving assistance. It also provides customised entertainment functions such as cloud radio, weather forecasts and traffic violation inquiries for added safety and enjoyment.
RELATED ARTICLES