Canoo reveals Tesla Cybertruck rival with 320km range
Production version of the pickup truck, which has 550 lb ft of torque, 1800 lb payload capacity and a 320km-plus range will see deliveries starting year 2023.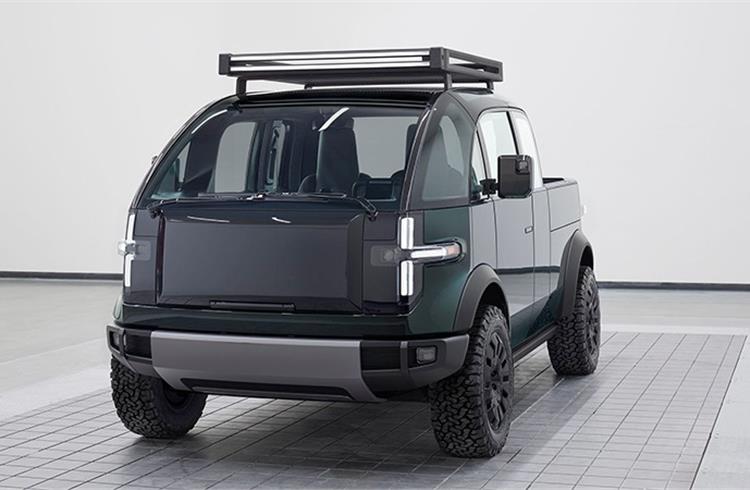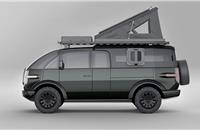 Los Angeles-based EV start-up Canoo has taken the covers off its fully-electric pickup truck during the Motor Press Guild's Virtual Media Day (VMD) yesterday. The production version of the pickup truck, which has 550 lb ft of torque, 1800 lb payload capacity and a 320km-plus range will open for pre-orders in Q2 2021, with deliveries beginning 2023.
"We are so passionate about building vehicles that can change people's lives," said Tony Aquila, Executive Chairman, Canoo. "Our pickup truck is as strong as the toughest trucks out there and is designed to be exponentially more productive. This truck works for you. We made accessories for people who use trucks – on the job, weekends, adventure. You name it, we did it because it's your platform and she's bad to the bone."
Canoo's pickup truck features a number of features to help customers do more with their vehicles. This includes a pull-out bed extension, fold down worktable and cargo storage, flip-down side tables, side step and storage, modular bed with space dividers, and multi-accessory charge port.
The pickup truck is the third vehicle that will be based on the company's proprietary multi-purpose platform architecture, enabling the accelerated development timeline.
Canoo's EV platform functionally integrates all the critical components of an electric powertrain to be as flat and efficient as possible. Traditional EV platforms have power units, shock towers and mechanical steering columns that protrude into the vehicle and take up space. By incorporating steer-by-wire and other space-saving technologies, Canoo's thin platform, with no need for an engine compartment, allows the company to offer a flatbed size comparable to America's best-selling pickup truck (read Ford F150) on a smaller footprint. This, says Canoo, makes the vehicle easier to manoeuvre and more convenient to drive and park in any terrain.
Most cab-forward stance
Canoo designed its pickup truck to be the most cab-forward and space efficient on the market, with massive cargo capacity on the smallest footprint possible. Thanks to the flexible platform and steer-by-wire, the passenger compartment was able to be shifted forward to maximise driver visibility. Canoo's designers gave the pickup added stance and durability with increased wheel spats to support larger wheels, which provides improved stability and gives it a rugged profile.
The bumpers are designed for maximum functionality and durability with integrated tow hooks and metal skid plates on both the front and rear. Lined with trim and materials selected for durability, the extended cab vehicle has two seats in the front with a customizable rear compartment that can accommodate two additional seats or support additional purpose-built use-case configurability.
CANOO PICKUP TRUCK TECH SPECS
- Dual or rear motor configurations
- Up to 600 hp and 550 lb-ft of torque with dual motors
- Vehicle payload capacity of 1800lbs
- 200+ miles / 320km+ of battery range
- Steer-by-wire and brake-by-wire technology
- Tow hitch receiver
- Wheelbase: 112.2 inches/ 2850 mm
- Overall length: 184 inches/ 4677 mm (with bed extension: 213 inches/ 5400 mm)
- Width: 78 inches/ 1980 mm (with mirrors: 87 inches/ 2209 mm)
- Height: 76 inches/ 1920 mm (with roof rack: 82 inches/ 2085 mm)
- Bed W,L: 64 inches/ 1627 mm x 72 inches/ 1817 mm (with extension: 64 inches/ 1627 mm x 102 inches/ 2600 mm)
- Bed depth: 21 inches/ 522 mm
- Roof rack W,L: 48 inches/ 1230 mm x 54 inches/ 1360 mm (as shown)
· Tyres: 265 60R18
RELATED ARTICLES