BKT debuts at Automechanika 2018 with its off-highway tyres
The company showcased huge dumper trucks and tractor tyres at the automotive event.
BKT Dumper at AutoMechanika 2018
BKT Tractor made of plexiglass at Automechanika 2018
BKT debuts at Automechanika 2018 with its off-highway tyres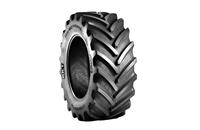 Mumbai-based tyre manufacturer Balkrishna industries (BKT) has announced its debut at 2018 Automechanikain Frankfurt, the world's leading trade fair for the automotive service industry. The company will participate at the 25th edition of the trade show as an exhibitor.
BKT is hosting a giant dumper and a huge tractor that are both fully made of plexiglass. The dumper truck features six Earthmax SR 45 M tyres and the tractor features Agrimax V-Flecto in the two sizes VF 710/60 R 42 NRO and VF 600/60 R 30 NRO. The company claims that Agrimax V-Flecto reduces soil compaction, minor operating costs, offers combined usage in the fields and on the road without the need for changing inflation pressure as well as increased load capacity (+40%) at the same inflation pressure of a standard tire of the same size. Also on display is Portmax PM 93 and BK-loader 53. Portmax PM 93 tyres are specifically designed for intermodal transport and is suitable for straddle carriers. It claims to provide a comfortable drive without slipping and reduces fuel consumption at the same time.
BK-loader 53 is reportedly BKT's first tyre that is specially designed for recycling operations. It features an aramid-belted structure, a special tread pattern ensuring excellent lateral stability along with an extra deep tread, which stands for extraordinary resistance against wear, cuts and punctures. In addition, the company claims that it comes with top self-cleaning properties as well as excellent grip and traction on both wet and dry surfaces.
Lucia Salmaso, managing director of BKT Europe states, "We are fully aware of taking part in a big and prestigious platform having a strong appeal to an international audience. We deeply hope that this collocation within such a significant frame will provide us with the opportunity to meet and have a dialogue with a new kind of public in view of growing the business and of spotting both opportunities and space for growth. As always and everywhere, we are taking our style in terms of trade show appearances to Frankfurt and are confident to make our mark - as it usually happens."
BKT's product portfolio consists of off-highway tyres specially designed for vehicles in the agricultural, industrial, earthmoving, mining, ATV and gardening sector.
RELATED ARTICLES