Axalta launches new lightweight spectrophotometer for APAC markets
The Acquire Colour Compact captures the exact colour of a vehicle and transmits the information to Axalta's colour retrieval software, Axalta Colour Cloud
Axalta Coating Systems, the global supplier of liquid and powder coatings, has launched the Acquire Color Compact spectrophotometer in markets across the Asia Pacific region including India, China, Korea, Southeast Asia and Australia.
The state-of-the-art, lightweight device is easy to use, cost effective and helps bodyshops create more accurate and faster colour matches.
The Acquire Colour Compact captures the exact colour of a vehicle and transmits the information to Axalta's colour retrieval software, Axalta Colour Cloud. Using enhanced digital connectivity, the Acquire Colour Compact provides high-speed access to over 200,000 current colour formulas ensuring the most accurate colour match every time. More precise than ever, the spectrophotometer measures three angles and is capable of quickly and accurately measuring solid colours, as well as colour effects such as sparkle.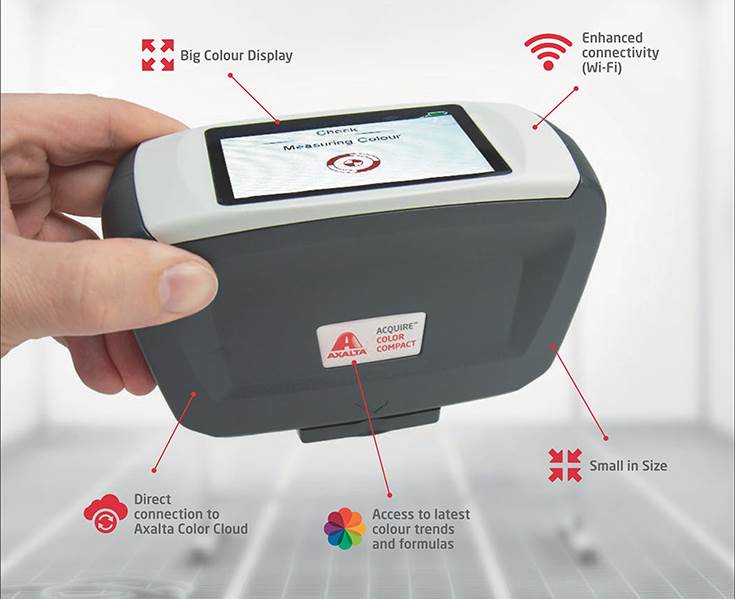 "A powerful demonstration of Axalta's commitment to total customer support, our next-generation spectrophotometer benefits from the power of all the digital platforms. We couldn't be more excited about customers in Asia Pacific getting to try the Acquire Color Compact soon," said Simon Lee, APAC Refinish Business Director, Axalta.
The Acquire Colour Compact has a high-resolution screen that provides clear instructions on usage empowering users to take full advantage of all its features. These multi-faceted features in combination make color identification and matching more efficient, reliable and save time.
It works with all Axalta refinish brands, including Standox, Cromax and Duxone.
RELATED ARTICLES