Audi unveils A6 e-tron concept based on new PPE architecture
The new BEV platform will spawn a series of all-electric, series production models from 2022.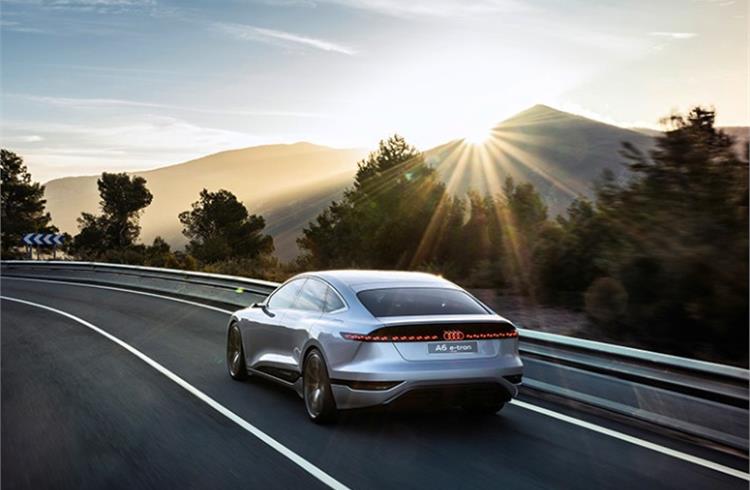 Audi has unveiled its latest all-electric concept – Audi A6 e-tron – at the Auto Shanghai 2021 Motor Show. The company says it is resolutely pushing towards electric mobility and the new concept is part of an entire family of modern, fully-electric cars to be introduced by the luxury carmaker, starting 2022.
The A6 e-tron concept is based on its new BEV architecture, christened, Premium Platform Electric (PPE) that has been designed exclusively for battery-electric drive systems with the key attribute being the placement of a battery module between the axles. In the case of the A6 e-tron, this module holds around 100kWh of energy, as per the company.
Furthermore, the utilisation of the entire vehicle base as the battery storage area means that a single platform can be interchangeably used to offer products with different wheelbases, therefore, allowing the company to cater to different sub segments. The inherent high ground clearance also gives advantage to use the modular platform in decidedly dynamic, flat-architecture sedans such as the Audi A6 e-tron concept, as well as high-perched SUVs.
Audi has revealed that the PPE architecture will serve as the technology platform for its upcoming range of BEVs including products in the B and C segments which are slated to start getting introduced from late 2022.
PPE to go global
PPE vehicles are specifically designed to be offered globally, and will be rolled out in all of the brand's key markets internationally. Audi plans to manufacture vehicles both at its European sites and in China, the company's largest single market.
A new production facility is being built in Changchun specifically for this purpose, where Audi's electric cars with PPE technology will start rolling off the line by the middle of the decade. The facility is operated jointly by Audi and its joint venture partner FAW.
PPE is the first platform designed to accommodate an unprecedented range of high-volume automobiles – including SUVs and CUVs with a high ground clearance as well as cars with a low ride height that are part of Audi's core product range, such as the Audi A6 series. But there are also plans to expand the PPE range into the B-segment, which has been the highest-volume market segment for Audi for decades. The architecture is suitable even for top-of-the-line D-segment cars and the economies of scale are being eyed to be leveraged to incorporate the technology into a wide range of models.
Fast-charging support
The PPE architecture boasts of fast charging capabilities with the revered 800-volt charging technology. In case of the A6 e-tron, the all-electric sedan can be charged up rather quickly by utilising up to 270kW fast DC charging at charging stations.
Audi aims to make charging times closer to refuelling a car powered by a conventional engine. While 80 percent recharge can be acquired in less than 25 minutes, 10 minutes of flash charge will offer more than 300km of range in the A6 e-tron concept.
Depending upon the selected drivetrain system on offer, the Audi A6 e-tron concept can offer cumulative range of up to 700km based on WLTP standards.
High-tech sedan
Coming to the A6 e-tron concept, it is identical to the production-spec, conventionally-powered Audi A6 in terms of its exterior dimensions, while sporting an elegant design language. The concept also boasts a significantly low drag coefficient of only 0.22 that will aid in aerodynamic efficiency of the all-electric model, which, the company claims has also been designed to grab attention with its monolithic, single-mould styling.
Touches of Audi's digital matrix LED as well as its digital OLED technology have been thrown in to offer personalisation as well as safety through advanced, modern lighting systems.
Audi currently offers the flagship e-tron SUV that was introduced in 2018 into its BEV portfolio, including the recently unveiled in February 2021 e-tron GT, jointly developed with Porsche. The carmaker is systematically gunning for growth in the BEV segment with more products such as the Q4 e-tron, Q4 Sportback e-tron and Q2 L e-tron in its existing portfolio depending upon the market.
RELATED ARTICLES