Aptera Motors to integrate Openpilot ADAS in its solar EVs
California-based Aptera to be the first vehicle manufacturer to implement the open-source driver assistance system.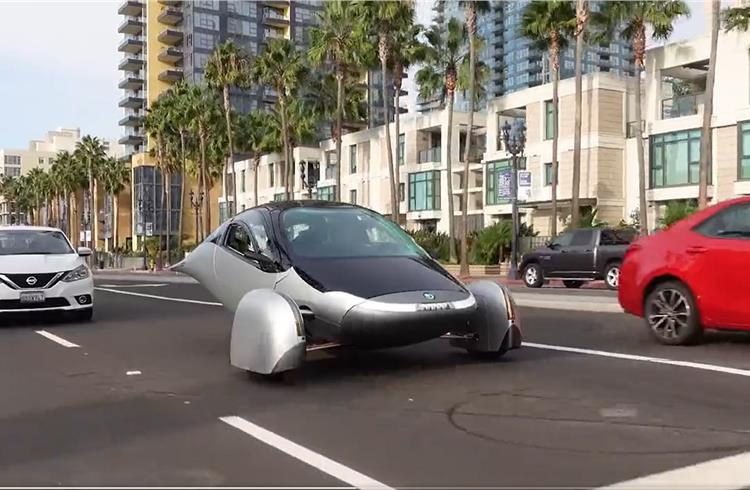 California-based solar electric vehicle OEM Aptera Motors, which recently got approval for a $21 million (Rs 174 crore) grant from the California Energy Commission (CEC) to add capacity to accelerate scaled manufacturing of the Aptera zero emission vehicle (ZEV).
Aptera has today announced that it will integrate the 'Openpilot' driver assistance system in its solar electric vehicles. This move will allow Aptera drivers to deploy Openpilot's advanced features including adaptive cruise control, lane centering, and forward collision warning. The driver monitoring system will ensure that drivers remain attentive while using the system.
With this announcement, Aptera is joining the open-source community. The company says Aptera engineers will create and maintain the vehicle-specific code to interface with the rest of the Openpilot code base alongside developers around the world.
Currently, Openpilot performs the functions of Adaptive Cruise Control (ACC) and Automated Lane Centering (ALC).
Aptera Motors claims its solar EVs are the world's most technologically advanced, made possible by breakthroughs in battery efficiency, aerodynamics, material science and manufacturing.
Openpilot, created by comma.ai, is not affiliated with Aptera. Comma has built a fleet of thousands of drivers who have driven over 50 million miles autonomously. It is the only consumer system available, besides Tesla, that stops for red lights and stop signs while using 1/10th the power. Aptera claims its vehicle drivers equipped with Openpilot will have virtually no efficiency loss, a significant advantage in line with Aptera's mission to build the most efficient vehicle on the planet.
Chris McCammon, who is leading Aptera's Openpilot integration, has been a member of the Openpilot community since 2017. "Since then, the software has matured immensely and now supports over 200 vehicle models with an easy-to-install kit. Even though Openpilot has vastly surpassed nearly all driver assistance systems on the market today, big auto players have not embraced it. They continue to throw hundreds of millions of dollars into developing their own inferior systems, while Openpilot is open-source software that anyone can implement for free."
The two-seat, ultra-efficient solar EV leverages embedded solar panel power for up to 64km of grid free daily driving, with the additional capacity for plug-in charging and a range of up to 1,000 miles / 1,600km.
Openpilot utilises state-of-the-art machine learning to learn how humans drive. It is an end-to-end system, meaning camera data is sent into the driver model and a driving path is sent to the vehicle. This allows the system to adapt to many nuances of the road that humans react to every day, such as moving away from semi-trucks on the highway or staying correctly positioned on roads with no lane lines. As the system improves, Aptera vehicles will be able to take exits and suggest lane changes to follow the navigation route.
Currently, Openpilot performs the functions of Adaptive Cruise Control (ACC) and Automated Lane Centering (ALC). Openpilot can accelerate, brake automatically for other vehicles, and steer to follow the road/lane.
When Openpilot is enabled, a driver monitoring system watches the driver and ensures the driver is attentive and ready to take over at all times. According to Comma, "When used correctly, these features reduce your workload as a driver, and can make long drives relaxing instead of tedious."
Aptera is currently working on the details of how Openpilot will be integrated into their vehicles. Several validation steps are planned to be completed leading up to the start of production of its Launch Edition vehicles. Aptera aims to deliver an Openpilot-capable vehicle and ship compatible hardware after delivery to be installed by the customer in less than 30 minutes.
Images: Aptera Motors/Twitter
RELATED ARTICLES