'We aim to expand capacity to dismantle a million end-of-life vehicles by 2026-27': CERO Recycling's Sumit Issar
Mahindra MSTC Recycling Pvt Ltd (CERO), the first government-authorised vehicle recycler in India, is driving change when it comes to eco-friendly vehicle scrappage and recycling. Sumit Issar, Managing Director, Mahindra Accelo & Director, MMRPL (CERO), speaks on how the sector is evolving, the focus of using the latest technologies and plans for speedy expansion.
Mahindra MSTC Recycling Pvt Ltd (CERO), the first government-authorised vehicle recycler in India, is driving change when it comes to eco-friendly vehicle scrappage and recycling. Sumit Issar, Managing Director, Mahindra Accelo & Director, MMRPL (CERO), speaks on how the sector is evolving, the focus of using the latest technologies and plans for speedy expansion.
What was the strategy behind setting up Mahindra Accelo and CERO, and how has vehicle scrapping evolved in India over the years?
The automotive industry has always been a pioneer in terms of technology and, as Mahindra Group, we also have a commitment towards sustainability, and making sure that we recycle our products as much as possible. While Mahindra has been in the automotive industry, Mahindra Accelo is in the business of processing steel. It is here that we saw the convergence happening, and that is where we looked at bringing in recycling technology for the Indian automobile industry.
When we started out in 2018, the landscape of vehicle scrapping in India was completely unorganised, and it was extremely challenging for us as newcomers in the market. Therefore, we decided it was crucial to have a partner who equally understands the sector. That is when the joint venture with MSTC came into force, and we started making progress under this public-private partnership – Mahindra MSTC Recycling Pvt Ltd (CERO) – that allows for speedy execution from the industry, and policy push from the government.
It has been a fruitful journey so far, and we have come a long way. Today, we have nine scrapping centres catering to 36 cities in India, and we recycle almost the entire steel in a vehicle, which is comprised of up to 80% steel, among other materials.

What is the second-life purpose of recycled automotive-grade steel?
Today, the steel which gets recycled from cars goes into the construction industry in the form of rebars. Other than steel, we also recycle metals from the catalytic convertors, which house platinum and palladium, as well as from the lead-acid batteries, to recycle up to 85% of all materials in a vehicle. However, the upholstery – fabric and foam – still remains one of the key challenges, and our aim is to enhance the level of recycling to up to 95% in the near future.
To enable this, we are also working with OEMs to enhance the implementation of materials which are environment friendly and can be recycled well. While OEMs in Japan and Europe are well attuned to it, we are trying to bring this discipline now in India. This could enhance material recycling in vehicles to even up to 98 percent.
What is Mahindra CERO's technology roadmap to improve vehicle recycling in India?
While we have the solution to recycle steel, with the future trends of lighter, safer, and cleaner vehicles, we are also exploring how we could recycle other materials such as plastics. So, we are going to introduce a lot of new technology to recycle plastics, precious metals, as well as batteries – which are increasingly moving away from lead-acid to lithium-ion type.
There are about 46 million end-of-life vehicles on Indian roads and, therefore, we need the right technology for ensuring optimum space on our road infrastructure. We are working in that direction, and would require the right scale to invest into such technologies. Technology is going to be our key differentiation compared to the unorganised sector to retrieve the maximum value of an ELV, and offer the best value to the customer.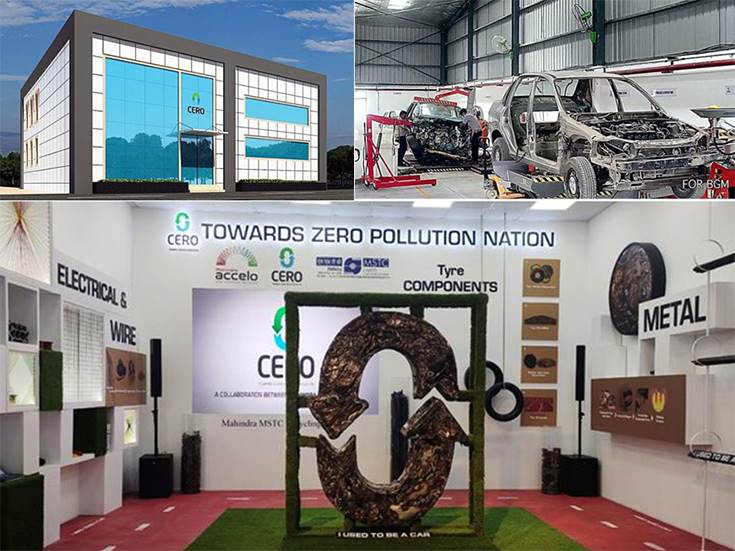 What is your future growth and expansion gameplan?
Vehicle scrapping is a very capital-intensive business and while there is some level of awareness in the country, the government has come up with an informal policy in the form of incentivising voluntary vehicle scrapping. As we move forward, the government is likely to impose stricter rules around scrapping and vehicle fitness. Therefore, we believe this will be a very formidable industry in the long run, and it will invite a lot of organised players.
For Mahindra's CERO, from our existing nine, company-owned recycling centres catering to 36 cities, we aim to venture into 100 cities by 2025. At present, we have plants in Noida, Chennai, Bengaluru, Hyderabad, Pune, Ahmedabad, Indore, Guwahati and Chandigarh along with customer touchpoints at major cities like Kolkata, Mumbai, Bhopal, Jaipur and Nagpur.

From two- and three-wheelers to passenger vehicles and trucks and buses, CERO scraps and recycles them all.

At each of these and upcoming locations, CERO's focus has been on providing hassle-free services to our customers. All our customers have to do is call on Cero's toll free number 1800 267 6000 or log in an enquiry on cerorecycling.com and our team will take care of the rest from evaluation to doorstep pick up to recycling and awarding certificate of deposit. While each of these facilities can dismantle up to 15,000 cars every year, we can scale them up to double the capacity by increasing the equipment and manpower. Going forward, we will also expand our existing combined capacity of 300,000 cars, to one-million combined units as we foray into more cities by 2026-27, subject to policy adoption and demand.
While we started our operations with company-owned setups as we wanted to give complete transparency to the consumer and learn the ropes of the business, the upcoming centres will also have a mix of franchise-operated establishments. We have received a lot of interest from businesses, along with various State governments also approaching us to set up scrappage facilities in their regions. So, we are exploring all possibilities with the sole aim of offering world-class technology to the end consumer.
When does the company aim to break into profit?
For Mahindra CERO, the focus has always been the bottom line. Having said that, we also know that it will take us some time before we reach there. The next 3-5 years are going to be extremely challenging because unless the volumes kick in, it would be difficult to break into profits. Therefore, initially, we will have to look at investing, introducing new technologies, and be hopeful of the government policies to continue becoming more favourable from a consumer's standpoint. Then, we can expect the volumes to start going up. Economies of scale are very critical, and one will need to invest into technology and reach by setting up more scrapping centres. We are very clear that we are in this for the long haul.
What role do you envision policy to be playing in the vehicle scrapping industry in India?
Barring a few states like Delhi-NCR, where the National Green Tribunal or NGT's ban on old and polluting vehicles has been a key enabler, the vehicle scrappage policy is at a nascent stage in many states. We feel that somebody will have to take a lead, and therefore, we are going into such states to spread awareness and make people understand the benefits of scrapping old vehicles.
We are setting up plants in several state, and if we do not educate the customer, the offtake will still take more time. That is where Mahindra CERO is taking the lead by aiming to venture into 100 cities by 2025.
Policy is going to be a gamechanger, and some of the progressive states have announced an incentive of up to 25% on the new car's registration and road tax amount, which ends up in the range of Rs 25,000 to Rs 30,000. The customers will value this benefit that can only be redeemed by scrapping their old cars, and factors like trust, transparency, and reliability will drive vehicle scrappage in the organised sector. Automotive steel is one of the best steels that has immense potential to be recycled, and in turn, save a lot of resources to benefit the entire nation.
ALSO READ:
Mahindra, Maruti and Tata out to prove their mettle in recycling
RELATED ARTICLES