UVeye's Amir Hever: 'Now more than ever before, there is a true need for contactless vehicle inspection.'
CEO of Israeli start-up, which has just revealed a path-breaking technology that can detect vehicle occupants with likely Covid-19 fever.
Amir Hever: "We have seen much interest in using our systems in India, whether for security purposes of locating bombs and contraband articles hidden below vehicles or automotive scanning throughout the whole lifecycle of the vehicle."
UVeye's system is equipped with infrared thermal-imaging technology to detect body temperatures from a distance of several metres or more.
UVeye says the vehicle-inspection systems equipped with thermal sensors could be installed at emergency drive-through lanes set up at hospitals, health care facilities and other community locations.
Amir and Ohad Hever co-founded UVeye in 2016. The Israeli start-up develops automated inspection systems for vehicles, powered by artificial intelligence and proprietary hardware.
UVeye Artemis recognises a tyre's brand and technical specs, overall condition, tyre pressure, abrasion and scratches.
UVeye Helios mobile underbody scanner uses area scanning technology and includes five high-resolution cameras.
UVIS, an advanced security system to detect potential threats hidden in a vehicle's undercarriage, uses high-resolution cameras to produce a 3D model of undercarriage, while driving, in seconds.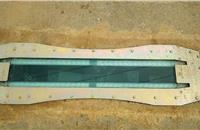 Israeli start-up UVeye, an innovative vehicle inspection and safety company, has developed contact-free, emergency-vehicle inspection systems equipped with thermal sensors that not only can detect critical vehicle-safety problems, but also can identify drivers and passengers with fever through vehicle windshields. Amir Hever, CEO and Co-founder of UVeye, on how the technology can help keep people and businesses safe in a time of coronavirus. An email interview by Mayank Dhingra.
When did you first think of expanding the scope of UVeye's vehicle application technology to screen Covid patients?
UVeye has been offering automatic inspection systems for vehicles and is already working with dozens of clients throughout the whole automation lifecycle. We have recently been asked by several delivery fleets to adapt our automatic systems that already scan the undercarriage and tyres of their vehicles to also determine the fever of their drivers and make sure they are not endangering themselves and others.
That led us to enhance our contactless inspection solution and add thermal sensors to give an indication of the body temperature of the driver and passengers, if needed. We also understood that if Coronavirus is going to stay with us for a while, then it can also be relevant for other aftermarket facilities like repair shops and dealerships wanting to keep their mechanics and staff safe.
UVeye's system is equipped with infrared thermal-imaging technology that helps detect body temperatures from a distance of several metres or more.
What can be the possible applications of this technology in the mobility space? Can it be extended for commercial vehicles and school buses for children?
We can provide any type of client with a full picture of their vehicle status - whether mechanical issues or exterior damage with the license plate of the vehicle and the temperature of the visible passengers in it. Our systems were built to support any type of vehicle including buses and commercial vehicles and we will support use cases combining the need to keep the vehicles safe on the road and assess the main passengers' fevers to keep surrounding parties and people safe.
Could it also be used to scan riders in a shared cab? What can be the use cases?
As long as the people are visible in the image once the vehicle drives through the system there will be a heat map indication showing red or green colours and the estimated temperature of the passengers. This technology can be combined to manage a fleet of shared cabs and make sure first of all that they are safe to drive on the road and have no tread damage in their tyres, dangerous oil leakages or engine problems and also no fever indication in passengers.
Do you think there would be a perceptible shift to individual vehicles after Covid-19 with people becoming hesitant to use public transport and shared mobility services in the future?
We believe that the Coronavirus is going to challenge and further develop the need for contactless and perhaps autonomous solutions in the smart mobility industry. We know that people are going to rely more on private and other vehicles, whether for essential and emergency purposes or even domestic travel at a later stage. Some of these vehicles are driven for much more time on the road than the average vehicle up until recently and our solutions can monitor and make sure they do not develop dangerous issues that can cause accidents. This is what we call predictive maintenance and combining smart sensors like the thermal one can give a good safety picture of the vehicle and the driver.
India is a country with very high population density and crowded public transport. Can UVEye's technology be useful after the Covid-19 lock-down?Certainly yes. We have seen much interest in using our systems in the Indian market, whether for security purposes of locating bombs and contraband articles hidden below vehicles or automotive scanning throughout the whole lifecycle of the vehicle - from efficient quality assurance at the OEM plant, through the logistical supply chain of providing the vehicle to the dealership and the PDI (pre-delivery inspection) stage and the aftermarket while enabling an objective scanning solution for oil leakages, corrosion, holes on the exhaust pipes, tyre damage, air pressure or scratches and dents around the vehicle.
We have three products - Helios (undercarriage scanner), Artemis (Tyre scanner) and Atlas (body scanner) which can be used together or alone and can all be setup in a drive through manner and connect to the same platform.
Are you contemplating bringing it to India and working with a suitable partner?
We have dozens of systems in stock and keen on discussing with local partners. We will be happy to work with local fleets and also other aftermarket players.
Would you be willing to work with the government to deploy these systems more effectively?
Sure. We are happy to cooperate and assist emergency fleets like ambulances and other services that have their vehicles 24/7 on the road and will be able to understand the mechanic situation of their cars with no human interference or inspection and also monitor the fever of their staff to make sure they are safe.
Do you think such technology would become mandatory in the future given the criticality that has surfaced during the Covid outbreak?
Certainly yes. We like to say that we are setting a new standard of automatic vehicle inspection and we see that now more than ever before, there is a true need for contactless inspection which assists professionals and keeps them safe when needed.
How much would a company need to invest to equip its fleet with the technology?
We work on service-based models and especially at times like this come towards our clients. We usually offer a monthly fixed subscription cost starting from several thousands of dollars per month (depends on the system) or a pay per scan model.
How do you integrate the infrared temperature scanner to the healthcare ecosystem and for best analysis of the data captured?
The thermal sensor is set up as part of the drive-through system and can be seen on our user interface next to the license plate of the vehicle. We will be able to compare past scans and show historical vehicle and passenger data if the vehicle has been scanned through the system more than once.
Are you looking to raise more funding to be able to commercialise this product?
Our company has raised $31 million in the middle of 2019 in a round led by strategic partners like Toyota Tsusho and Volvo Cars. We are already in deployment mode and installed our systems in over 100 sites world-wide.
Can you detail the OEMs you are already working with in terms of supplying UVeye's thermal imaging technology for conventional purposes?
UVeye is working with six OEMs -- some of them in the plant itself and some in the aftermarket. The ones we can mention are Toyota, Volvo, Skoda, Daimler and also Honda, with whom our cooperation was unveiled in January at CES 2020.
ALSO READ UVeye makes the vehicle inspection process an AI affair

RELATED ARTICLES