Tata Power's Sandeep Bangia: 'We are committed to playing a key role in India's transition to e-mobility.'
Tata Power is aggressively expanding its EV charging network. Sandeep Bangia, Head — EV, HA & ESCO Business, details the strategic plan to facilitate easy access to EV owners, national highways and tourist spots, and ease of use of the EZ digital platform.
Sandep Bangia: "We are identifying high-traffic density highways across India and also tourist destinations like Mussoorie, Mahabaleshwar, Coorg and Dwarka to install chargers."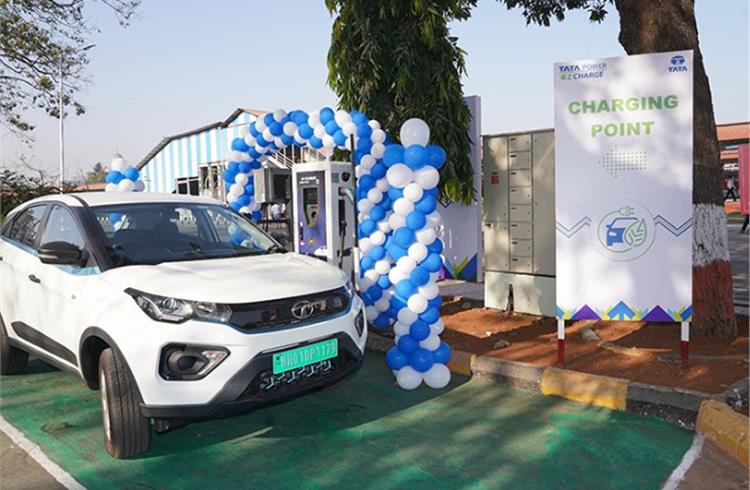 Tata Power plans to set up 700 EV charging stations across India by December 2021. In June 2020, it partnered MG Motor India to deploy 50kW DC superfast chargers and offer end-to-end EV charging solutions at MG dealerships.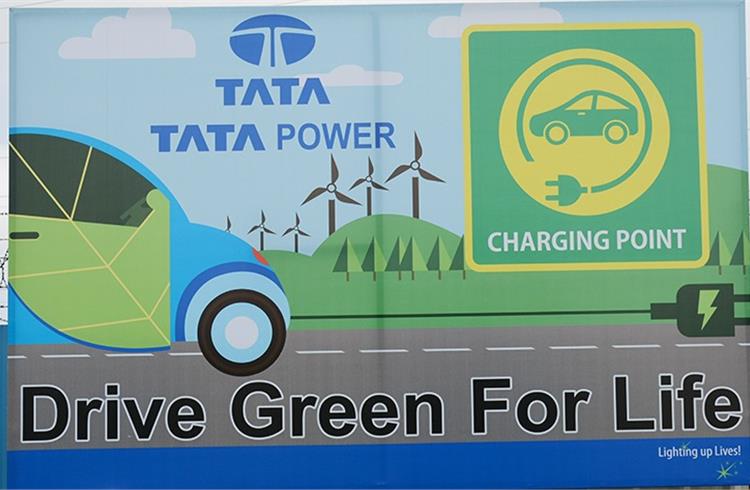 Tata Power is part of Tata uniEVerse (with other Tata Group companies) that has been conceived as a complete e-mobility ecosystem to cater to the future mobility demands.
A fleet of Tata Motors electric buses, used by BEST in Mumbai, get the 240kWH charging treatment at a Tata Power station in Backbay Depot.
Tata Power, India's largest integrated power company, is aggressively expanding its EV charging network. Sandeep Bangia, Head — EV, HA & ESCO Business, details the strategic plan to facilitate easy access to EV owners with chargers across town and country, national highways and tourist spots, and ease of use of the EZ digital platform.
What is the overall plan to grow Tata Power's footprint in the EV industry ecosystem in India?
Tata Power, as you know, is India's largest integrated power company with a strong presence in the entire energy value chain — generation, transmission, distribution, renewables and value-added services. Hence, EV charging is a logical extension to our line of business. Starting from the first EV charging station setup in Mumbai, we are happy to have made a significant impact in developing the EV charging ecosystem and in a way encouraging EV adoption in India.
We are present across all the segments of the ecosystem — public charging, captive charging, home charging, workplace charging and such. Similarly, we have deployed all types of chargers — DC 001, AC, Type2, Fast DC chargers up to 50kWh and now up to 240kWh chargers for buses. In fact, the state-of the-art buses that BEST has deployed in Mumbai recently are using our infrastructure.
A fleet of Tata Motors electric buses, used by BEST in Mumbai, get the 240kWH charging treatment at a Tata Power station in Backbay Depot.

We have established our presence in 65 cities with over 400 charging points now and will soon be present in over 100 cities with our Public Charging Network. Working with partners, we are committed to playing a key role in the India's transition to electric mobility in partnership with other stakeholders.
There is a new buzz about electric mobility in India and both the Centre and a number of States are betting big on setting up EV-friendly infrastructure. What is Tata Power's take on this?
It's very clear that EVs are a sustainable way of mobility and are the future of mobility. Apart from eliminating tailpipe emissions, EVs eliminate the concerns around sharp swings in petroleum prices which are also a drain on our foreign exchange reserves.
Yes, a number of states have announced EV policies and the Central government is offering overarching support. We are seeing that governments have taken very progressive stance on the EV policies and are quite open to hearing and implementing suggestions. We are hopeful that the policy support will be more and more pragmatic with every passing day. We welcome any such initiatives which will go a long way in growing the EV ecosystem.
At Tata Power, we are also working very closely with Central and multiple state governments to make the States — both highways and cities — EV-ready.
Although it is early days, what is the contribution of the EV charging business toTata Power's overall revenues?
EV charging is a new but important business opportunity for the company. This is a future-ready business and looks very promising as electric mobility picks up in India. So the revenue contribution from the business is expected to be more substantial after maybe 3-5 years.
Tata Power has installed over 400 EV charging stations across India and is targeting 700 stations by end-December. What is the current state-wise share of your EV charging stations and where is future demand slated to come from?
We will get to 700 charging stations much earlier than December this year. We are quite bullish on the demand for EVs and are investing in the charging infrastructure in preparation for the impending demand.
Last year despite Covid, the total number of EVs (4Ws, 2Ws and 3Ws) sold were a very sharp increase from the previous years. This was on the back of new and strong EV launches. In fact, Covid has increased the appeal of EVs and everything sustainable. Hence, we believe the interest in EVs is expanding at phenomenal pace and it's a market which is beginning to grow. The new launch announcements in the past few weeks are a testimony to that.
We are currently available in about 65 cities and will soon expand to over 100 cities. The locations of our public charging stations are available on our state-of-the-art digital platform — the Tata Power EZ Charge app — which is available for download on both Android Play Store and iOS Store.
Tata Power has also inked many strategic alliances (UN Environment Program, Central Railway, Prakriti E-Mobility, HPCL) and also some carmakers. What are the potential touch-points that Tata Power can cover with its partners?
We are focusing on putting up charging infrastructure at places of common access like — workplaces, commercial complexes, public parking spaces like those along metro or railway stations, highway locations and similar points.
Petrol and diesel vehicles require just 5 minutes for refuelling whereas EVs need much more time for recharging. Do you believe this change will happen soon and do you plan to get ultra-rapid DC chargers to tide over this?
EV charging requires a mindset shift from the current way in which are used to refuelling our vehicles at a central location, compared to EV charging which can happen at 'fragmented' locations.
Electric vehicles can charge themselves at locations wherever vehicles are parked anyway — be they homes, offices, malls, restaurants or public parking lots. One will not have to go to a location to charge; instead, charging will be available where you are parked or are going to be stopping as a natural pit-stop in your journey from one place to another. Our alliances will help us in accessing precisely these locations.
So, you can continue to do what you are doing while your car charges at the next available 'opportunity'. You sleep at home while the car charges, you watch a movie at a cinema and the car is topped up, you work in your office and your car is topping up. Of course, it will take time from the century-old habit of refuelling IC engine cars, but this is the mindset change that is gradually happening and people actually see this as a benefit.
Currently we have up to 50kWh DC chargers on our network, which is also the most popular fast charger configuration globally. We believe this should suffice for the moment though, as I mentioned, we are watching this space closely and would bring in the latest should the need be felt.
What is the average time, cost and usage at an EZ Charge station? What is the average capacity utilisation at your network and what do customers have to say about the service?
EV charging is truly a service business and we are glad to be doing exceedingly well in that. We have taken a customer-centric approach to this business and are seeing the results since customer issues are minuscule and we are able to fix those issues digitally through our app or through our contact centre.
Since these are early days the capacity utilisation is low, albeit we are ready for the scale when more EVs come on the roads and the number of charging transactions increases.
One of the crucial challenges for EV users is to have a reliable connected ecosystem wherein they can locate and plug in to the nearest chargers. How are you working on creating such a network?
You are absolutely right. For an EV owner, a reliable charging network is paramount. This is where our digital platform comes into play. We have invested in a state-of-the-art Tata Power EZ Charge digital platform wherein the entire charging network is connected and can be monitored centrally.
The platform enables the interaction between the charger, the car and the customer through a mobile phone application. The EZ Charge app has all the basic features of locate, navigate, charge and pay, apart from advanced features like specific rate plans, route planning and many more such. For example, we give the details of amenities available next to a charging station on our app. So we tell you if there is a coffee shop or restaurant or a washroom in the vicinity of the charger — right on the app. This is a very small but highly appreciated feature.
Additionally, we have specific functionalities related to corporate admins, hotels, malls and commercial spaces, fleet managers and residential societies. The platform takes away the hassle of billing and collection from the individual EV owners, while still making the facility available to their patrons. Lots of progressive establishments are already offering EV charging as a basic amenity and Tata Power EZ Charge platform is enabling this revolution.
We are continuously learning from the users and refining and updating the platform to enhance its capabilities. The belief very clearly is that . . . all things being equal, the EZ Charge platform is going to be a big differentiator in our EV journey.
Like Ionity has in Europe, does Tata Power plan to build a high-power charging network across major national highways in India to facilitate seamless travel for EVs?
Highways are an important focus area for us as the main use of a public charging network is for intercity travel. We are identifying specific high-traffic density highway locations along the key city pairs like Mumbai-Ahmedabad, Delhi-Chandigarh, Delhi-Jaipur, Bangalore-Chennai, Hyderabad-Vijayawada and others to put up chargers.
Similarly, we have identified tourist destinations like Mussoorie, Mahabaleshwar, Coorg, Dwarka and such locations where EV owners from a city would go for a driving excursion. We are putting up fast DC chargers at logical pit-stops along these highways where one may take a quick chai break while his/her car gets topped up.
When does the company expect a common EV charging standard to be introduced in India?
That's a question meant for the authorities. Having said that, globally we are seeing that CCS (Combined Charging System) is emerging as the choice of car makers. However, we are ready with all standards — Bharat AC 001, Bharat DC 001, CCS, or Chademo.
Setting up an EV charging station depends on wattage and capacity (3.5kW home-chargers to 50kW public chargers) and the application also determines cost. Can this capex cost be lowered and what is the level of localisation of your EV charging stations?
Cost of charging stations is a function of capacity of the charger and the volumes that one would deploy on the ground. Currently, we procure our charger hardware from established vendors and put them in service on our network platform.
Are power companies going to offer differential pricing for household usage compared to usage of power for charging an EV?
The State governments in their EV policies are announcing specific tariff for EVs which are different from household or commercial or industrial tariffs.
Is Tata Power being approached for collaboration by food chains / restaurants to install fast chargers at highway stops?
We at Tata Power are on continuous lookout for suitably opportunities to install fast chargers at locations like food chains, coffee shops, restaurants and others as this benefits everyone — the EV owner can take a coffee while his/her car chargers, the company gets a charger installed at a suitable and logical location and the food chain owner benefits from higher footfalls.
What is the best-case scenario to provide a mass-charging facility for home charging when people do not have designated parking slots?
People who do not have a designated parking slot at home can do one of the following:
- They can share a charger amongst a group of vehicles in a society or building. The Tata Power EZ charge app takes care of the payments.
- We could install a charger at their workplace with their help and while the customer is at work, his / her car charges.
- Use one of the Fast Public Chargers to juice up their cars.
When Tata Power entered the EV charging business, there were only a handful of electric four-wheelers being sold in India. With new launches and partnerships, how have you adjusted your business strategy?
When we decided to enter this space, there were hardly any EVs available and there was hardly a choice. We have come a long way from that. Today we have very capable and globally competitive electric cars like MG EV ZS, Tata Nexon, Hyundai Kona, Jaguar i-Pace, Mercedes EQC, Volvo XC40 Recharge and Tesla, which have announced launches in 2021.
We are happy to play a catalyst's role in some measure by rapidly expanding our charging network which will support these cars. We are building a network which is compatible with all EVs. We want to cater to everyone and welcome all automakers with electric cars in their stable.
On the strategy side, while our charging infrastructure is suitable for all cars, we have a tie-up with automakers like MG Motor, Jaguar Land Rover India and Tata Motors for charging infrastructure and we work very closely with them to identify potential areas and cities to set up charging infrastructure — for home charging or public charging — so that when they launch their cars in those geographies, our charging infrastructure is already there. These tie-ups also offer us an opportunity to learn and then improvise as we go along.
We are deploying a mix of charger types from 7.2kWh regular chargers right up to 50kWh fast DC chargers. We optimally deploy these chargers depending upon the location and application so that we have right-sized our network for the needs of our customers and their vehicles.
This interview was first published in Autocar Professional's April 1, 2021 'Green Industry Special' print edition
RELATED ARTICLES