Sudeesh Karimbingal: 'Our Chennai plant will be a global CoE for Hanon Systems' rotary suction compressors.'
Hanon Automotive Systems India on targeting export of 1.2m compressors by 2020, the challenge of shrinking space for HVAC in the engine compartment, and BS VI as a catalyst for demand.
The Director, Global Commercial — South Asia, Hanon Automotive Systems India on expanding capacity at the Chennai plant which makes thermal systems for domestic carmakers, targeting export of 1.2m compressors by 2020, the challenge of shrinking space for HVAC in the engine compartment, and BS VI as a catalyst for demand.
Hanon Systems is a global leader in innovative thermal and energy management solutions. What is the company's business growth strategy for South Asia and the India market?
We are one of the two major players globally for complete thermal management systems solutions for automotive applications. We have more than 16,500 employees working across our 40 manufacturing sites and 18 engineering sites. We have a presence in 20 countries across North America, South America, Europe and Asia. We have a matrix structure comprising of functional and product group organisations.
I am part of the global commercial function, primarily responsible for driving business growth and overall customer relationship management for the South Asia region, which includes India and Thailand and South Africa. In addition, I also have the responsibility for the Asia-Pacific region for one of our global customer accounts – Ford.
Our key automotive customers in India include Maruti Suzuki, Hyundai, Ford, Mahindra & Mahindra, Renault Nissan, MG Motors and Honda Cars India. We have four manufacturing facilities in India, at Chennai, Pune, Sanand and Bhiwadi near Delhi. The Bhiwadi plant is a joint venture between Maruti Suzuki and Hanon Systems. Maruti Suzuki has a 31 percent stake in the joint venture.
16mm dual-plane condenser
At the Bhiwadi plant, we manufacture all the powertrain cooling products including radiators, engine cooling modules, charged air coolers, and EGR coolers. We have also started manufacturing condensers from this facility, which mainly caters to the demand of Maruti Suzuki, and also does business with Honda Cars India. We supply our thermal products to Maruti Suzuki for various platforms across all segments of the market.
The Sanand plant was primarily set up for Ford India. We supply full climate systems including HVAC, condensers, and AC lines to Ford India from this facility. M&M is another customer we service from the Sanand plant. We have also started supplies to Suzuki Motor Gujarat. Suzuki has been ramping up its production capacity at the Gujarat facility at a rapid pace and is expected to grow significantly. With our fully integrated manufacturing facility in Sanand and Gujarat emerging as a major automotive hub, we are well positioned for strong growth with our key customers in the region.
At Pune, we have an assembly plant which has been set up for Mahindra & Mahindra to supply engine cooling and climate systems. Capacity can be scaled up if necessary for future business expansion. Chennai is, by far, our largest plant in India and caters to Hyundai, Ford and Renault Nissan. We manufacture a wide range of thermal products including fixed-type rotary suction compressors.
In Thailand, we have an integrated manufacturing facility that caters to Ford, Mazda, Nissan and Kubota.
India is one of the largest and fastest growing automotive markets globally. What does this mean for Hanon Systems? What are the near-term and long-term forecasts and what do you think are the major growth areas in India?
Hanon Systems' global revenue was about 5.6 trillion Korean won (Rs 33,941 crore) in 2017; Asia contributes about 20 percent without Korea, between India, China and Thailand. South Asia contributes nearly 10 percent to the global revenue. Asia is the fastest growing market for Hanon Systems globally and we are excited about the growth of India market and its future potential.
HR exchanger
Evolving regulatory norms and customer demands are pushing the auto industry to go through a period of accelerated change. According to SIAM, an estimated $15 billion investment is required for upgrading the products to meet upcoming regulations related to emissions, safety and CAFE norms.
Emissions and CAFE norms are directly impacting our product line. It is estimated that over 30 percent of the fuel energy is lost due to thermal inefficiency in an IC engine. Reducing that inefficiency reduces fuel consumption and emissions almost directly 1:1. We play a critical role in improving the thermal efficiency, thereby improving fuel efficiency and reducing emissions.
Our global vision is to be the market leader in innovative thermal and energy management solutions. In India, we aspire to be the market leader. In Thailand, we are the second largest player in thermal management solutions.
What, in your opinion, are the key opportunities in India? What is the level of engagement with OEMs for future models?
The automotive thermal system market can be segmented into four product groups: powertrain cooling, HVAC, fluid transport and compressors. The overall thermal market in India is about $1.2 billion today and is expected to grow to about $2 billion by 2022, at about 10 percent CAGR. Our goal is to outpace market growth and we are aiming for double-digit growth in India over the next 3 to 5 years.
water charge air cooler
All our customers are upgrading their current product offerings to meet upcoming regulations. We are actively engaged with them on multiple programs that would be launched in the next couple of years. We are also aggressively pursuing product penetration and customer diversification strategies which are expected to generate incremental growth avenues for us in the near future.
There are only two global players who can offer the entire gamut of the thermal management products, and we are one of them, offering us a technological advantage and customer recognition. We are always at the forefront in bringing first-to-market technologies to meet the increasing demand for innovative solutions from our customers.
What are the major global trends in thermal management products? How do you see the technological progression in Hanon Systems' portfolio?
One of the challenges we increasingly face is the shrinking space in the engine compartment to package our products. As more and more components get added in the engine section, OEMs are constrained to provide adequate space for tailored thermal management solutions. We have to find innovative solutions to meet this challenge.
Electric compressor for application in HEVs and EVs
Lightweighting is definitely another key focus area for our customers which is directly linked to a vehicle's fuel efficiency. Customers demand higher performance, long-term durability and quality with significantly lesser weight. Our engineers are always geared up to meet this challenge.
In addition to the increasing demand on cooling performance, the increased relevance of vehicle cabin acoustics is making acoustic comfort as a major performance criteria which is influencing our product design, especially in the premium vehicle segment.
How is Hanon Systems R&D structured globally? Do you focus on specific regions or it is done at central locations?
We have 18 engineering centres globally, including two in India. Our Global Strategy & Product Engineering Center is focused on developing core technology, standardised development processes across the globe. Then we have Regional Innovation Centers in Asia Pacific, Americas and Europe; these innovation centres support customer interface, technology application and program execution. The South Asia Engineering Center reports into our Asia Pacific Innovation Center.
We have three engineering sites in South Asia, two in India and one in Thailand. We have a clear road map to enhance our local engineering capabilities in India to support our customers. In 2017, we expanded the test facility in Chennai and are further enhancing our local expertise by the end of this year, guaranteeing a high level of responsiveness and offering global standards of program execution capabilities to our customers in India.
What impact is BS VI going to have on thermal management products? How is Hanon Systems preparing for this transformation?
In the drive for fuel economy and emissions reduction, thermal efficiency of the engine is key. With the stringent requirements of BS VI, OEMs have to use EGR technologies to prevent massive formation of NOx in diesel engines. Therefore, you will find EGR coolers (high-pressure or low-pressure or both) in the diesel engine applications to meet BS VI norms.
While we are likely to see a significant drop in smaller-displacement diesel engines going forward, there is increasing demand for EGR technologies on DI gasoline (petrol) engine applications to lower the CO2 emissions. We are already experiencing strong demand for our petrol EGR coolers from our customers.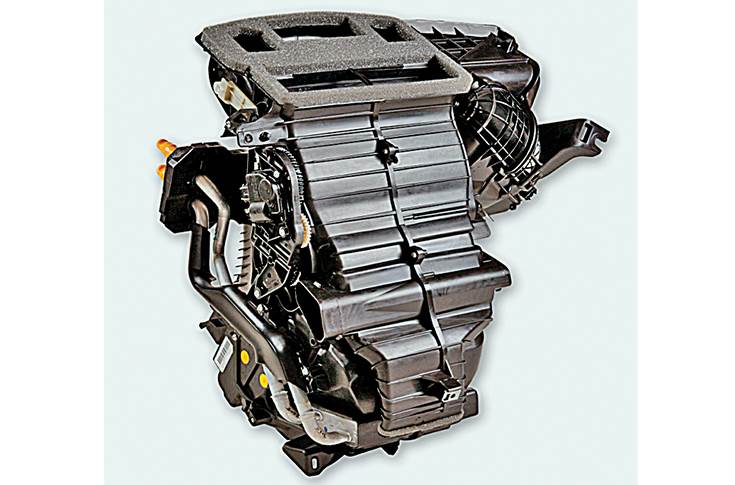 HVAC module
All of our customers are in various stages of development to upgrade their engines to meet the BS VI norms. Our products are also undergoing changes as our customers demand lighter weight and higher efficiency thermal management technologies to meet these increasingly challenging requirements. We are collaborating with our Europe and Asia Pacific Innovation centres and providing tailor-made solutions to our Indian customers.
How is the company faring on the export front and are you looking to expand manufacturing capacity in the future?
We are aligned with the Make in India initiative of the government of India. We already export compressors and transmission oil coolers and heat exchangers from India to our global customers. We have recently expanded production capacity at our Chennai plant for fixed compressors. We used to make about half-a-million compressors a year ago. By the end of 2018, we will more than double the capacity. By 2020, we are planning to have close to two-million units capacity to produce new-generation fixed compressors with nearly 60 percent of that to be exported. The Chennai plant will serve as a global Centre of Excellence for Hanon Systems' rotary suction compressor manufacturing.
Our total export out of India is expected to touch about 12 to 15 percent of our revenue in the next couple of years.
Vehicle electrification is growing at a rapid pace, particularly in developed markets. What, do you think, will be the impact of the shift on suppliers like Hanon Systems?
Hanon Systems has been manufacturing battery thermal management systems for more than 10 years. Utilising our vehicle and system expertise, we have developed components and systems for electric vehicles that can be applied in various system architectures to meet a wide array of customer requirements. As an example, for electric or hybrid applications, we have developed a state-of-the-art scroll compressor controlled by an on-board electric motor and integrated power electronics. The electric compressor operates independently, enabling the cabin to be cooled even when the engine is off. We have received a very positive response from our customers about our electric compressors and will be ramping up our capacity in Asia to meet the increasing demand from our customers.
Other examples of e-mobility solutions from Hanon Systems include:
- Heat pump system – this is designed to significantly reduce power consumption for heating battery-powered vehicles, including EVs. This revolutionary design draws heat from ambient air and repurposes waste heat from the vehicle's motor and inverter to act as a heat source to support the vehicle's heating system.
An electric compressor that Hanon Systems developed for the BMW Group
- Battery thermal management – a suite of solutions including contact heat exchangers that conduct heat away from battery cells for precise temperature control in electric and hybrid vehicles; battery chillers, which transfer heat from the coolant to the refrigerant loop to provide adequate cooling capacity during battery fast-charging mode; and heat exchanger solutions for sensors, electronics, power inverters and other heat management tasks.
- Centrifugal air compressor – this solution features a high-speed brushless DC motor with a patented, oil-free ball bearing design that provides clean pressurised air to the fuel cell stack, which generates power to propel and operate the vehicle.
(This interview was first published in the 1 August 2018 issue of Autocar Professional)
RELATED ARTICLES