'If the market responds well to the Accord Hybrid, we will consider bringing in more hybrid models.'
Yoichiro Ueno, Honda Cars India's president and CEO, speaks to Hormazd Sorabjee, editor, Autocar India, about the BR-V, the SUV segment in India and Honda's hybrids.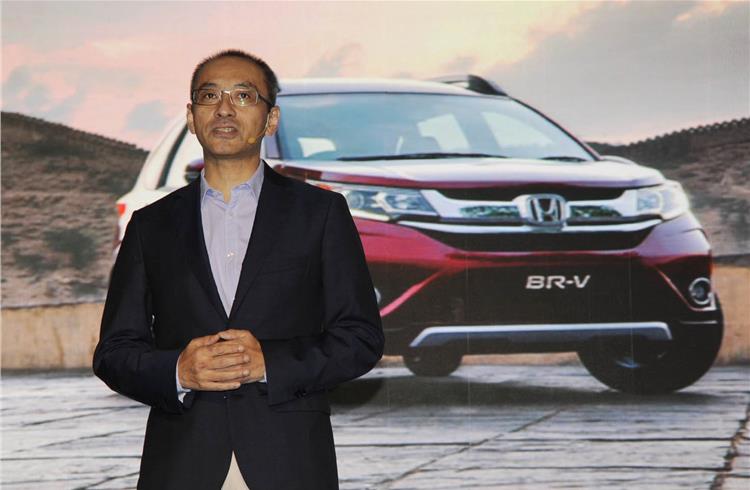 Yoichiro Ueno, Honda Cars India's president and CEO, speaks to Hormazd Sorabjee, editor, Autocar India, about the recently launched BR-V, the SUV segment in India and Honda's hybrids.
Let's start with the BR-V. Honda is the only one in the segment to provide a third row option. Why?
The SUV segment is fast growing in India and I think that trend will continue for some time. It is also a very competitive segment, because of which we wanted to offer something different – a third row of seats.
Do you think that striking a balance between style and utility was the biggest challenge for the BR-V?
The team did mention that, that was the biggest challenge. They worked really hard to develop ideas that achieved effective packaging while still giving it an SUV character.
What is Honda's outlook on the quick pace of growth of the SUV segment in India?
When a car market grows, customers start demanding vehicles other than traditional sedans and MPVs, and that is what is happening with India. The SUV segment is the fastest-growing segment in the Indian auto market. We want to keep monitoring this segment and address it with new line-ups if and when we see further growth.
So, if you see growth in the SUV segment, will you be introducing SUVs above and below the BR-V – the HR-V seems like an obvious choice.
We have not decided anything as yet. The HR-V is a very successful model internationally, but its price positions it one segment above the BR-V. However, it could be one of our choices for India if we see potential for it here.
There is a big gap above the City – the CR-V is a small model without a diesel option, the Civic is gone and the Accord is making a comeback only as an expensive import. You do not seem to be focusing on the higher end of the market. What is Honda's strategy there?
We plan on incorporating the Accord Hybrid in our line-up this fiscal, but entry-level models are also important. In any case, we are constantly monitoring customer requirements, and if we do see an opportunity for higher-level models, we will introduce them.
Let's talk about your star car, the City. It has been around for 17-18 years and is a brand in itself. With Honda's India profits and volumes all based on the City, how important is it for you? Also, despite its huge customer base, Honda does not offer anything City owners can upgrade to – do you see an opportunity there?
The City's India story is very impressive indeed. It has added a good amount of value to Honda's image in India. However, I do not want to focus on just one model. While volumes are important, we want to focus on our entire line-up, thus enhancing the complete Honda brand. As for the upgrade options for the City – I think the current City is a very strong model and has the capacity to accommodate customers from its predecessors. However, if we see a strong demand for higher-segment models, like the Civic or other bigger sedans from Honda's international portfolio, we could explore those opportunities.
Looking at the future, do you see the current emission issues and anti-diesel wave as opportunities for Honda's petrol engines and hybrid technology?
Hybrids are at the core of Honda Global's strategy, and as for India, we will be bringing in the Accord Hybrid here. If the market responds well to it, we will consider bringing in more hybrid models. However, hybrid models are more expensive than petrol ones, so we will have to see if customers are willing to pay that premium.
Honda has had a bit of a flat year despite a few launches. With the BR-V here, though, what is your sales forecast for the next year?
We do have the BR-V now, and we also intend on further reinforcing our line-up. So yes, I would like to challenge our last year's growth.
You have worked in other developing countries earlier. Having just arrived in India, do you see anything unique or even exciting about this market as compared to the others?
The Indian market is very dynamic and fast growing. We will have to adjust our strategy to keep up with market changes. This market is also very competitive. Everybody is seeing its potential. Also, India is a very broad market, with many differences between the various regions, and accommodating these differences is yet another challenge for me. I hope I can do my best.
RELATED ARTICLES