Mansons' Gautam Khanduja: 'We will enter India with an established brand with 60 touch points'
The Director of Mansons on entering the domestic market, bringing the same specialised services it offers to its international distributors, and launching its commercial vehicle product range at ACMA Automechanika 2019.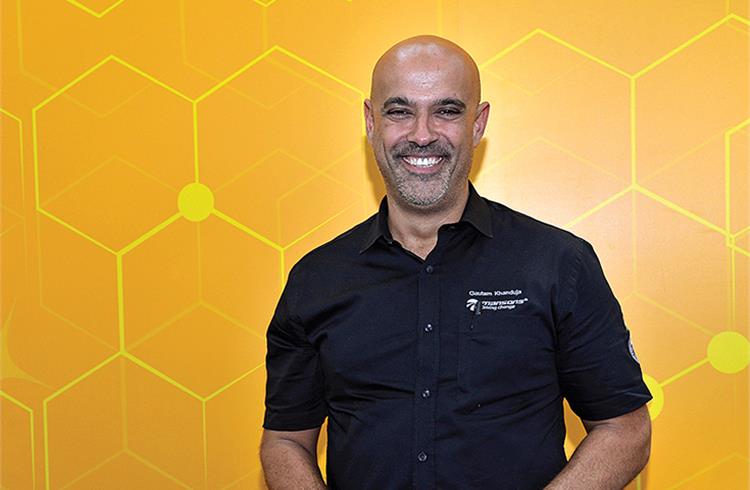 Gautam Khanduja, the Director of Mansons, the Mumbai-based global components manufacturer and supplier for OEM, Tier 1 and independent aftermarket trucks, trailers, buses and vans, on entering the domestic market, bringing the same specialised services it offers to its international distributors, and launching its commercial vehicle product range at ACMA Automechanika 2019.
What new products did Mansons exhibit at this year's ACMA Automechanika and what did you want to highlight?
We have brought a large offering for the Indian commercial vehicle industry. We have been prominent internationally with a strong presence in 109 countries, with over 300 distributors globally that carry our product line.
We are now looking at increasing our footprint in India as we had focused on exports earlier. In the recent past, we have had companies coming out and reaching out to us to bring in a branded aftermarket CV line. We spent the last two years tooling up and preparing. We are using this exhibition as a launch pad for the new catalogue — JHK 5 —our Indian CV product range.
Can you elaborate on your plans for India?
The JHK 5 catalogue has about 400 components and is our initial offering for the India CV industry. It has been extremely well received. These 400 components have been tooled up over the last 12-18 months, and we have another 600 lined up in the next 24 months. There's a lot of work being done at the product development phase, and we have also identified product groups that we would like to focus on.
The Mumbai-based Mansons was the biggest exhibitor at ACMA Automechanika New Delhi 2019 last month
Our aim is to service CV demand from bumper to bumper. Everything from front steering, axle, stabiliser, engine NVH, transmission, driveline, rear suspension, rear stabiliser and body components. It's the same scenario for trailer applications. What we are trying to do is to bring to the Indian aftermarket the same specialised services as we offer to our international distributors. Our product line for Europe and North America is upwards of 14,000 SKUs with an order fill rate of 92 percent.
It is an exciting time for our distributors as they realise that there is a well-branded product range from a reputed world-class manufacturer, who offers a value line which competes with the OEMs and OEs.
What are the new products that you displayed this year?
Adjustable torque rods, for which we have worked very closely with our end users. We call these the VARIO range (V- and straight-rod) and have displayed the range very prominently. With this extraordinary display at the stand we have brought, let's say, a very large bat to the match.
What is your opinion on the new axle load norms and how does it affect your business?
I think it was a strange move, bringing up the rating all of a sudden. It's put a damper on OEM sales. Our OEM production for the last two months has plummeted literally to almost zero, we are just sitting on inventory which is costing us dearly.
Mansons showcased adjustable torque rods, called the VARIO range, at the ACMA Automechanika New Delhi 2019 trade fair.
However, it's great for the transport business as the loads have gone up with existing axles. How's it going to pan out in the CV aftermarket industry, more sales eventually! Higher loads, more wear, more component sales — all-round good for business. That's my opinion on it.
Since this translates to more component sales, doesn't it also mean greater risk?
That's where service regulation comes into play, this current government has been the most active in terms of creating, identifying and implementing regulations. At the opening ceremony (ACMA Automechanika), you would have heard this many times, it's being pushed into place and that was very encouraging to hear. If they can get the vehicle scrappage policy into place, it is a game-changer all together.
At the same time when loads have gone up,the build standards for CVs have gone up too. Our road quality is improving, road build rate is at an all-time high, the regulations are getting better, and policing is far improved from the years gone by.
Marking its debut in the Indian aftermarket, Mansons displayed over 300 products at its booth at the ACMA Automechanika New Delhi 2019 trade fair last month
Fleet operators don't want downtime. Everybody wants a better turnaround time on their haulage as delivery contracts are time bound. Everybody we have met here is talking of quality, quality, quality — nobody wants cheap components which will result in downtime.
What are you doing in terms of lightweighting?
It's an industry trend right now. It's cool to say lightweighting but, at the end of the day, we are catering to hard parts. You can take a control rod that is built out of forged steel and make it from aluminium, but it costs a hefty sum.
With current price points, some things unfortunately will have to be built in the traditional style. As much as we've tried to find solutions for rubber, you still find natural rubber the best solution for certain large-volume NVH applications. We continue to do R&D in alternate polymers as a solution will eventually be found — it's a matter of time!
The big change is happening in engines, exhaust systems and noise levels — lightweighting of body components without sacrificing safety.
What's your outlook for the CV industry and how do you plan to make a place in the domestic aftermarket?
We are new entrants, we have just arrived. We have limited presence in India. Right now, it's all the conquest business because there are plenty of well-established OEMs, OEs and aftermarket brands.
But we are coming in with a very prominent brand which is tried and tested and has been extremely successful around the world for the last 63 years.
The conversations we are having with people is that our approach is extremely different from what they have dealt with, with all the other smaller suppliers. We have met distributors in Tier 1, 2, 3 cities who are buying from 15-20 different manufacturers, but they don't have one prominent brand — and they would like one.
For India we are offering a two-year unlimited warranty, brilliant product, excellent packaging, field service, field training and plant visits. We are confident that we will get a fair share of the market.
What is your target in terms of distributors for the first year?
Right now, we're looking at about 60 touch-points; this would translate to about 4,000 counters in CY2019.
Since you are entering the competitive Indian market, how do you plan to market your products differently?
Firstly, India has always been a price-driven market. Secondly, availability and then comes quality. We as a manufacturer have all three. We addressed the price points in our earlier investigations, and have so far met the market expectations. We handle over 14,000 SKUs, another 2,000 for the domestic market is just water off a duck's back.
Are you making new investments for expanding your capacity to serve the domestic market?
We continue to grow as a company at an average 25 percent CAGR that hasn't stopped for the last six years and we don't see that changing. We have seven manufacturing sites — five plants in Kalamboli, one each in Taloja, Maharashtra and in Ludhiana, Punjab, and we will build the eighth in Q4 FY2019-20.
What is your utilised capacity?
We are running at about 60 percent, and every time we get up to 70 percent, we invest and we bring it back down to an acceptable level. Our President is very clear about that — he says if you want to grow you have to build.
What are the other key challenges and opportunities that you see in the Indian market?
We just hope that the governance can continue on the trajectory that they have taken. This government has been extremely production-friendly, tax-friendly and GST is a boon albeit there are some changes, glitches like the axle loads and the scrappage policy delay. But it is probably the most exciting time for the CV industry in the last 10 years. If you talk to any manufacturer, everyone's ramping up and very optimistic for the next couple of years.
When will your first batch of orders start selling in India?
We have been in the domestic industry in trial mode for the past 24 months. We have been testing the waters, so to speak. Starting early 2019/2020, we will see substantial sales traction.
(This interview was first published in the March 1, 2019 issue of Autocar Professional)
RELATED ARTICLES