Jayant Bhadauria and Vinod Thomas: 'We are looking for problem solvers, not school toppers'
The current state of the industry-academia connect, how the two organizations are using MathWorks' software tools.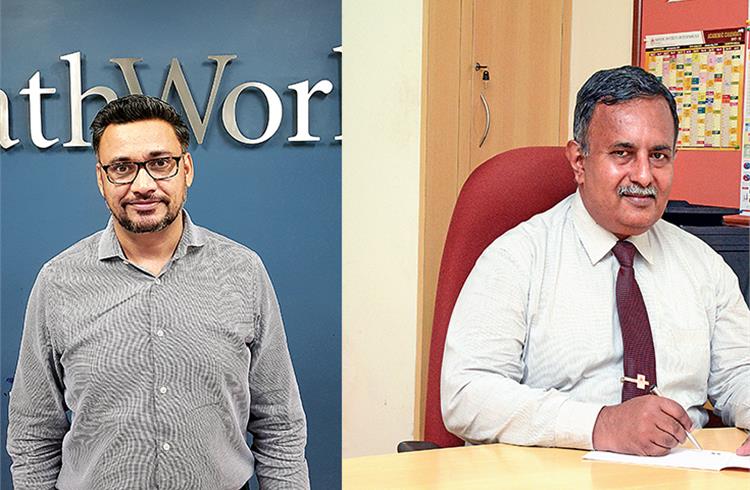 Jayant Bhadauria, education industry head, MathWorks India and Vinod Thomas, dean, MIT University, Manipal, speak on the current state of industry-academia connect, how the two organisations are partnering to fill in the gaps by training students using MathWorks' software tools, and the dire need to provide first-hand experience of real-world challenges to students with an intent to improve their employability.
How are MathWorks and MIT collaborating to educate engineering students about the application(s) of software solutions? How are they exposed to the requirements of system level modeling in the automotive industry?
Vinod Thomas, MIT: I would like to give an academic perspective on this. The MathWorks tools are integrated with the curriculum of electrical sciences for the past decade. They are used widely in the research domain as well as in project work. We are among the first institutions in India to introduce an undergraduate curriculum in 2014 with both tools – Matlab and Simulink – as part of our UG program, which is offered across all branches of engineering.
As regards the mechanical (engineering) stream, a lot more effort is needed in making people understand system-level modelling and dynamic study, thus making the two branches a part of their course curriculum.
We had a couple of questions with MathWorks' technical evangelists, and they conducted introductory lectures both for faculty and students in explaining the potential of their tools. I think a bit more effort is needed in penetrating the other streams of engineering. In Manipal, we initiated a lot of major student projects outside the classroom. We have a solar-mobile group and are also part of the driverless cars program initiated by Mahindra & Mahindra (M&M).
But how often do you see students working on real-time challenges that the auto industry, one of the key recruiters in the near future, is facing currently?
VT: We have an ongoing project. Every year, students 'grow' their product and present it in international competitions. We have a live workshop, with around 200 to 300 students working on a regular basis. The advantage we have is that we have a huge campus and there is ample time for such engagements beyond the classroom.
Jayant, how is MathWorks working to close the gap between industry challenges and the quality of students graduating?
Jayant Bhadauria, MathWorks: What we look for while hiring is problem solvers not school toppers. We need people who have developed practical knowledge, who apply their concepts and have experience of working in multiple disciplinary skills built by teamwork.
MathWorks India provides software access and technical assistance to student teams participating in Robocon.
We are witnessing a lot of startups coming up and many students are interested in that. So, it's about how they explore the recent trends happening in industry, how they use new technologies to build something that industry is asking for. That's one part where the selection is in terms of how they solve problems, how they work in teams, and learn what trends are prevailing in the industry, and how they apply their experience and knowledge to solve these disruptions.
The other thing that I see from the education side is that there is a lot that AICTE is talking about, as to what needs to change in the current curriculum. In a few interviews, they talk about mandating that all colleges start hands-on training for young graduates by making them serve as interns to the industry. They want to introduce a uniform curriculum and uniformity in examination. They also want to increase the interaction with the industry, as well as with foreign universities, which would increase (exposure via) students exchange programs. And they also want colleges to focus on student competitions. This is what the educational institutions are trying to implement. Some of the universities like MIT are already doing a lot in this space.
The MathWorks perspective is that we are trying to fill this gap and help the institutions in whatever way we can. This is through helping students in building these kinds of skills. As a company, there is a lot of assistance and we have a separate team for training. We have come up with online training or Matlab Academy, which has six modules that are available for all our community.
Specifically, for education and our customers, we have two courses – Matlab and deep learning or machine learning, which we provide for free. Plus, we have six modules, which we provide for our faculty and students to go through. As part of campus-wide licensing, we provide access to all these modules. Along with that, we also provide a sort of implementation plan, where we go and conduct workshops. We participate in the faculty development program in these institutions. We do demonstrations on hands-on exposure of our technology, which are related to current trends like data analytics, IOT, deep learning, machine learning and robotics.
Also, we have conducted workshops on connectivity with robot hardware. We are also part of the top students competition in the country – Robocon. We provide software access and technical assistance to the student teams. It is these kind of competitions that bring the best out of students putting their
skill sets and knowledge to work.
Going forward, MathWorks as a company will also be coming up with its own competition to bridge this gap.
What exactly is campus-wide licensing?
JB: Campus-wide license was something that we introduced in 2012, and MIT was one of the first institutions to go for that. Traditionally as we know, licenses are based on individual or laboratory access and we felt that, that was an emerging barrier for our students and faculty to learn, since they did not have access.
Introducing something in the curriculum or adding a new technology concept was not that easy. With a campus-wide license, we made it completely flexible for them to have access across labs, student computers and laptops, basically anywhere, anytime, access.
VT: Let me add one more point to this. We were maintaining a floating license. From 2003 onwards, this is what we used for our regular labs until 2012. After 2012, the main limitation of this tool is that it is available only during the lab hours and only from fixed location(s). So, as Jayant said, now with campus-wide licensing, students and faculty can access the tool anywhere and also they can load it in their own machines, which make people to get a much better engagement and a much better learning experience.
The automotive industry is evolving very rapidly with many tech advancements. Also, the government is advocating clean energy such as biofuels and electrification. At present, a large number of engineers from the mechanical and other streams are largely unemployable. If electrification of vehicles were to become mainstream, what changes are being brought on the academic side to ensure that students do not study defunct topics?
VT: It is true that our academic progression is very slow. We are one among few institutions that offer undergraduate and postgraduate courses in mechatronics. And, mechatronics helps the students to design systems with mechanical and electric parts and simulate it together.
Also, the penetration of some of the tools from MathWorks in the mechanical field is low and it still needs to happen because they were given over-emphasis on analysis of tools and design of components, whereas that much emphasis was not given on future development and dynamic study in mechanical industry.
However, I believe that with more active support from active tools, at least a few premier institutions will surely adopt these changes in their curriculum so as to cope up with the industrial requirements. We understand the need of the industries and therefore we have projects where students from different branches, as a team of 50-100, engage together to understand the concept(s).
Basically, students from various departments come together to work as a team in projects where they learn the concepts very actively outside the classrooms with extreme motivation.
JB: There has been a lot of focus on student competitions in India in the past few years, especially in the field of robotics as well as automotive. Typically, MathWorks has a lot of support programmes happening worldwide for competitions where they provide complementary software and also technical assistance for the participating teams.
Computer engineers and coders at MathWorks work closely with universities in the USA to develop new algorithms and upgrade
its software modules.
Many student teams represent India at international forums. In the past few months, we have dedicated a resource who only looks at international student foundation team(s). For instance, Matlab and Simulink are industrial standard tools in the automotive sector.
Students are aware that a company like Tata Motors is using Matlab for its design purposes. We have a dedicated team here which helps our students. MIT students have fared well in many of these competitions. Slowly, we are moving towards other institutions across India in order to understand how well they can fare better in the real world.
MathWorks, which is developing new tools for autonomous driving, works very closely with academia in the USA to assimilate new requirements, generate algorithms and align them within new software (Matlab and Simulink), as separate tools. Are you working with Indian institutions to develop new algorithms?
JB: Yes, we do have interactions with a few professors from premiere institutes, including MIT, where they get in touch with the developers to understand the product development processes. However, in terms of new algorithms, there is a lot of good research that happens in India, particularly in the automated driving domain as compared to the worldwide scenario.
We probably have not reached the same level as that in the USA, but we are in that zone at this point of time.
The adoption of algorithm into software is not region-centric and it's more on the state-of-the-art centric algorithm that is used to solve a particular problem and that can come from anywhere in
the world.
VT: The support which is given to academia in the US universities has increased. However, when we look at it from the perspective of students, we are not playing on the same level as in the USA.
Mr Thomas, can you throw some light on students working on the Mahindra driverless car project?
VT: In fact, Mahindra & Mahindra has identified 13 teams after the first level of screening. MIT is one of the teams where they have given their car and asked us to modify so as to build driverless cars, and our students are working on this project. Perhaps in the coming years, we can see more such projects.
Integrating their academic experience and final product may find one or two good features. So, it would be one of the driverless projects for Mahindra & Mahindra, which also supports the college with a car for students to modify and alter, to make a driverless car.
Between Matlab and Simullink, which software tool is relatively more popular among students?
VT: The approach is very different because the trend is gradually shifting from coding towards symbolic representation of designs. However, both things are extensively used but there could be a shift from Matlab to Simulink in the coming days. I know that MathWorks is also releasing new tools which might become popular in the
near future.
Jayant, can you share key requirements of the industry today?
JB: Industry across differing segments is scouting for student readiness. They look for students with prior internship experience to understand how well they can connect to the industry. Mathworks itself has started giving internships to students from higher education. Also, another big area is the faculty's readiness to teach these sports because there is a much focused curriculum, given that both our institutions in the county are affiliated to a particular university.
The major challenge is how colleges administer the curriculum set by the university by giving much emphasis on innovation. Therefore, we motivate faculties to provide practical exposure to students. Hence, I think industry readiness of students and teaching methodologies of faculties remains a big challenge.
VT: The good thing is many institutions are receiving autonomous status where they have complete control over their curriculum and even the student projects that are conducted outside the classroom can also be credited. So, in the coming days, many excellent institutions which feel that they can stand alone are going to go ahead and become autonomous.
JB: Yes, very true. The government is also pushing the institutions to become autonomous, but I believe we still have a long way
to go.
(This interview was published in the 1 June 2018 issue of Autocar Professional)
RELATED ARTICLES