India Auto Inc has to continuously work to meet changing aspirations of engineers: C V Raman
Maruti Suzuki India's Chief Technology Officer speaks about Indian engineers enhancing discipline while working with their Japanese counterparts and also the critical role of the right talent to manage disruptions in the coming decade.
C V Raman: "The next decade is going to be very challenging, both from a customer aspiration, technology as well as regulatory perspective. "
The Alto was the first-ever model to be completely designed and developed in-house by Maruti Suzuki engineers in 2012 with guiding support from Suzuki, Japan. Seen here is the new Alto K10 launched on August 18.
Maruti's first compact SUV - Vitara Brezza - also indigenously developed by MSIL engineers in Rohtak and Gurgaon on the Suzuki Global-C platform. The second-generation Vitara pictured above was introduced on June 30, 2022.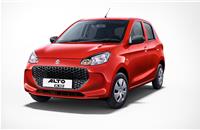 Maruti Suzuki India's Chief Technology Officer, a true-blue engineer, speaks about Indian engineers enhancing discipline while working with their Japanese counterparts and also the critical role of the right talent to manage disruptions in the coming decade.
How do you view the evolution of Maruti Suzuki's R&D capabilities in India over four decades?
Over the past 40 years of Maruti Suzuki's journey, we have always been very clear that we should meet our customer's requirements through various products. We started with the Maruti 800, after which came the Omni, Gypsy, the Maruti 1000 and Esteem.
Since the market was still growing, our start was rather small and with respect to R&D, we would, for instance, change the seating comfort for the Indian customer, or tweak the rear suspension settings on these Suzuki-developed cars to suit the Indian conditions.
It was somewhere only in CY2000 when volumes were growing fast that we felt there was a need to also build product development capabilities in India, and we started truly working on the R&D aspects of Maruti Suzuki. And things were kicked off by doing minor changes, including styling changes to the front fascia and interior of the Zen in 2003. That was the first project which was done by Maruti Suzuki in India, and since then, our endeavour has been to build capabilities, including end-to-end product development from concept to its start of production.
We then had an opportunity to participate in the development of the first-generation Swift between 2003 and 2005. It was a global model and a team of 30 engineers from India was stationed in Japan to be part of the Suzuki engineering team to make adaptations, whether to the powertrain or seating comfort or the suspension layout, particularly for the Indian market.
In 2012, Maruti Suzuki launched a new generation for the Alto's 796cc version – named the 'Alto 800'. While the Alto 800 was based on the same platform as before and carried the F8 engine, the facelift saw a completely new exterior and interior design. Maruti also tweaked the engine and the gearbox to make the Alto more friendly to drive.
We were gradually entrusted with more work by Suzuki for doing minor changes on various models, and our first big project was in 2012, wherein under the guidance of Suzuki's engineering team in Japan, we indigenously developed the second-generation Alto, using Suzuki's platform and powertrain. Engineering is about learning why and how, and that is how technology is developed. We have been going through these paces over the past two decades, and the Rohtak R&D centre was started in 2014, with a vision to further bolster MSIL's capabilities. While we already had design, concept and virtual validation capabilities, this centre completed the puzzle and brought about physical testing capabilities to MSIL as well.
What skills are imbibed by MSIL engineers working in a Japanese environment and are they also motivated to continuously upskill themselves?
Engineers at Maruti Suzuki India have been learning various kinds of skills over the last 40 years, and I think at over a period of time, different types of skill requirements have come up as well. For instance, in the beginning, it was all about setting up of the facility, manufacturing products to meet the stringent Japanese quality requirements, and building up productivity.
We then graduated to improving the quality of our suppliers, and improving our own quality as an OEM. When we started exporting the Zen, we started realising about product recall and product liability issues way back in 1993-94. And therefore, it broadened our understanding of what it means to make products and the liability which an OEM faces. So, our endeavour has been to improve the quality of our systems by practicing Japanese shopfloor practices of 5S, 3K, 3G, and productionising those systems.
From a soft-skills perspective, our engineers have learnt discipline when working as teams. Many people who have also been going to Japan and living there for two, three or five years, have become very conversant in Japanese, and they can communicate very easily with their Japanese counterparts. So, these are the things that are happening when we work together and learn from each other in a big way.
Apart from that, we encourage people to do various proficiency courses and we also have tie-ups with certain universities, where people can upskill themselves. For instance, a diploma holder could do an AMI course, or a graduate engineer could opt for an MBA or a Masters in Technology. But more importantly, as a professional engineer, I think the opportunity to present technology-related papers at various forums, are things that excite people the most, also enabling them to have immense learning by interacting with other people in such forums.
Commissioned in 2014, Maruti Suzuki's R&D facility at Rohtak today houses a comprehensive proving ground and over 250 test labs.
What is the current level of R&D collaboration between Suzuki Japan and MSIL?
We are part of the Suzuki global engineering organisation and we are building our capabilities so that we can support Suzuki's manpower in doing product development not just for India but also for global markets. Today, we have two R&D centres one in Gurgaon and Rohtak – the former being where our clay modelling and design studios are based. It is also the engineering base where around 1500 engineers are stationed and carry out the concept-to-SOP validation of a new model.
On the other hand, the 400-engineer-strong Rohtak facility takes care of powertrain testing, vehicle dynamics, strength and reliability testing, EMC, and we are also setting up facilities for EVs, hybrid and EV battery and motor validation. It's a fully-integrated R&D facility, and between Gurgaon and Rohtak, and the Suzuki HQ in Hamamatsu, and their R&D centre in Sagara in Shizuoka, Japan, we are together working as one team to do product development not just for India but for global markets. We also have a work-share requirement, wherein Suzuki entrusts us for certain aggregates of the product development.
How is Maruti Suzuki India collaborating with academia and sourcing engineering talent for its R&D function?
We work with students through the Society of Automotive Engineers (SAE) in a big way by associating in competitions like the SAE Baja and Supra, as well as Efficycle, and the recently-started autonomous vehicle competition in the North East. Working with students and giving them challenges builds confidence in them and also helps them learn new technologies, so that when they come to the industry, they are ready in a way.
Other thing which is now happening is we are also working with start-ups. Maruti Suzuki has a MAIL or Mobility and Automobile Innovation Lab programme, and we also working with IIM Bangalore as well. So, certain problem statements are being given to these young companies and we are incubating some of them to do proof-of-concepts and evaluating them to see what can be taken forward in a product development or in a service-related business format.
Yes, we definitely have the opportunity to pick the budding talent through these student areans, as whatever they are learning in college and utilising it to make a vehicle in Baja or Supra, it's all about engineering. They are leveraging engineering concepts to build prototypes, testing them virtually and then also conducting the endurance testing. So, it's a kind of experience which they will later on go through in a more formal way when they come to the industry. These student competitions give them the experience of working in teams, which is very important in the automotive industry.
How do you foresee the next decade from an engineer's perspective and what would be your navigation strategy?
The next decade is going to be very challenging, both from a customer aspiration, technology as well as regulatory perspective. While we need to work on various sustainable technological solutions, including strong-hybrids, bio-CNG, flex-fuel and electric propulsion, the key to all of this is going to be our people. The challenge will lie in sourcing the right talent, building their capabilities, retaining the best brains and developing new technologies. Going forward, human resource is going to be the key distinguishing factor for organisations and, therefore, we need to continuously work to bring change in a way that we are able to meet the changing aspirations of engineers, who are also evolving along with the customer.
RELATED ARTICLES