Dr Dirk Leiss: 'We will be targeting the passenger car and 2-wheeler segments  with our made-in-India artificial leather.'
Dr Dirk Leiss, chairman of the executive board, Benecke-Hornschuch Surface Group, Continental, on the company's go-to-market plan, identifying raw material suppliers, his outlook of the Indian carmarket and why the company is also eyeing business from premium two-wheelers.
Continental India recently broke ground on its surface solutions plant on the outskirts of Pune. Dr Dirk Leiss, chairman of the executive board, Benecke-Hornschuch Surface Group, Continental, spoke to Amit Panday on the company's go-to-market plan, identifying raw material suppliers, his outlook of the Indian PV market and why the company is also eyeing business from the premium two-wheeler market.
Can you tell us about the upcoming greenfield plant and what type of products will be produced from this facility?
Continental (globally) has already acquired a couple of companies and with this company we have acquired a couple of Indian locations. We belong to the Conti Tech division. We have bought a piece of land and we are starting to build a dedicated plant to cater to the requirements of the Indian market. The facility will be very conducive to new logistics material flow.
The major driver of volumes for us in India is the artificial leather, which is called as the Acella Eeco. That is a standard product, which is used in seat applications, door inserts, cockpit, consoles and other areas. We are not a typical Tier 1 supplier; instead, we are a Tier 2 in the value chain.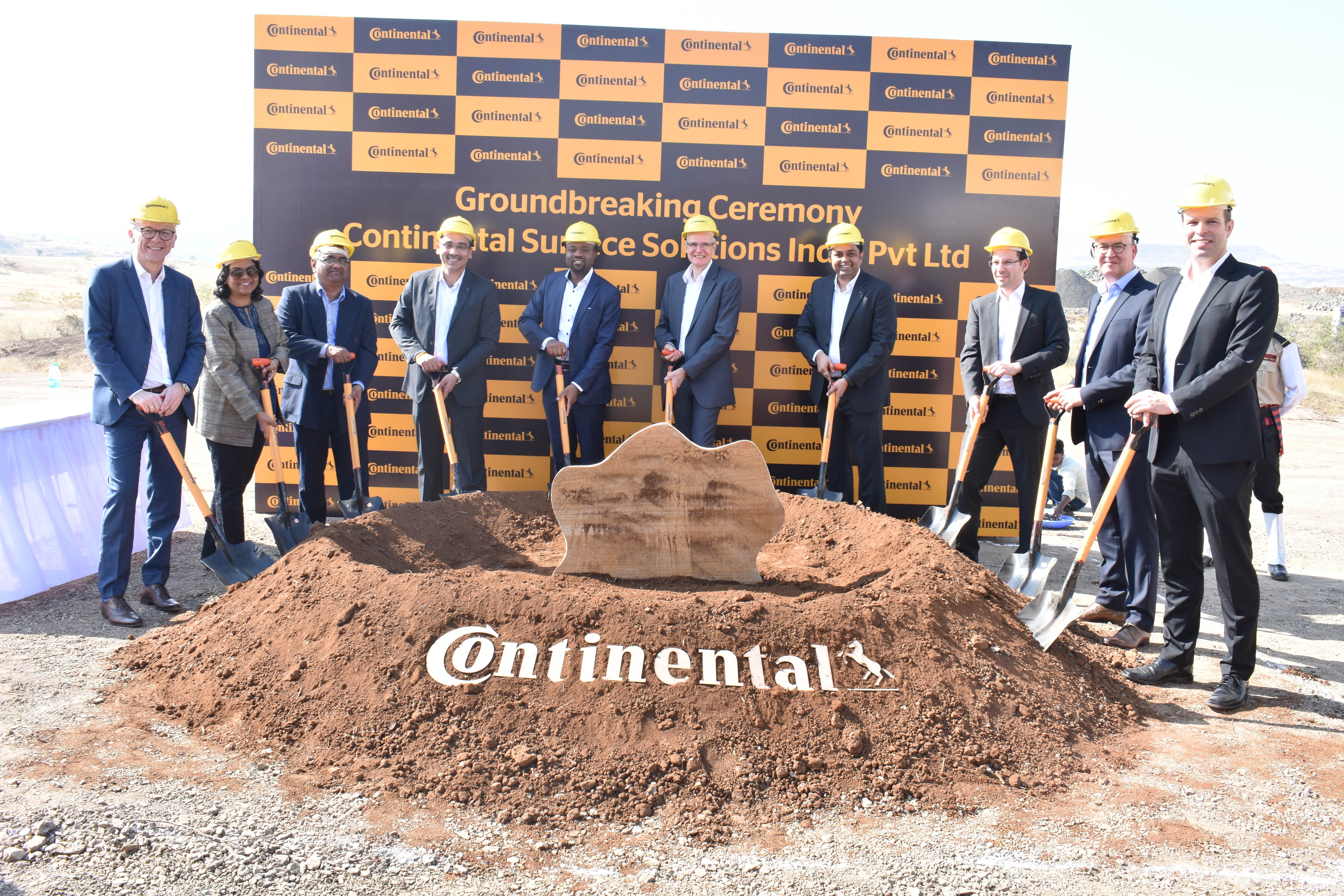 How much will Continental invest in setting up this plant in Pune?
We will invest 22 million euro (Rs 171 crore) in this plant alone. This is due to the technology that we are providing. The machineries involved in the production of these products are huge. One machinery equipment, the biggest one, will be around 100 metres on one line. Such large machines generate a huge amount of volume. That's the reason why, on one side, we have such heavy investments, and on the other side, we need those product applications to utilise the location (the upcoming plant).
This model is followed by us in big countries where we have one location and we feed from that location the entire automotive environment.
We hope to begin operations from end-Q1, CY2020. There is almost nothing on the ground. We have to manage big construction on the round. We are in the process to buy the machineries; we have good lead-time, at least nine months, within which they have to come to India. So I guess a lot of challenges are ahead of us.
How do you evaluate your competitors in India in this domain?
I guess we will compete with a couple of Indian companies, which are feeding the market locally. Then there also are a few foreign players. We are one of them. The technology to produce artificial leather is not new, it is about 50-70 years old. So, from a technology point of view, you still have a lot of competition. The question is what leading edge features will you provide your customers? We are going to provide customer-dedicated products; design-wise and construction-wise, we will talk about emissions, smell, temperature stability and other critical factors.
What vehicle segments will you be targeting once you start operations?
We will be targeting passenger cars and two-wheelers; these segments are at the forefront for us at the moment. Although we deliver products for trucks and buses, but I would say that this market is rather challenging in India when we see the level of truck fleets. I am not sure if the appearance, touch and feel parameters are one of the prominent driving forces in the commercial vehicle market yet.
Car buyers have high expectations in India. They are increasingly looking for value-for-money features even in budget cars. What is your understanding of the fast-evolving car interiors in India? Do you have a specific strategy, maybe on the cost side or product segment side, that you will implement with your products?
I completely agree with you. The car interiors will be the living spaces of the future as people are spending more time in their respective vehicles. Even when autonomously driven cars will come, people will have more time to spend in these cars. From that point of view, we definitely see that the value of the car interiors will be increasing in the future. We, hopefully, will get benefits of that (anticipated) market trend.
When we look at the specific requirements of the market, and in particular here in India, for sure we have to see all the challenges that this market is going to throw at us. In the smaller cars, we are already seeing wide differentiation in terms of several variants. Already in the launch of small cars here we can see premium variants offering luxurious interiors, the mid-variant will offer average interiors and the entry-level will offer cheaper interiors. This is how the OEMs are already reacting to feed the customer demands. So from that point of view, we will get into low-price segments but with the luxury interior upgrade, where the people are willing to pay for plush interiors. This is one of the strategies.
For us, it is even more important to be competitive and for that we need to make the products locally with local raw materials. This is definitely a challenge for us to ensure that we get the local supply base step-by-step to avoid any importing of the raw materials for this kind of production technology. This, I think, is also one of the driving forces that we not only have production facility but also an R&D and technicians. We have to develop products according to the Indian market and also to identify suppliers who are capable to deliver raw materials suited for our kind of production technology.
Have you already identified the raw material suppliers locally?
We are already screening some of them at the moment. I guess it is a part of our business and business case that we have to manage the quality of the raw material in advance. Needless to say, textile suppliers easily come to our mind when we talk about India. Now whether we are able to qualify a local textile supplier for our artificial leather is to be seen. But we are definitely seeking suppliers for other raw materials such as chemicals.
I must mention that it is a sensitive application. Appearance with nice fancy look and smell matters a lot when it comes to these applications. Good interiors must not condense and smell like chemicals. Therefore, the interior applications have to define specific raw materials; we follow higher purity to avoid those kind of application problems later on. Those issues arise not at the moment you buy the car but after six months or years.
Will you also be investing in R&D because India is a country when it comes to the temperature range of below zero degrees to over 50deg C?
I agree with you. These specifications come from the OEMs, they mention their requirements for the complete parts and not particularly for pure foils. The OEM demands are from the perspective of the complete cockpit unit, which is exposed to the sun for decades. So to answer your question, this is driving the specifications too. Of course, in a hot and humid climate such as that of India's, sometimes the (OEM) requirements are sharper when compared to the other nations.
So yes, we have decided to do some R&D with the plant in Pune. We will have laboratories, test beds and other facilities within the same premises where the plant is going to come up.
How big is this opportunity in India according to your estimations?
We are already investigating this throughout the region over a certain period of time. Setting up a plant is a decision which lasts decades and therefore we have to capture the risks involved. I believe seeing the situation in India for years, now it is the time to take that step forward. We see that this market is continuously growing, India has a significant GDP, which is above average in the world. We are talking about the mid-term and not for the next one or two years.
It would be good for us if we utilise the plant in the next five years after the SOPs. I won't be able to put a number as to how big the market is for automotive surface finish requirements but I am sure it is huge. That said, we are not looking at the entry-level passenger vehicles. We are targeting the C, D and E segments, which you can also term as midsize, upper midsize and premium categories.
What will be the headcount when the operations start in 2020?
We are starting with 100 people and a one-shift model. Depending on the customer demand, we plan to increase the output by increasing the shifts to up to three or a three-and-a-half shift model. In that case, we will employ about 250 people at the plant.
Are you also looking at India's vast automotive aftermarket?
We have not considered this at the moment because in the aftermarket our capabilities are not required. This is so because I believe that premium design, texture and similar requirements are the requirements in the aftermarket. So there we can clearly distinguish ourselves from the competition. This is the reason why we are clearly targeting the OEM market.
Lastly, what segments within the two-wheeler market are you looking at?
The application strategy for the two-wheeler market will be same as that in the four-wheeler category. So, I guess, we will be looking at the premium and the upper-end two-wheelers only.
RELATED ARTICLES