Dinesh Tyagi: 'ICAT is building capability for full-fledged PV development even as things are set to become easier with e-mobility.'
As India drives towards more stringent safety norms, Manesar-based International Centre for Automotive Technology (ICAT) aims to excel in that field.
Dinesh Tyagi: "We have invested Rs 45 crore for EV testing at ICAT. We have expanded our facility and broadened testing capabilities scope."
ICAT's second site at Manesar, Haryana, now boasts an integrated oval test track, which is 1.85km long and also has peripheral tracks for ABS, road noise and suspension testing.
A vehicle test bed inside the powertrain laboratory enables comprehensive engine performance testing and helps validate components and vehicles as per specifications.
The NVH lab has different chambers for component-level, heavy-duty and passenger vehicle testing including details about squeak and rattle analysis.
ICAT offers full developmental capabilities for two- and three-wheeler OEMs including optimisation for Indian riding and driving conditions.
X-Poster test rigs perform buzz, squeak and rattle and NVH testing on heavy commercial trucks. These are manned by trained engineers to handle customer queries.
After a road load equation assessment at the track, an emissions test is conducted inside the powertrain lab to ascertain a better measure of the overall levels.
Closed-room engine test bed can help create optimum ambient conditions for endurance testing as well as calibration for fuel economy and emissions.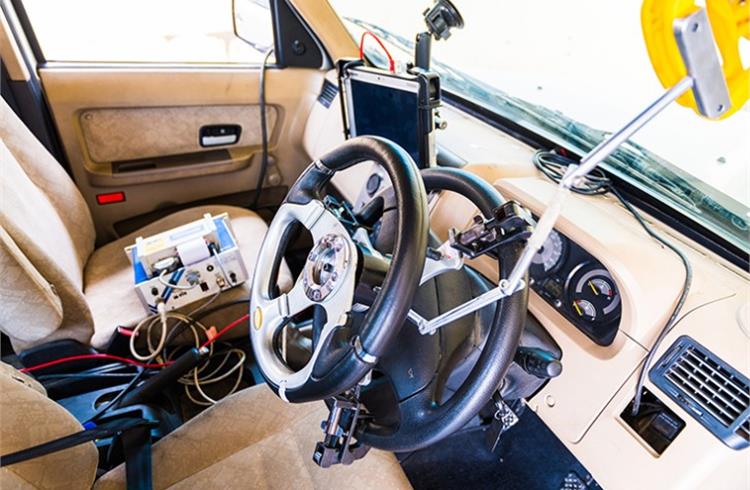 On-board testing equipment for dynamic suspension and steering tests helps achieve a well balanced ride and handling package, increasingly in demand from car buyers.
Endurance and rolling resistance tests can be performed inside the NABL-accredited lab. They measure the impact of a tyre's resistance on a vehicle's fuel consumption.
Human dummies and an array of sensors record crucial data for a vehicle's post-crash analysis and play a vital role in the increasing need for crash testing.
Developmental sled and crash test equipment in the passive safety lab allows reproduction of real-world crash events. OEMs do not need to go overseas now.
The walls of the NVH lab are made up of sound-absorbing materials and help study unwanted noise and vibrations for better interior and exterior noise analysis.
A goniometer for high-precision testing and validation of vehicle lighting components in one of ICAT's full-fledged functional laboratories.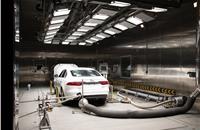 As India drives towards more stringent safety norms, vehicle testing of the highest order is imperative. That's where the Manesar-based International Centre for Automotive Technology (ICAT) aims to excel. In an expansive interview, Dinesh Tyagi, Director of ICAT speaks on a host of topics including usability of its new test track at Site II, its readiness for new tyre test norms, launch of the ASPIRE portal for research, why India Auto Inc should push for the Bharat New Vehicle Safety Assessment Program (BNVSAP) and the need for hybridisation with upcoming CAFE norms.
ICAT inaugurated the 1.85km-long test track at its Site II in Manesar in November last year. What is the latest update on its usage?
The track is being extensively used by our vehicle evaluation team. Earlier, we used to go to GARC, Chennai or NATRAX, Indore but now for most of our usage, we are doing the testing in-house. However, for some specialised tests, we may still need to go to GARC or NATRAX. These tests are related to some of the large trailers, where we find difficulty in attaining the top speed of these low-powered vehicles, given the small size of our track. So, the capability of our test track is not as good as the other two tracks because of the relatively smaller size, yet we are able to fulfil around 70-75 percent of our needs.
It has been a good facility for us and has brought in a good degree of efficiency in our deliveries. We have been able to save on logistics cost and time and, therefore, the customer has also been benefited in terms of cost and delivery lead times. Also, some of our clients, especially two- and three-wheeler OEMs as well as some construction equipment manufacturers, are using the test track for their developmental work.
At launch, a test track management system
was yet to be installed. What is the update on that and how does it improve the usability of the track?
The test track management system has now been installed. There is a control tower which houses the surveillance and control system. Using it, we can monitor each and every vehicle on the track and ensure that it only goes to the authorised sections on the track for its desired testing and developmental requirements.
We are also able to observe and watch the position of a vehicle, control the boom barriers and communicate with the driver. Most importantly, we are able to keep tab of the time of the track usage, which is then used for billing purposes.
The track also has peripheral tracks for ABS, steering and suspension as well as road-noise testing. Are these being used more than the main oval track, which is 1.85km long?
The maximum usage is for the oval track. That is always the case because the oval track is used for brake performance testing and sometimes for conducting developmental work on a new vehicle as well. We have also converted a part of the track to carry out wet-grip testing on tyres, which is now required for the upcoming tyre regulations. Apart from that, coast-down tests are also carried out on the oval track, to capture the road-load equation of a vehicle, which, in turn, is used for emissions testing in the lab.

Can you explain the different tests to be conducted under the new tyre regulations?
Three new tests are being brought in for tyres under the CMVR:
Wet-grip performance

: This will evaluate the characteristic of a tyre to offer good friction with the road surface under wet conditions.

Tyre coasting noise

: It will measure the noise created by the tyre when it rolls along the road.

Tyre rolling resistance

: This test, conducted inside the tyre testing lab, measures the impact of a tyre's resistance on a vehicle's fuel consumption.
These new regulations will be introduced and will bring a star-rating system for tyres. While the deadline is there, due to the want of a facility, it is being postponed. We may expect it to be implemented from October 1, 2020 for data capturing purposes initially but as a mandatory policy, the date is yet to be announced. Moreover, while these tests can be conducted by any of the authorised labs under the CMVR, only ICAT is fully prepared to conduct them so far across India.
Has the Covid-19 pandemic delayed any of the projects which were in the pipeline at ICAT?
Yes, there were some delays. We opened up on May 7 and managed to streamline all things that could have been done at our end, but delays have been there on account of logistics. The test properties couldn't reach us in time; that is still an issue. We are still struggling with the movement of test properties from the customers to us.
The other delay was for some of the tests that needed to be conducted at the customer's end or where our teams needed to go to GARC or NATRAX. Due to the travel restrictions and mandatory institutional quarantine policies, the movement was delayed. All these issues did impact our deliveries.
With Covid-19 also triggering a push on self-reliance and local manufacturing, do you see it pushing demand for type approvals and component-level testing in the future?
The government has a big focus on self-reliance or Atmanirbhar Bharat. Our ministry — the Department of Heavy Industries (DHI) — has taken a giant step to support this cause to develop and research in India. So, the focus is to bring together all the stakeholders in the country who can contribute towards developing new technologies within India, and also towards doing basic research.
The thought process is that while so far, we have been heavily dependent on western countries such as Japan, China and Korea for technology, for how long shall we remain dependent? So, the government wants that within 10 years, we should be developing our own technology. With this objective, the DHI has taken the lead and has come up with the concept of creating e-portals to bring together stakeholders. On one hand, it would include the ones who require the technological research to be done and on the other, those such as researchers, experts, academia, government labs such as the DRDO, start-ups and institutions like ours that can assist in facilitating the research. Having said that, the government will remain the most important stakeholder as it can fund research on key technologies through its various grant channels.
With this objective, the government has assigned creation of such portals for six entities including BHEL, HMT, IIT Chennai, CMFTI; within automotive, ICAT and ARAI are the two bodies. So, there are six key portals which are being prepared, and ICAT has been the first one to launch. We launched the portal on July 15, and on August 15, we also introduced the Phase II of that portal. We are now in the process of bringing together consultants and industry experts. The next step would be to undertake research projects to solve problems of the industry, especially in the manufacturing sector. All this shall be facilitated through this portal. The portal is named ASPIRE which stands for — Automotive Solutions Portal for Industry, Research and Education.
This is where we are contributing and it is the automotive industry which is going to be the key user to fulfil its objectives. They could either carry out the research themselves or offload it to ICAT, as we now have a team which would take these as turnkey projects and do it on their behalf.
How many ICAT engineers have been deputed to monitor the ASPIRE portal and what is your plan to commercialise the services offered under the initiative?
Currently, three people have been deputed to this portal. We don't have any plan to charge any money for the next two to three years. We have registered about 400 industry users and around 150-200 experts on the portal so far. Our aim is to grow these numbers to 1,000 and 500 by the middle of September, respectively.
How is ICAT moving towards transforming its powertrain and tyre-testing labs as CoEs?
When you really look at attaining excellence, what it means is that there should be a high degree of capability and knowledge in that domain. Within the country, while we would probably be the best but it's a process and relies on people and their capabilities. So, it is an ongoing process and we have to consistently work towards improving our knowledge, capabilities and competencies consciously and strive to create a benchmark within the country and the world.
How are you building the human resource capability at ICAT to manage and skilfully offer the new suite of services?
ICAT, in its organisational KRAs, has a set target for a certain number of mandates per employee per year. That is something that we pragmatically set every year and improve upon. While that is one number to look at, it clearly shows our intent. The topics for training are suggested by the different business unit heads and many a times by the employees themselves. So, depending upon these inputs, an annual training calendar is prepared and this process has been happening at ICAT for years.
During the lockdown, we also started with a new education series that offers expert lectures to employees on different topics of relevance in technology development. In addition to this, we carry out many 'ICAT Connect' forums, in which education and know-how-imparting seminars and workshops are conducted. We will now try to leverage more of such seminars in the future. Other than that, on-the-job training while working on different challenging projects is the best way of imparting practical learning.
Can the track substitute all-weather testing across different terrains, which is usually conducted during the design and development of a new vehicle?
Our test tracks are too small for full-vehicle testing. NATRAX would be better suited to simulate such things but again, it would call for more investments and creation of specialised facilities. Having said that, field testing will eventually be required and while one can minimise field testing, but nobody should avoid it as real-world testing can throw up so many surprises.
Is ICAT open to offering full-vehicle development services to passenger vehicle companies as of date? What additional capabilities are required to offer full development facility to four-wheeler OEMs?
Passenger vehicle developmental capability is a huge ocean and the knowledge to develop lies with only a handful of companies (OEMs) in the world. Therefore, at ICAT, we are developing capabilities to support these OEMs in their work. While there are many things, right now we are supporting parts of that. Gradually, this will enhance but if we were to develop a complete four-wheeled product right from scratch to something ready for launch, I think that is still far away. It will take time, but we have it in the horizon and we are building it. It requires a lot of domain-specific knowledge which we don't have currently.
It could perhaps be a 10-year timeframe but with electric mobility, things will become easier because developing an IC engine has been the toughest challenge in an automobile so far. While body engineering is not so challenging, the internal combustion engine in itself for fuel consumption, durability, noise and emissions, throws some of the biggest challenges, which will be addressed to a great extent with e-mobility, even as some newer challenges will creep in.
Has ICAT bagged any testing or developmental support contract from overseas?
We are doing many projects with some technology companies such as Tata Technologies and TCS, which are executing work for global OEMs. In terms of direct contracts, we have undertaken work for the product launches of OEMs in India, but not for their global projects. While there are many queries that keep coming to us, currently, our import policy is a big bottleneck.
If you have to execute any developmental work in India for a global entity, one needs to import the test property. Importing a car to India attracts over 250 percent duty, which makes it a big inhibitor as the cost increases two-and-a-half times. In contrast, countries like Spain and Italy allow it at zero percent duty for such purposes. We are pitching to the Ministry of Commerce, through the DHI, for providing some allowances to us in this regard.
How do you view the dynamics of the Indian automotive industry changing, especially on the front of safety with the recent upgradation in the form of new norms?
As regards safety, customers are increasingly getting more conscious and aware, especially the educated section of the society. So, going forward, if we can bring in the star-rating system — Bharat New Vehicle Safety Assessment Program (BNVSAP) — it will be good, but somehow, it's not happening in India. It's a thing of who bells the cat?
The industry is also not doing it as eventually it's a cost that has to be borne by it and, indirectly, the consumer. So, nobody wants to initiate it. Also, there's no pressure on the industry because it's not a mandate from the government's side either. Ultimately, it has to get triggered at some point and somebody will need to voluntarily take the lead and create a sort of peer pressure within the industry.
With the Phased Manufacturing Programme giving impetus to local manufacturing of electronic components, are you observing an increase in component-level testing of EV-related parts?
We have recently added more testing infrastructure and invested Rs 45 crore for EV testing at ICAT. We have expanded our facility and broadened the scope of our testing capabilities. Yes, we are observing more work for our EMC and electrical and electronics labs, driven by EVs and while both EV and ICE homologation will run in parallel, we see more growth in EVs. Overall, we see more work coming our way, but again, primarily driven by electric vehicles.
The overall investment at Site II is to the tune of Rs 500 crore. What is the planned return-on-investment roadmap?
The return on investment in a centre like ours is quite poor because these facilities are aimed at enabling the implementation of regulations by the government in the country. So, one can't make an RoI calculation on it but if we consider ICAT's current value, it would be worth over Rs 2,000 crore, while our total revenue last year was only Rs 277 crore in comparison.
We have been set up for a national objective, which also means that we should be self-sufficient, which we are. We are self-sustained and don't need any funds from the government for our operations and we can also expand by ourselves.
How is ICAT building its credibility and showcasing its potential to prospective global clients for them to be shifting development from their global centres to India?
It is already happening through the projects that we are executing. Each project becomes a marketing tool for us, and I would say that we are on the right path. Fortunately, whatever projects we have undertaken for MNCs so far, we have been able to fully deliver on them and have tried to maintain our reputation in the testing and validation space.
ICAT is also conducting research in EV technology, especially in the area of identifying alternate battery cell chemistries. Are you going to come out with a white paper or propose innovation ideas?
The research is happening and we already have a breakthrough in the sense that the cell that we have been able to create is better in its performance than that produced by LG. However, there are other challenges related to endurance and reliability, and we are working and developing it further. We are majorly working with local materials for this innovation but it will take time.
With upcoming CAFE norms, what engine technologies are you seeing OEMs coming up with? Is mild-hybrid technology going to pick up pace in India?
Hybridisation will definitely happen and CAFE norms will drive it. Also, the market preference may shift once hybridisation happens in substantial numbers as the cost of a hybrid will come down. Eventually, the market will decide based upon the commercial benefit to the customer.
What is your vision of ICAT five years down the road?
In terms of revenue, we have a K26 plan which states that by 2026-27, we aim to be a Rs 1,000 crore company. Having said that, we have a five-year rolling KRA, which is updated every year, for the next five years. Of course, our vision and goal are to become a product development company, also getting into research. Our mandate is to support the cause of 'Make in India' and make the local automotive industry become globally competitive. We wish to pitch in there and assist the industry.
(This interview was first published in the September 1, 2020 issue of Autocar Professional)
RELATED ARTICLES