'We have built the S340 as one that gives belief to anybody to buy an EV.'
Tarun Mehta, co-founder & CEO of Ather Energy, one of the few hardware start-ups in India, talks about what went into the making of India's first connected scooter S340.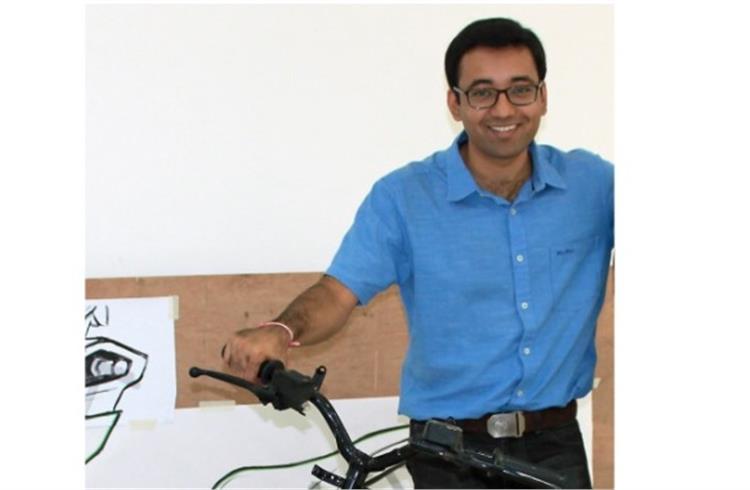 Tarun Mehta, co-founder & CEO of Ather Energy, one of the few hardware start-ups in India, talks to Jaishankar Jayaramiah about what went into the making of India's first connected scooter, the S340.
How can you differentiate the S340 from other e-scooters?
The Ather S340 has several unique things ranging from its styling to safety features and from new technology to comfort levels. It has a touchscreen dashboard connected to the cloud, a host of smart features and a top speed of 72kph.
The scooter is designed in-house by Ather and will be manufactured in the upcoming manufacturing facility in Bangalore. It comes with a hybrid aluminium chassis, is 20 percent lighter than other petrol scooters in the same class and has 50 percent more storage area as two helmets can be easily stored in the vehicle's luggage space. It also has aluminiumswingarm.
Will this high-technology driven product satisfy mass market two-wheeler customers?
No technology option starts to address or convince the entire market from day one. We have to first find a set of people who have strong reasons to believe in what we are building. But we are not trying to build a niche product. We have clearly built the product as something that gives belief to anybody to buy. It has several features that will attract mass market two-wheeler customers. It has lot of storage space, safety features and several other attractive features along with comfort as compared to any existing conventional petrol or electric scooters today in the market.
Looking at the pattern of Ather Energy's fund raising, the investments seem to be around Rs 80 crore now. When will it break-even?
Ather Energy can achieve its breakeven when it can manufacture and sell 50,000 vehicles a year. We hope it will happen soon. However, the company plans to produce 10,000 vehicles in the first year itself. The production is planned at the rate of 50 scooters a day.
Have you received any export enquiries so far for the smart e-scooter?
It is really amazing that we are getting a lot of enquiries from overseas markets –around 40-50 enquiries thus far from Asian and other markets, especially European countries. Currently our focus is to get this vehicle out from the production, focusing on one specific market – India. Gradually, we will think about expanding our market geographies.
Why did you choosethe SURGE Summit to launch the S340?
We are very thrilled to be part of SURGE as it is one of the most influential technology summits in the world. We believe that this is the ideal platform for the launch of a data-driven product which is envisioned to be part of a larger connected ecosystem.
Did the S340 undergo ARAI testing and certification? What is the status on this?
Yes, ARAI certification is mandatory for this vehicle. We have been working with ARAI for a very long time. We have even carried out some independent testing there, not for homologation but for our own references. In a couple of months, we will start doing formal homologation testing with ARAI.
What is the level of local content in your e-scooter and what are your production plans?
The Ather S340 scooter will have a high local content of about 90 percent. However, the lithium-ion ells that make up the battery pack will be imported. The entire battery pack though has been designed in-house. I believe we will have 40-50 people on the shopfloor. We have the names of some of top Tier 1 suppliers in the industry to source components, be it the suspension or body panels. So far we have not cut corners with Tier 1s and we are working on it. Our eyes are on the Tier 1 players who work for the major two-wheeler or four-wheeler OEMs in the country.
Electric vehicles in India have struggled to become mainstream because of inadequate infrastructure. How will you address this?
We agree that charging stations are quite important for electric vehicles. For this we are working on charging stations in public and private places. Primarily, the buyer can charge the vehicle at his home or workstation. In addition, we are working to set up charging stations in shopping malls and big corporate offices, apartments and other commercial places. There are also plans to set up public charging stations partnering with the government agencies.
RELATED ARTICLES