'The biggest challenge for OEMs in India is to strike the right balance between weight savings and costs.'
Henkel is developing conductive coatings to improve electrical conductivity and chemical resistance in batteries, enabling improvements in battery efficiency and reliability.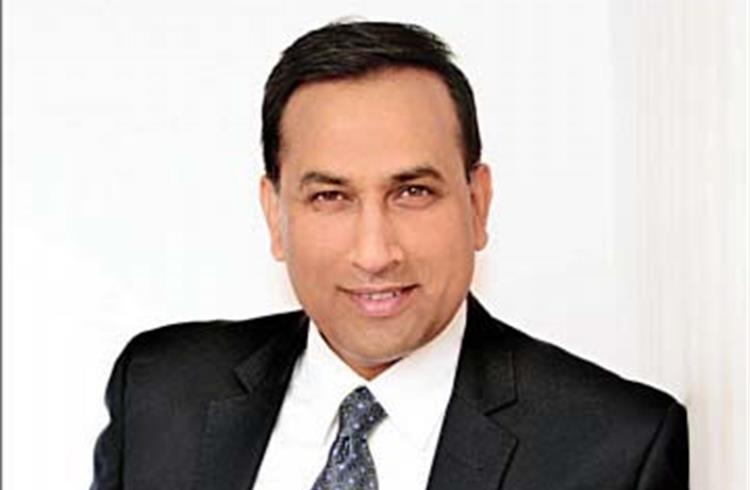 Barun Bharadwaj, Henkel India's business director, Transport & Metal on the company's lightweighting efforts, adhesive technologies, associated challenges, the impact of technology evolution and new mobility solutions on Henkel's global product line. Excerpts:
Automakers the world over are reducing vehicle weight due to stringent emission norms, engine downsizing and the charge of electric vehicles. As a result, suppliers too are working in this direction. What is Henkel's engagement in lightweighting?
Henkel's solutions are designed to meet automotive regulations, including crash, safety and emission norms in India. The company is driving cutting-edge technologies that are focused on sustainable lightweighting solutions to help OEMs achieve their targets of weight reduction, cost efficiency and better fuel economy, while enhancing safety and comfort in vehicles.
We contribute majorly to the trends in the automotive industry as the company has been developing strong solutions for a variety of challenges. Our automotive adhesive portfolio, under the Loctite brand, is a reliable car adhesive that caters to the car glue requirements of many premium brands, OEMs and garages.
Our solutions offer enhanced durability, sustainability, crash performance, safety, comfort and reduce noise and vibration. Our innovative technologies such as structural inserts, adhesives, high damping foam (HDF), liquid applied sound deadener (LASD), composites, and new-generation metal pre-treatment contribute immensely to meet sustainability and lightweighting targets. Trimming a car's weight can impact fuel economy, thus adhering to the norms set by the government.
Can you detail examples from Henkel's existing product portfolio where the adhesive division caters to automotive lightweighting requirements?
Among the India-specific solutions is the use of structural adhesives as bonding solutions, which not only optimise but also provide an opportunity to eliminate spot welds and improve stiffness, fatigue and crash performance of vehicles.
Structural inserts as 3D parts help improve stiffness and crash of box sections i.e. A, B and C pillars / sections by optimising steel design with weight reduction opportunities. Additionally, the company offers HDF, which improves door slamming and roof drumming noise with weight reduction opportunities. The liquid applied sound deadeners, which are sprayable acoustic solutions, can replace traditional bitumen-based sheets, thus reducing process complexity as well as leading to weight reduction.
Faced with tighter regulatory demands and growing consumer awareness of better fuel efficiency and reduced emissions, automotive manufacturers and suppliers are increasingly moving from traditional steel sheet or galvanised alloys to mixed and very lightweight metals that offer significant savings. Henkel's Bonderite M-NT solutions are nextgeneration metal pretreatment technologies for painted metal surfaces that enable the increased use of light metals while maintaining excellent corrosion protection, reducing/eliminating the heavy metals and sludge generation.
What are the typical challenges in the areas of using adhesive technologies that engineers in the auto industry face currently? How is Henkel addressing these challenges?
Maximising efficiency of resources and reducing CO2 emissions are among the biggest global megatrends today and also one of the chief proponents of lightweighting and sustainability. Lightweight materials have become a crucial element for product design across several industries. The automotive – along with aerospace – industry is a forerunner when it comes to the use of new lightweight materials. Leading automakers are constantly scouting and researching for innovative lightweighting solutions including the use of highperforming, modern adhesives.
The challenges, however, are that lightweighting now involves a lot of substrates like new substrates to be integrated in the car body seamlessly. The biggest challenge for OEMs in India is to strike the right balance between weight savings and costs. Henkel offers a broad portfolio of sustainable solutions for car body assembly that strongly extends into greener raw material concepts and ultra-lightweight/ high efficiency systems. Our innovative solutions that help customers meet these challenges include: l Sustainable product concepts and bio-based materials. l NVH (Noise, Vibration and Harshness) isolation. l Innovative lightweight solutions and alternative concepts with substrate mixes.
Additionally, we offer value engineering and creative solutions to help customers meet the changing requirements while minimising cost impact. We also explore localisation to the extent possible, alternate raw materials that are easily available in India, and supplier partnerships that could help us innovate.
Where are Henkel products typically used in a passenger car?
As the global leader in adhesives, sealants and functional coating technologies for the automotive industry, we create a competitive advantage for our customers along the entire value chain of car manufacturing. We also partner with our customers right from the start, so that we understand their needs and develop tailored solutions – for today and tomorrow.
Body and paint shop processes have become more efficient with our state-of-the-art cleaning, forming, cutting, joining, bonding, glazing, vibration damping, seam sealing, automotive sound deadening, pre-paint surface treatments and corrosion protection.
We offer solutions for cleaning, bonding, gasketing, lubricating, coating or porosity sealing, acoustics challenge, machining fluids for various powertrain applications such as engine, transmission and driveshaft, among others.
Our range for chassis manufacturing and maintenance has lubricants and cleaners for all metal forming processes such as stamping and casting. Metal pre-treatments and coatings protect wheels and frames from corrosion. Strong bonding comes with Henkel's friction bonding for brake pads and rubberto-metal bonding for suspension components.
Additionally, we have solutions for car body interior and exterior applications such as interior lamination adhesives, automotive lighting adhesives, multisubstrate bonding and sealing solutions for exterior components (fascia, tailgates, roof systems), bonding and sealing solutions for exterior components, weatherstrip coating, flock and sealing solutions, and structural adhesives.
The buzz in the global automotive industry is about new disruptions like autonomous vehicles, electrification, hybrids and shared mobility. How will these developments impact Henkel and its product lines?
The auto industry is undergoing a massive transformation. Connectivity and in-vehicle infotainment, safety and autonomous driving, the proliferation of hybrid and electric cars (EV) are high-tech digital wonders that would not be possible without technologies from Henkel.
Our transport and metal SBU's solutions provide sealing, protection and performance enhancement to an increasing number of electronic modules in a car, be it electronic control units, sensors, connectors or displays. High-impact solutions from Henkel are used across quite a variety of electronic components built into vehicles with conventional combustion engines as well as hybrid and electric propulsion.
Autonomous driving has been a long time in the making, with advanced driver assistance systems laying the foundation. This includes rear-collision warning systems, blindspot detection, and adaptive cruise control that are enabled by Henkel with the broadest technology toolbox for advanced electronic material solutions in the market. These include thermal interface materials, conductive inks, advanced gasketing, potting, bonding and coating solutions.
Advancements in lithium-ion batteries, especially the technology of the battery cells and for the assembled battery pack, are pushing growth for both hybrid and electric cars. Battery packs are becoming increasingly more affordable and lighter with a boost in range and power. In fact, EVs today can go for over 200 miles/ 320 kilometres per charge.
Henkel is developing conductive coatings to improve electrical conductivity and chemical resistance in batteries, enabling improvements in battery efficiency and reliability. The performance and reliability of the battery is highly dependent on its ability to maintain a consistent temperature – never getting too hot or too cold. This makes thermal management solutions absolutely vital. Henkel's range of thermal interface materials and printed heaters keep batteries from overheating by dissipating heat quickly and efficiently. Its printed heaters keep batteries from getting too cold even in harsh conditions.
What, in your opinion, are the new opportunities in the automotive industry in the near future?

Vehicle lightweighting: As OEMs increasingly take to using lighter materials such as aluminium and polymer composites, which are not suited for welding, there is growing demand for high–performance adhesives or bonders. These modern, strong adhesives not only adroitly fill minuscule gaps in various car body sections but are also used to hold together and stiffen load-bearing parts.
Development of automotive electronics: In the next five years, most of the innovations in vehicles will come from the electronics systems, providing a key differentiator to car manufacturers around the world. These are demanding applications and important drivers for the automotive industry.
(This interview was first published in the October 1, 2017 print edition of Autocar Professional)
RELATED ARTICLES