Ashok Leyland's Dheeraj Hinduja: 'With every recession, we have got to get better. I'm hopeful that by the next one, we would not even feel it.'
Dheeraj Hinduja, chairman, Ashok Leyland, in an interview with Sumantra B Barooah, talks about strategies for growth, which also include collaboration for electric vehicles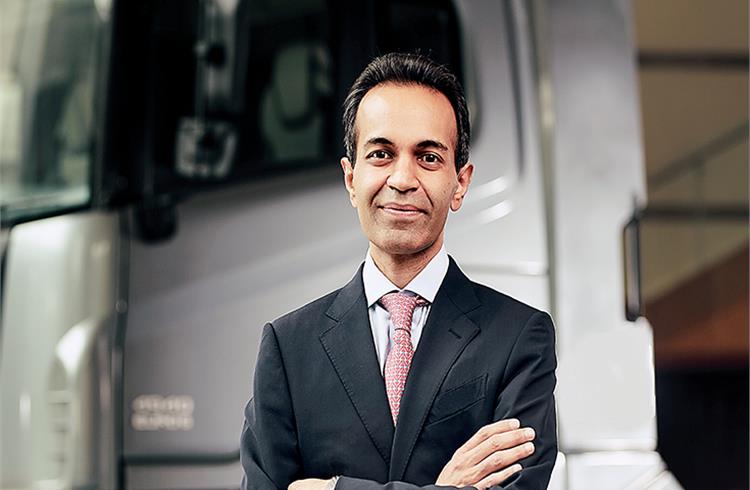 Ashok Leyland, which expects commercial vehicle industry growth to return by Q3 FY2021, is putting all efforts to execute its plans in the M&HCV and LCV businesses to be a significant player in new overseas markets and realise its ambition of entering the Top 10 CV OEMs group from the current 24th rank. In an exclusive interview, Dheeraj Hinduja, chairman, Ashok Leyland, explains the roadmap for growth and electric vehicles.
What are the key mantras Ashok Leyland is practising to tackle the ongoing slowdown? Have you come up with any approach / best practices which will remain after the tide turns?
What we have really done is, of course, cost reduction but we have not stopped all the critical investments we needed to do. So BS VI, that everyone has done, the modular platform and the extension of the LCV range is critical for us going forward.
How do we de-risk ourselves as our M&HCV core play, which constitutes 70 percent of our sales? This is something we have been working on since many years. The key components of this are, of course, international sales, growth in LCV, parts and defence. But you might have heard all this before. What's different? The difference is that the modular platform brings in the left-hand- drive version also. This means every single product made in India will be available in LHD and RHD, which gives us a significant increase in the products that we have to offer and also in international markets, where we were doing a lot of projects. We are now getting into retails. Bangladesh,
Sri Lanka have traditionally been strong markets for us, and Nepal to some extent. Now, we are trying to see how we can penetrate deeper into markets where we can ensure that Ashok Leyland is seen as a local brand.
Ashok Leyland will use indigenous mid-NOx technology for its BS VI range
of CVs developed on a new modular vehicle platform.
We have added that with the LCV range and if you see globally, LCVs are the largest selling product in any market. The decision to buy out the Nissan share in some respects, you might say, was a risky one. But in hindsight, it's been a good acquisition for us.
In the defence sector, we have won a number of tenders. We are just waiting for the government to start placing the orders, which it has now slowly started to do. If I look at the ecosystem, the slowdown has happened and the reasons are well known, whether it was the NBFC crisis or the axle norm changes. But we need to ensure that going forward and with every recession, we have got to get better. I'm hopeful that by the next one, we would not even feel it.
By when do you expect an industry uptick?
Whenever emission norms change, the first two quarters have been very slow because customers are hesitant because they want to see how the fuel efficiency is, how the products perform, which OEM has brought out the best products. In my view, if you go by past experience, Q1 and Q2 could still see a sluggish, slow rate, but Q3 and Q4 has always been very strong. By natural coincidence, if you take Q1 and Q2 of next year, then this slowdown in the Indian industry would have also experienced more than 18 months. So I would say, by default, we should see growth coming in. Sometimes, of course, cycles have been short. In 2008, it was only six months, in 2012-13 it extended longer into this 18-month timeframe. In my view, I cannot see with the growth aspirations of the country, with what the government wants to, that Q3 and Q4 of FY2021 should not be strong.
At Ashok Leyland, you have pushed the technology envelope with iEGR, to BS VI. What are the pillars that you think will drive Ashok Leyland to the forefront?
As you are aware, we are coming up with this mid-NOx strategy along with the EGR with the SCR solution, but the consumption of AdBlue would be lower and in the overall cost of running of the product, would be far more effective. We have never done as much testing as in the past few years. Despite the very short timeframe, we're seeing very good results in our fuel efficiency. Along with the modular platform, this has not only helped improve the customer experience, but also ensures better reliability.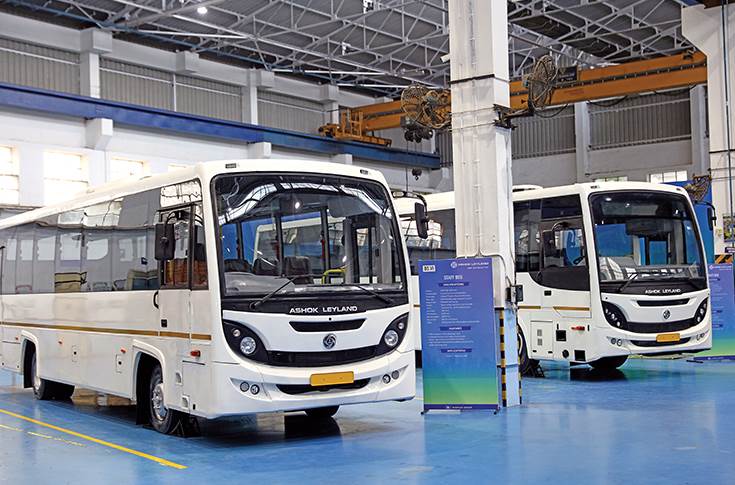 Ashok Leyland is to begin production of its BS VI-compliant trucks and buses from January 2020.
So, from a product perspective, what's the additional advantage for customers? The modular platform, along with the solutions business that we have introduced and the additional products that we bring in will help the driver and fleet owners to be able to monitor driving habits. As per our new vision, we see that it's no longer just the product, but the product and solutions you can provide to the customers.
In the BS IV period, Ashok Leyland offered informal free service support just to ensure that the EGR technology is foolproof and comfortable to customers. Have you factored in something similar for BS VI as well?
I think the real change in BS VI is that you cannot just take the vehicle to any mechanic if there is a problem. Ideally, you need to come back to the dealerships. We have a lot of authorised service centres, something called 'Service Mandi', which has again, regrouped with 15,000 mechanics across the country. We have undertaken significant training across the country so that that at every touch-point, if there is an issue, people know how to deal with that. We have also created a quick reaction team to ensure that if there is any issue, we are there.
I believe the test beds at your tech centre were running six days a week.
It is working continuously, not six days but seven days a week. As of end-October, we have undertaken 5 million kilometre of testing. That's why, I think the confidence level we have with the new products is quite high. Similarly, we have worked with all our vendors, quality system and quality checks. So there is a complete different mind-frame in which we are going ahead with the BS VI launch. Despite the best of quality, if one vendor lets you down, you have issues across the chain. We have worked at it, we have tried to ensure that we try and safeguard as much as we can, but at the same time stay prepared to ensure that customers should not have a negative experience.
Building technological capabilities will be very crucial to realise the grand vision of being among the world's top 10 CV makers, isn't it?
I think the change really is that, today, after years of our own development, in many respects, I would say 2008 was a rebirth for Ashok Leyland because we took the decision of becoming completely self-sufficient from a technology perspective. So the comfort that we have in terms of being able to not only make the products and solutions for the Indian market is high, but also we benchmark against the competition and OEMs for the overseas market. Today we are not only playing a game for India but whatever we do, has to be done on a global basis.
Innoline engine combines the efficiency and performance of Ashok Leyland's iEGR technology with the simplicity of the 'Sada' or 'inline' pump.
We are keen on playing in the African markets, Middle East, some of the ASEAN markets and Russia, where there is growth still. Compared to other OEMs, we are relying on the Indian experience and the difficult road conditions here. We have, perhaps, the most severe monsoon but our buses still ply in such conditions. This is something other OEMs cannot offer.
What percentage of Ashok Leyland's volume do global markets contribute? How big could the contribution be from the to-be-entered markets?
Currently, our exports sales are only 10 percent but there's a limited portfolio of buses and a few truck products. Effective April 2020, the old portfolio changes and I think we will see the maximum penetration in our exports with buses and also the LCV and ICV range because that's where the global markets are. They are more open to foreign brands and until you really create a strong network, moving into the M&HCV domain becomes more difficult. But LCVs, ICVs, buses and electric, we have got all the different options to offer.
Our aspiration is definitely to grow from this 10 percent. I am not looking at the slowdown in the Indian market. We believe that the Indian market will continue to grow and our international sales will continue to grow too. Our minimum target anyhow should be an excess of 15-20 percent. And that is something within our reach. When you see the product range that we've got ready with, it's something that's doable.
On the LCV side, there are already very well established players including your erstwhile partner at the global stage. What kind of approach would you take?
In the African markets, the European and Japanese competitors are very expensive, so they have a high degree of Chinese players there. I think, as an overall Indian OEM, we have a lead engineering-wise. Our road conditions have given us the durability to compete in any of these markets, where road conditions are not as smooth. In my view, our LCV products can not only compete in these markets, but the Indian brand needs to get established as a manufacturer of strong quality products. So, by default, we have to be cost-competitive, but that does not mean we will not produce high-quality products. That will have to be the international strategy until our brand gets proven and people are comfortable with 'Made in India' and within 'Made in India', Ashok Leyland becomes the preferred brand.
Where do you see the current status of the industry in terms of electric mobility and how big is the opportunity for Ashok Leyland in India and overseas?
I think electric mobility is something that all OEMs have to be ready for; the question is when? Some countries are saying 2025, others 2030. But, what we have said is that we always need to be ready with all technologies that are suitable for the market conditions. We have got the electric products ready, although the immediate focus is on nine-metre and 12-metre buses, because that's what the majority of the tenders have been for as well. But we are also a little concerned in terms of the ability to make it a financial model. In certain respects, we are also looking at teaming up with operators; we will ask for the tender stipulating that OEMs need to take a shareholding within those companies as well. We can be there as a partner to ensure that the products are working. Indian OEMs have not been able to be as competitive as the Chinese. We have a very open mind and as the new tenders keep coming out, I think you will see Indian OEMs becoming more and more competitive as well.
With regard to a partnership for electric mobility, you and Mahindra & Mahindra's Dr Pawan Goenka share similar thoughts. He said, times call for partnerships amongst major OEMs for realising the critical scale.
I completely agree with this sentiment and I think the issue is not, let's say Ashok Leyland competes against Mahindra or Tata. It is the Indian industry that needs to be able to demonstrate that we can compete globally on electric vehicles. If that means putting aside egos, working together and collaborating, I think it's in the interest of the country and it will only make all of us stronger.
Maybe, Ashok Leyland, Mahindra and Tata form a consortium of sorts, purely for an EV?
You never know how things pan out, but I am just saying I'm glad that others also have an open mind. I think that's constructive and it'll depend on how we can build upon this.
What kind of investments have you earmarked out, say, on a five-year horizon?
Our maximum investment was in this last year, close to Rs 1,500 crore have gone in because of the modular platform, BS VI and the Phoenix platform. But going forward, we are not looking at that much. We do not require substantial investment in range extension or creating manufacturing facilities, so I find ourselves actually in a good position.
Once the market improves, our capital expenditure program will start, possibly in the Rs 300 crore to Rs 500 crore range which for a company of our scale might be low. Last year we clocked Rs 30,000 crore in sales. Rs 500 crore is really not much when we look at investments. Like I said, 'Success for us, will always be to think on that low-cost approach.'
What percent of the investments do you set aside for building R&D capabilities? Why is it that the percentage tends to be low in India?
It is a little over 2 percent of our annual turnover. India has the advantage of the local structure, engineering skills, and cost structure. So you might say that's small compared to larger OEMs who spend three, four, or five percent but when you look at R&D expenditure, a lot of it is manpower.
You compare the manpower cost in India and the cost of labour in Europe, there is a difference. So I wouldn't necessarily say that if our ratio is lower, we are not investing as much to ensure that the future is secure as well.
(This interview was first published in the December 15, 2019 Anniversary issue of Autocar Professional)
RELATED ARTICLES