Apollo Tyres' Neeraj Kanwar: 'Learnings from our Hungarian plant have gone into the new plant in Andhra Pradesh.'
Apollo Tyres' new plant in Andhra Pradesh's Chittoor district uses state-of-the-art automation as well  as machine learning and IoT. Neeraj Kanwar, Vice-Chairman and MD, tells why the company chose Andhra Pradesh over other states.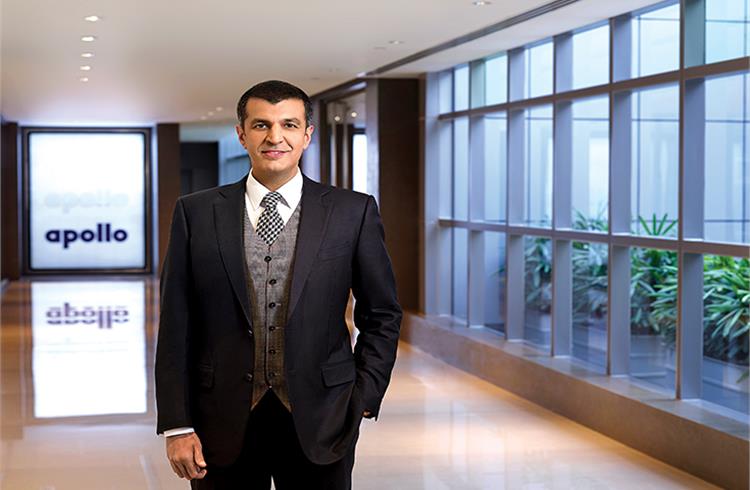 Apollo Tyres' new plant in Andhra Pradesh's Chittoor district uses state-of-the-art automation as well
as machine learning and IoT. Neeraj Kanwar, Vice-Chairman and MD, tells why the company chose Andhra Pradesh over other states, level of collaboration between its R&D centres in Chennai and Holland, market dynamics, introducing premium Vredestein tyres soon in India, and how virtual meetings and remote working are driving enhanced productivity.
On June 25, Apollo Tyres commissioned a new passenger vehicle and truck-and-bus radial plant in the Chittoor district of Andhra Pradesh. Will it cater to both domestic and export markets?
All our plants in India are multi-product facilities and are selling to all markets; it's only a matter of supply chain and logistics. However, currently, the Andhra plant will only cater to the domestic market because we want to have a faster ramp up. Therefore, we are not giving any complex SKUs to the new facility.
For the first 18 months, the supplies would be related to the domestic market; then it would start ramping up with more SKUs for the export market as well. In general, any plant that you start brand new, one has to begin with easy sizes so that people start getting used to the production facility and equipment and slowly, one can bring in the complexity.

The company has committed to invest Rs 3,800 crore in the first phase at Chittoor. What is the future expansion and investment roadmap?
The total capex that we have commitment to is Rs 3,800 crore. Most of it has been invested already. We have already commercialised the passenger car side of the business. End-August is when we will be coming out with the truck-and-bus radials (TBRs).
The plant is ready and I am very happy to say that under this restrictive scenario, the project and manufacturing teams have been able to commence production in Andhra Pradesh. We were to start in January or February this year, but then the lock-down came and delayed
our plans.
We are producing around 300 passenger car tyres per day which is a good sign, and we plan to ramp it up to 7,500 car tyres within the next 12 months. Regarding a significant expansion, we don't know as yet given the markets are so dynamic. So, currently, we are only looking at utilising the installed capacity and ramping up production to 7,500 passenger vehicle tyres and 1,500 TBRs every day by next year. That is for the Rs 3,800 crore investment already made.
Right now, we have put a stop to further investments until we know how the world opens up after Covid-19.
Which passenger vehicle OEMs are you catering to from this facility?
It's too early to say. We have just started out but definitely we will be looking at all OEMs which are located in South India and are currently being supplied by our plants in Chennai and Vadodara. So, some of the production might move from these two units to the Andhra Pradesh plant for the south-based OEMs, purely because of logistics issues.
Having said that, OEM supplies will come to Andhra at the very end. We need to first ramp it up for the replacement market, commercialise it properly and then start supplying to OEMs. Currently, Apollo supplies to all OEMs in India, be it in the commercial vehicle space, passenger vehicle or the farm segment.
Given the investment, is the new plant high on automation and on adoption of Industry 4.0 methodologies?
In the past 10 years from 2009 till now, we have set up three green-field facilities and got a lot of learnings. 2009 was Chennai, Hungary in 2017 and now Andhra Pradesh. Each plant has taught us a lot and while we thought we had automated Chennai enough, when we went to Hungary, we stepped it up even further.
Subsequently, the learnings from Hungary have now gone into Andhra, not only in automation but also in terms of deploying machine learning (ML) and IoT. We are working on pilot projects in Hungary on artificial intelligence (AI) and IoT. We are working in collaboration with two universities — Warwick in the UK and another Hungarian university closer to our plant.
We are trying to understand how ML, data probing and AI can help us towards the better maintenance of our machines. There are over 15 projects currently underway where we are learning all of this and we would eventually start deploying them in Andhra Pradesh and Chennai.
The objective of automation is not only to reduce manpower but to get consistency in quality and today, that has become one of the key concerns for OEMs as well as the replacement market. Tolerance levels need to be closest to specifications and therefore, automation and robotics become very important going further.
How did you arrive at the decision to set up the facility in Andhra Pradesh? Does the state offer substantial benefits, which are more favourable compared to others?
We looked at three or four states including Andhra Pradesh, Telangana, Kerala and Tamil Nadu. We already had investments in Tamil Nadu and plants in Kerala, so these were ruled out for those reasons. It was really a decision between Telangana and Andhra, and while incentives at both locations were equal, we found Andhra at that time to be much more proactive.
Moreover, the issue with Telangana was that it was landlocked and did not have a port, which is very critical for us for both incoming raw material as well as finished products going out. Furthermore, the plant is very close to the Tamil Nadu border and that is the other benefit of having it at this location. Now, both plants are only two hours away and with the R&D centre also being in Chennai, it was important for us to be closer to the R&D centre as well. Therefore, the decision became quite evident that we had to go to Andhra Pradesh.
What kind of manpower training and skilling is being imparted to manufacturing associates at the new plant? Does the company also plan skilling programmes in collaboration with the Andhra Pradesh government?
Not with the government. But Apollo Tyres does this at all our plants along with various local universities, for instance, in Chennai and Vadodara we have tie-ups with local universities. In Andhra as well, we have started doing that. Also, the universities that we have a tie-up for training in Chennai, we have already started recruiting people from there to work at the new plant.
What is your sense of demand in the market after the gradual easing of the lock-down?
June had the highest-ever sales for truck tyres in the replacement segment. They were highest-ever for Apollo Tyres. Even in the agricultural segment, we have had the highest sales. July has been similar to June as freight has started moving. With respect to passenger vehicle (PV) tyres, sales are slowly picking up and we expect them to come back heavily in August and September as even OEMs are returning to 50-60 percent of their pre-Covid volumes. However, the real test is going to be sales in July and August as I feel that what we are seeing at the moment could largely be pent-up demand as well as the impact of a good monsoon.
The commercial vehicle segment reported an 85 percent de-growth in Q1 FY2021. What are your estimates about recovery?
In terms of commercial vehicles (CVs), we have not seen any respite in the heavy commercial vehicle (HCV) segment. Even before the Covid-19 crisis, CVs last year were substantially down and now the segment is in a big mess. We are hoping that the government comes up with the scrappage policy at the earliest. But we are also hearing that the government is ideating about CV manufacturers also incentivising customers.
My own prediction is that CVs will take at least one year to recover even with the stimulus package. Firstly, I don't see the stimulus package coming in but even if it were to come in, recovery would be a long play.
What is the current capacity utilisation at Apollo Tyres and how do you think a stop-start situation would impact operations?
The aftermarket has returned to 80 percent of the pre-Covid levels. We are currently operating at around 80 percent capacity at all our plants in India, but with the coronavirus numbers rising, we have also had to cut back on production to 40-50 percent, especially in Chennai and Kerala where restrictions have been enforced again. At these two locations, we are eating off the inventory that has been there since March before the lock-down.
So, we have to look at flexibility because shutting a tyre plant altogether incurs huge costs. We have to take precautions and be flexible across all operations of the business; we have to become more efficient and minimise fixed costs. Stop-and-go will have a ripple effect for at least the next four-to-six months and therefore, we are keeping production low to avoid any such situation.
With the new two-wheeler tyre-specific line at Gujarat, what is Apollo Tyres' strategy for the two-wheeler segment?
We are not entering the mass two-wheeler segment as our competition is heavily embedded into it and it also doesn't bring any EBITDA push for us. We will slightly keep our foot in the mass two-wheeler space without investing into it. With the Gujarat plant, we are entering the high-end biased and cross-ply segment for premium motorcycles, which forms 15 percent of the Indian market.
All segments that we enter need to be profitable and must propel us to invest into technology. We have invested Rs 100 crore at our plant in Vadodara, Gujarat and now the push has come to go more towards the motorcycle radial side.
What future trends do you see in the tyre industry and how is technology going to up the ante?
The play of technology started from Europe. Given the stringent CO2 requirements and also with EVs coming up, we are conducting pilot projects on low-rolling resistance radials (LRRRs) as well as on more fuel-efficient tyres.
Both our Asian (Chennai) and European (Holland) R&D centres are currently testing this technology. LRRRs are going to be the next generation of tyres that we will deploy in the future, even in the Indian market after commercialisation in Europe. It's a reality and all tyre companies are going towards LRRRs; OEMs are also pushing us towards that and it means that costs are going to go up in the future.
What is your view about tyres being put under import restrictions from erstwhile being in the open-general license (OGL) category, especially in the context of Indian players?
We welcome this policy with open arms as it opens up a huge opportunity for Indian manufacturers. Apollo has been increasing its investments in R&D. Today, we have over 350 engineers and scientists between India and Europe. Five years ago, our cost-to-sale in R&D was one percent which has grown to three percent today. So, this restriction also helps India go up the R&D ladder. The policy is giving a good horizon and is a great opportunity for India and for made-in-India products.
Is Apollo Tyres looking to get into the premium passenger car tyre segment as well, with sizes upwards of 17 inches?
Yes, in fact this strategy is linked to the import restrictions on tyres. Imports have been happening in the higher segment of the market which is the 16 inches-and-above category. With the restrictions coming in, it opens up that market for us. We already have had a digital conference with our dealer partners and we have launched a scheme to promote Apollo-branded high-end tyres.
Now, we are working towards locally manufacturing Vredestein-branded tyres in India so that we are able to offer Apollo as well as made-in-India Vredestein tyres for the higher segment, primarily targeting customers of Mercedes-Benz, Audi and BMW. We will be launching the Vredestein-branded tyres in India within the next three months.
But how does it become viable to produce locally for such low volumes?
Yes, while there is a very small market for premium high-end tyres in India, for Apollo, we have other markets as well. We can produce in India and export to other markets in Asia such as Thailand, and to Dubai and all of South Africa. We will start exporting to these high-end markets and on top of Vredestein, we will also introduce the high-end range of Apollo-branded tyres in these markets.
How do you see the mass-market 13-, 14-inch passenger car tyre segment recovering in the near future?
One impact of Covid-19 that is going to be there is that we will see more people buying cars and two-wheelers as they move away from public and shared transportation. So, the 13-, 14-inch segment will start seeing an uptick but I don't see it now because the market hasn't opened up completely. When the market does open, people are going to move towards buying personal vehicles.
Where do you think commodity prices are headed in India and overseas?
I wish I could predict that! I am not an economist, but commodity prices are down and have softened, both in terms of natural rubber and oil because of the demand cycle. I hope it stays this way, as it does benefit specifically the tyre companies.
But on the other side, demand has to be there in order to scale up production. Today, the challenge is to get production up. I am not seeing a challenge on the demand side as that can always change because the economy at the moment is very dynamic and no one can predict what is going to happen in the market. One just has to play out the Covid-19 crisis.
What is the level of collaboration between Apollo Tyres' R&D centres in India and Holland?
We have two main R&D centres — one in Chennai which caters to the entire Indian market and Asia and the second one in Enschede, Holland which caters to the Americas and Europe. Truck specialisation sits out of India (passenger car also), whereas Europe is more passenger car-led.
The two centres are collaborating on raw materials, for instance, with respect to low-rolling resistance radials (LRRRs) there is a cross-functional team within R&D where engineers are working together to meet the specifications required by the OEMs.
With EVs seeing an uptick, especially in Europe, do you think that demand for tyres to complement the powertrain technology is going to grow in the coming future?
In Europe, definitely, but in India I see that it will first start in the taxi and commercial fleet segment because infrastructure is still a big issue and there is no clarity as to whether the government or the industry will develop that charging infrastructure for EVs. But as far as Europe is concerned, we are seeing that shift happening already.
How has the pandemic pushed you to introspect and bring more operational efficiency into your business?
We have started an initiative within the company called 'Drive'. With that, our aim is to re-engineer processes in the organisation. What Covid-19 has really shown us is that virtual meetings and remote working are possible and they have become much more productive and transparent. Faster decision making is taking place at Apollo Tyres because you have to keep up with the pace of the market and every day is a new challenge. These are some of the key things that we are learning as we go along.
Also, when I talk about re-engineering processes, we are looking at supply chain, HR and on areas such as how to reduce the fixed costs. We have been able to segregate bad costs and good costs. So, good costs would comprise investments in R&D and brand building whereas bad costs as an example could be the lavish offices that we were used to in pre-Covid-19 days. Today, we don't need those. That money be better spent in warehouses and improving inventory management.
We are looking at all of that and how we can make the process of manufacturing and selling the tyres in a much more efficient and faster way for our customers.
Is e-commerce going to emerge as a crucial distribution channel in the passenger car tyre space?
It started in a big way with players such as Delticom in Europe and we also have our company — Reifencom — that we acquired in Germany 3-4 years ago. We see e-commerce to be within the 10 percent of the market. Although we thought it would go to 20 percent but it is still hovering around 10 percent in Europe.
In India, it is yet to be seen because a tyre needs fitment and service. So, it is not going to be as easy as it seems. And e-commerce will not happen in the higher-end or the premium segment of the market. If it does happen in India, it will start off in the mass-market segment.
As a business leader, what would be your growth mantra in the current situation?
My mantra within the organisation today is that we have to be flexible, remain focused and the top priority right now is liquidity. Liquidity has to be there in the system and those who are able to sail through these tough times, they will be the winners going long-term. So, I would sum it up by saying that cash is king.
(This interview was first published in the August 1 issue - South India Special)
RELATED ARTICLES