'We're seeing a very good response for the Rimula T5 E engine oil which saves Rs 40,000 per annum for a truck operator.'
Akhileshwar Jha, vice-president, Technical Lubricants, Shell India, on growth in the Indian lubes market, co-developing products with OEMs and gearing up for BS VI. An interview by Kiran Bajad.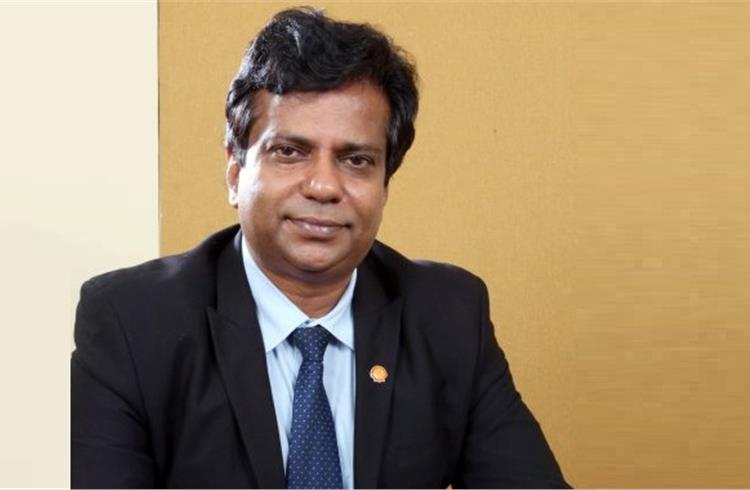 Akhileshwar Jha, vice-president, Technical Lubricants, Shell India, on growth in the Indian lubes market, co-developing products with OEMs and gearing up for BS VI. An interview by Kiran Bajad.
How much does the Indian automotive sector account for in Shell Lubricants's business?
India is an overall two billion litres lubricant market, both B2B and B2C segments put together. Half of this is the automotive market, so it's a large market. Within the automotive segment, there are clear drivers – one which prefers brand while the other is price sensitive. The brand business is perception based and we have competition in India in this segment. In the cost-led segment, we do not want to be the lowest price supplier.
Shell is a technology leader and our approach is value and brand, so we build brand by demonstrating our value. We work with OEMs by developing lubricants for their vehicles, working together, establishing partnerships and co-engineering with them. The way forward is co-engineering – a lubricant is not an afterthought but a design component.
Does Shell in India cater to both the OEM and aftermarket segments?
Yes, we already work with most OEMs in all vehicle segments, both for their approval and fuel which based on low cost. Hyundai in India has two suppliers and we are one of them. Similarly we cater to Tata Motors, which has 3-4 suppliers. We also work closely with the country's leading carmaker Maruti Suzuki. We also supply to GM India, Nissan Motors India and Tata Motors. On the commercial vehicle side, we are working with Tata Motors, VE Commercial Vehicles, Daimler India Commercial vehicles and others. Besides this, we are doing lot of developmental work with two-wheeler OEMs.
Globally, we have been No. 1 for a consecutive eight years and the gap between us and the nearest competitor is only increasing. Over many years, we have been building the brand in India and our partnerships with OEMs. We are trying to show value to customers through our products.
There is another segment where people do not go back to the workshops and buy from the retail channel of the market. We are making progress in this area by working with mechanics, who are the key influencers. We have enrolled about 30,000 mechanics and are working with them to build technical advocacy and teaching them how using better lubricants.
What Shell Lubricant's target with respect to the automotive industry?
We have three pillars of technology leaderships – innovations, partnership and applications. Globally, we spend $1.2 billion on R&D and file a large number of patents.
We have launched Helix Ultra and Advance Ultra passenger car and bike engine oils. We have also launched the Helix Ultra lifetime warranty programme. We offer a lifetime warranty for Helix Ultra oil; that's the kind of confidence we have in our products and Shell has made a bold statement with this. We have about 350 experts and specialists working on the ground with OEMs and customers to demonstrate the value.
What are the growth opportunities for Shell in India in the near term?
I think growth is in all the segments, India is growing at a fast pace and of the BRIC countries it is the only market which is growing. It is the second largest two-wheeler market in the world and biggest tractor market, so there are enough growth areas. If you have the right product and offer value, customers are willing to pay for it. So, the near term future of India is quite bright.
Have there been any recent product developments?
Last year, we have launched, in association with Tata Motors, an engine oil called Rimula T5 E for commercial vehicles. We are the first company to offer 3 percent more fuel economy. This 3 percent savings on a single truck (which has an oil drain interval of 60,000km) in a year helps save Rs 40,000 per annum for an operator. The product delivers excellent wear protection and long oil life in Tata engines fitted with 697/497 4SP BS-III and BS-IV and other advanced engines. If a fleet operator has 100 trucks, then he will save a large amount of money. We have seen a tremendous response for this product as more and more customers are getting to know about it. We have also worked with 15-20 fleet operators and conducted some studies with them; on an average, they save six percent fuel, which is a significant saving.
This was a co-engineered project. We worked very closely with Tata for almost two years, developed the driving cycle and did all the testing in-house. Tata Motors has also conducted its own tests. We have carried out field tests on various driving and road conditions, tested the product at ARAI and finally launched the product.
Are you working on any new technologies or solutions?
We have recently launched pure plus technology which is based on (GTL) gas to liquid. Traditionally, lubricants are made from base oil which comes from crude oil which until now was the only source to make lubricants. With GTL, we are making liquid from gas and are getting positive feedback from customers as regards long life and protection to their vehicles.
How do you see the lube industry's role in the Indian auto industry's upcoming upgrade to Euro 6 norms?
Moving from BS IV to BS VI in three years is a massive jump, which means there has to be a dramatic reduction of NOx and particulate matter. People are using different technologies like SCR and EGR but lubricants have a role to play here. To reduce CO2 in emissions, there is no aftertreatment and you can only reduce the CO2 by burning less fuel.
We have fuel efficient lubricants which help burn less fuel. Globally, we have worked with a number of OEMs on Euro 6 vehicles and got excellent results in fuel saving with our lubricants. We have also demonstrated 6.5 percent fuel economy on Gordon Murray's concept car.
RELATED ARTICLES