'The notion of 48 months of development cycle is considered too late now.'
MSC Software Corp's president & CEO, Dominic Gallello, on how virtual engineering can help carmakers optimise efficiencies across areas from lightweighting to emissions, enable speedier time to market and deliver substantial savings.
MSC Software Corporation's president and CEO, Dominic Gallello, on how virtual engineering can help automakers optimise efficiencies across several areas from lightweighting to emissions, enable speedier time to market and also deliver substantial savings. An interview by Sumantra B Barooah.
India has set itself a steep goal in leapfrogging to BS VI emission norms in 3-4 years, trying to achieve a standard which normally takes 10-15 years. Technologies are available but the validation cycle and time available are not enough. What role can simulation play here?
There is absolutely a role to play. Simulation is a part and parcel, it's fundamental to it because everything is changing. What we predict is the behaviour of the vehicle. Structural, acoustic and lightweighting, all these are aspects we are very deeply involved in and we are proving it. Automotive is the number one business for us, though five years ago it was aerospace.
That has happened because all the emission and energy standards cannot be redesigned without simulation. You can never avoid physical testing but that is the last thing you want to do. Some of our customers are going from simulation to production tooling, even before they crash their first car. They have that much of confidence that they can go to production tooling because if you do simulation, physical testing and then tooling, you are too late for the market.
For the Indian automotive market, the development cycles are shrinking rapidly. The notion of 48 months of development cycle is considered too late now; companies can go out of business in that much time. Add to that all the government regulations and standards, competitive market pressure and very demanding Indian customers in terms of how they want cars to look and feel.
So it's tough for Indian engineers as suddenly they are getting hit with everything new: fuel efficiency, emissions, safety and customer expectations.
How can better adoption of simulation cut development cycles, especially in markets like India and China with young buyers and shrinking product lifecycles?
We enable customers to do an 18-month cycle from ground-up concept to production. Two things about simulation versus physical: Firstly, I can test potential load cases, more behaviour kind of vehicle that is automatically faster. Simulation can also do many more cases dramatically faster and help save millions of euros in development costs.
For example, everyone wants to lightweight vehicles now. There are a couple of things if one is to replace metal with plastic wherever possible. Plastic is not just for cosmetics but also for load body performance.
We worked for a client where we optimised the plastic, but not by moving metal to plastic. They saved 70 million euros just on material cost due to this optimisation. So, simulation not only saves a lot of time but also has a big impact on cost.
What do you think the Indian auto industry and suppliers including Tier 2s can do to upgrade their capabilities?
I think the biggest challenge is the suppliers, not the OEMs. Many Indian automotive heads who run companies, have worked in Germany, Detroit and Japan and have a lot of know-how. Also, there is a lot of engineering that India does for the world, so at the junior level too they have got a lot of experience.
The real challenge is suppliers because they don't get to hire as many people of that caliber, so the production and growth is lacklustre. I am really impressed with the sophistication at the OEM level in India but the real challenge is at the supplier level. Typically, this is the case where the government should help, which is very important.
In a country like India, what can the government do?
It has to support academia and create academic-industry partnerships to build programmes and communicate these programmes to the supplier community, which works really very well. We work with the University of Michigan and offer our tools, which these young people learn to use.
Are growth projections for the global simulation industry good at 11-12 percent CAGR?
It is not that high, but it is quite strong.
Do you think it will be driven mainly by automotive?
Not really, it is driven by complexities everywhere. Automotive and aerospace for sure, but I think of robotics as one big segment for the future. Complexities drive everything, so it is not just automobiles. Automotive and aerospace are big because vehicles are so complex and, most importantly, due to regulations they have to carry out testing and it's too slow. For Boeing, keeping one new material in its aircraft is a 100-million- dollar decision and 10 years of testing. So the complexities are drivers for simulation everywhere.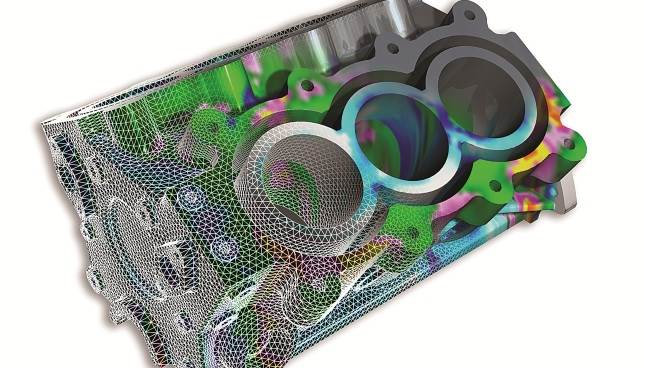 Power centres of the global automotive industry are shifting to this part of the world, namely China and India. What is the foreseeable future of the automotive industry?
In India and China, over the past few years, because of a number of joint ventures and partnerships, I would say there is no need to build a domestic or indigenous automotive industry. The sophistication of engineers and know-how has grown dramatically and it's a very level playing field.
The automotive industry is going through what the computer industry went through. There is no advantage any more in just being an international company to win in the Indian and Chinese markets.
Can you share any anecdote on the automotive industry where simulation has made a significant impact?
There is one on manufacturing. With simulations of the manufacturing process, you can get results on design. Things such as how you clamp the part and the sequence of the valves can actually change everything and could create distortion and residual stresses.
Audi, for example, made our technology standard for every new vehicle going forward because the dramatic cost of starting production and then going back to the drawing board again is a huge burden. Getting the design right is one thing but if you can get the production right as well, the cost savings are unbelievable.
How is the acceptance or adoption of simulation with Indian OEMs like Tata Motors and Mahindra & Mahindra as they are fast-forwarding their capabilities? How do you improve it?
You have to make it simple. Making things simple helps spread the adoption. I can hire the PhDs to go to work for Tata Motors and Mahindra & Mahindra but the people who actually deliver the part in the world need the simplicity that anyone else does and that can be the biggest bottleneck for delivering in a timely manner.
Our customer service said that four percent of our customers are happy with the simulations of the parts they get from their customer and 85 percent say they recreate what they get from their suppliers. That's expensive and very slow. It is not much about Tata Motors and Mahindra, I am worried more about the suppliers.
MSC Software's business in India has seen strong growth. When you took over, the company was not in such a good shape and then it saw a turnaround. Can you throw some light on the growth strategy going forward in this part of the world, especially India?
Our mission is making full vehicle simulations, possible and accessible. There are so many tools in every company and what the engineers have to do is, do the simulation and then someone has to put it all together. What is the effect on the behaviour of the whole vehicle as opposed to starting with a platform that can simulate the full vehicle? If you do that, the time and cost savings are unbelievably dramatic. That is the company mission for India.
We have some customers who have a vision of cutting down on physical prototypes by 50 percent till 2020. I don't think any Indian company has been that aggressive in the past, one which says that we will cut physical prototypes like this in the next four years. All of them though have come to the same conclusion that the only way they can do this is through simulation.
How much does India contribute to MSC Software's global revenue?
Close to five percent, which is really good.
What are your thoughts on autonomous vehicles? How you see the story progressing globally and in emerging markets like India?
From an engineering perspective, in 2020, the world is going to adopt 5G networks where the bandwidth of the network will be 10,000 times more than what it is today. The competition for radio signals is an unbelievably enormous and complex problem.
There are different schools of thoughts on how you make autonomous vehicles successful. The groups that are out first aren't doing much simulation as they are trying to do much more real-time. Everyone is trying to figure out how to deliver these cars safely and there are concerns but I think like everything else it will be overcome.
I think the fully autonomous world that we are talking from 2018 is an exception rather than the rule.
Gallello believes the confluence of technology, human interaction and trust still has to be worked out when it comes to autonomous driving cars.

I believe active safety for the next five years or so in a country like India will be the mainstay. You won't see driverless cars in the near future here though. Fully autonomous vehicles in this hybrid world, operating with drivers who are driving their own cars, is a 20-year journey. A key study area for the Japanese automobile industry is studying the man-machine interaction in terms of what happens when the car takes control, what happens to the driver and his/her reaction, what is the trust the driver puts in the vehicle? I think we have a lot to learn still.
The confluence of technology, human interaction and trust has to be worked out. The lines are very fuzzy. For instance, when we are driving our vehicles and someone stops very suddenly, we are making a very split-second decision. Those kinds of complexities of decision making are still not worked out. So I think active safety is fantastic.
Over the next five years, we are entering the world of active safety. In India, it's going to be active safety and it's going to be a lot of cheap sensors to keep making the cars affordable. It is still going to be a challenge because of the traffic conditions here, especially with all the two-wheelers surrounding you.
Do you think India and some other markets could remain like islands where fully autonomous vehicles, even 15-20 years down the line, will never be a reality?
That maybe the case for 15 years but after that when it takes off, it will take off in a huge way. No technology is an overnight success – it takes 20 years to mature and then it explodes.
This interview was first published in Autocar Professional's October 1, 2016, Software & Simulation special issue. To grab your copy click here
RELATED ARTICLES