Ashok Leyland's Deming Prize-winning Hosur II plant in pictures
Trucks moving out of the assembly conveyor en route to be tested on a roller test bench. Once certified OK, they will make their way into the real world.
The Hosur Plant II gets aggregates like the engine from Hosur Plant I and gearboxes from the Ennore plant. It produces the cabins in-house.
Rear axle along with suspension being integrated onto the chassis. This specific unit is going to be the foundation for this Ecomet 1212 model.
Front axle assembled with springs at a sub-assembly station. There are 25 stations on the assembly line with each station taking 10 minutes.
A typical Ashok Leyland M&HCV consists of between 300-400 parts sourced from vendors across the country. Lift axle assembly in progress on a chassis.
Preparing the engine with wiring and power steering pumps before lowering onto the frame. Engine is fitted with power steering drive.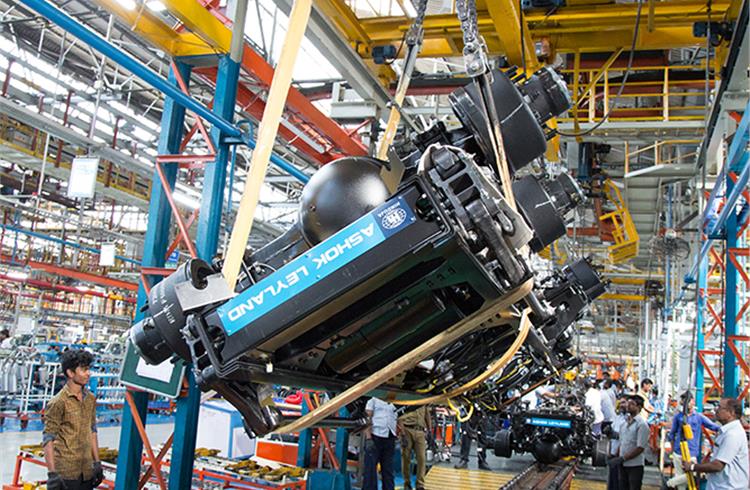 Chassis turned over to prepare for engine and cab mounting operations. The chassis flow-in is in inverted condition for ease of fitment of parts.
Tyres being mounted. There are three modules of conveyor belts such as indexing, continuous and bench design for the products and processes.
Front axle with suspension getting ready to be mounted on a vehicle. Ashok Leyland produces front axles in-house with its own technology and processes.
Three assembly lines for LCVs, ICVs and M&HCVs with capacities of 56,000 M&HCVs and 65,000 LLCVs. The plant currently is currently doing two shifts.
Rear axle bolts tightened using equipment which ensures 'mistake proofing'. The rear axles are sourced from leading suppliers like Dana and Meritor.
Cabin mounted onto an Ecomet model. Cabin and engine mounting are two critical operations where considerable time is spent at each station.
Radiator and engine coolant circuit being given the final touches. The aluminium radiators are sourced from suppliers like Modain and Alkraft.
Engine along with transmission transferred to the conveyor for mounting on the chassis. Ashok Leyland the sole OEM to make engine and transmission in-house.
Operators 'prepare' or make ready a cabin before it is attached to the chassis. Ergonomic, driver-friendly truck cabins are made in-house at Hosur Plant II.
Ashok Leyland's Pantnagar plant bagged the award in 2016 and the company did an encore this year with its Hosur Plant II. Autocar Professional visits the award-winning facility.
RELATED ARTICLES