The art of selling cars
Selling passenger cars in a diverse and dynamic market like India is truly challenging. In an exclusive panel discussion in New Delhi, business heads at four Indian automakers reveal the tips & tricks of the trade as they prepare to tackle the future.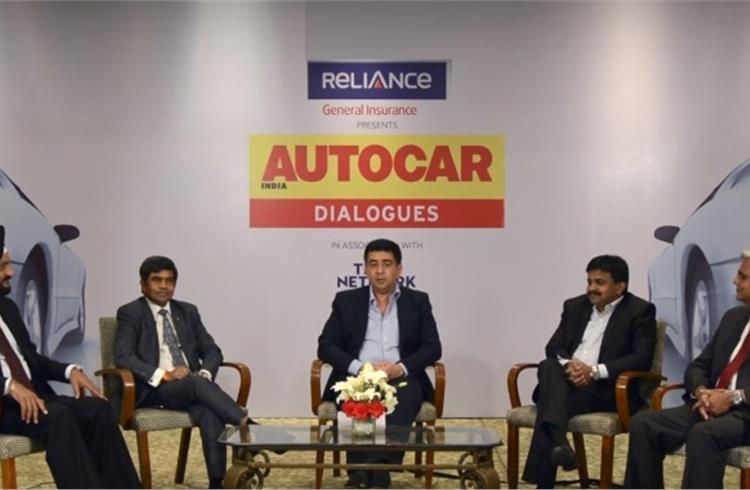 Selling passenger cars is not the easiest of businesses and in a market like India, where a multitude of factors are at play, it comes with its fair share of challenges. But there are industry professionals who have keenly studied and learnt the pulse of the Indian car buyer.
An exciting debate on 'The Auto Industry and Market 2020 and Beyond' on the marketing perspective was held in New Delhi recently. Representing the Indian automobile industry were R S Kalsi, executive director, marketing and sales, Maruti Suzuki India; Rakesh Srivastava, senior vice-president (Sales and Marketing), Hyundai Motor India; N Raja, director and senior vice-president (Sales & Marketing), Toyota Kirloskar Motor; and Jnaneshwar Sen, senior vice-president and marketing, Honda Cars India. The panel discussion was moderated by Hormazd Sorabjee, editor, Autocar India.
For Maruti Suzuki India, which has a 52% market share in passenger cars and 46% in passenger vehicles (cars, UVs, vans), customer connect is critical to stay ahead in the market. R S Kalsi says, "Customer expectations are changing by the day and what used to be the glide factors a couple of years ago have now become hygiene factors. So it's not just about the new products that we introduce but the features and the technologies as well that we provide to the customer."
The country's largest carmaker sold a total of 13,05,351 units in 2015-16 and notched 11.50% year-on-year growth. Keeping this growth growing is a challenge in itself as Kalsi elucidates.
"We have to continuously think about providing new features and anticipate the technologies required by customers – what is it that they are looking forward to? There's also the retail experience and we are now using four different formats of retailing – the one for rural marketing where we have our outlets, e-outlets, conventional showrooms which we have had for almost 30 years, and finally the fourth format – Nexa – that we introduced based on the changing expectations of the customers to provide them with a totally different experience. This is the new age experience where he/she is pampered, and is a digital showroom," adds Kalsi.
Connectivity will also be a driving factor for car sales in the future. Kalsi says, "Yes, hybrid cars, connected cars. Every six months technology is changing and a high level of personalisation is happening. Product lifecycles will reduce and maybe the average age of the customer is also going to reduce. So keeping those things in mind, the auto industry has to prepare for 2020 and beyond."
For Hyundai Motor India, the No. 2 player in India with a market share of 21% in cars and 17.50% in PVs,2015-16 was its best year yet – it sold a total of 484,324 units and recorded 15% YoY growth largely on the strength of new models like the Creta SUV and the Elite i20 hatchback. This despite the challenges. Here's what Rakesh Srivastava says, "The challenges were there – the indifferent monsoon, poor crop realisation and rural demand. Also, compared to earlier years, demand from passenger cars was very stagnant; it was utility vehicles that actually drove the volumes. For overall industry too, it was new models that drove the volumes. What also drove the volume were discounts. So, yes, we had growth but it came at a sacrifice of offering discounts and a huge investment in terms of new models."
Hyundai has attempted to provide best-in-class features in its cars and Srivastava believes demanding customers are good for an automaker. "I believe a demanding customer is always good for industry. I think that is our responsibility to give it to them, whether it is in terms of features, safety or an infotainment system. Anything that is required or it is in terms of styling design, that's our prime responsibility. A demanding customer is far better than having another who is not demanding. If the customer is not demanding, then you are looking at a different base. The price realisation per unit would go down. That's another challenge."
Honda Cars India, which entered the small SUV segment with the launch of the BR-V yesterday, sold a total of 192,059 units in 2015-16, which is a 2% growth YoY. The City, which has been around in India for over 20 years, continues to be a strong seller. Commenting on the role of strong brand perception and why there is little need to offer discounts, Jnaneswar Sen says: "For very well established brands, things are a little easier. But the well-established brand has been created with a lot of effort over a period of time. It hasn't happened by accident or on its own. Brand creation is a relatively long term process. It requires the intrinsic qualities which consumers look for and you have to exceed those expectations; as long as you continue to do that, things are pretty safe. For some time, some brands can be harvested a little bit. But in a competitive environment, it's impossible. So, in staying ahead of the race, whether it's intrinsic qualities, performance or features, in an intensively competitive market, you cannot depend solely on the brand. So, brand is like a plant, you have to keep watering it."
"In automotive, brand plays a very critical role especially for cars because it's an emotional purchase and also a huge investment as well from a consumer viewpoint. Whether it's image, status or any other thing, there are too many things attached to a car. We have to keep working on it to stay ahead so that we keep exceeding the customer's expectation. I think that's the key."
Toyota Kirloskar Motor, which launched the InnovaCrysta a few days ago with a higher price-tag, continues to see burgeoning demand for the MPV. However, the Toyota badge hasn't worked the same magic with the EtiosLiva hatchback.
N Raja says, "Brand is important but people look at it stage by stage. It is not that the Innova or Fortuner are like a cult and I can do it (hike prices) on them but it has clearly taught us a lesson when it comes to the EtiosLiva. We are learning from it and what I see as important is step by step, how do I improve its value? Like last year, we were at a premium pricing with the Etios or Liva, but we didn't stop bringing in safety features like airbag standardisation, because safety is becoming a big point."
Overall, all four automobile marketing professionals have a lot more to say on the Indian market, the Indian consumer of tomorrow, brand, product and cost management among a host of issues. Click on this VIDEO for the full seminar.
RELATED ARTICLES