Yulu eyes new frontiers
Amit Gupta, Co-Founder and CEO of the Bengaluru-based mobility startup, recalls how the partnership with Bajaj Auto came about and why he is bullish going forward.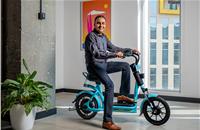 Amit Gupta breaks into a huge smile when the topic veers around to his company's partnership with Bajaj Auto. "This is a subject close to my heart," admits the Co-Founder and CEO of Yulu.
Beyond the fact that Bajaj Auto is an investor in his company, Gupta is more than pleased with the human touch in this alliance. The story began a little around three years ago when a "dear friend and an investor" in Yulu offered to connect Gupta with Rajiv Bajaj, Managing Director of Bajaj Auto. An invitation to visit Pune quickly followed and the Yulu chief made all the preparations for a meeting.
This was important since the company was keen on a partnership for electric two-wheelers. There were attempts made with "folks in Japan" who said they had their own roadmap for five years and asked Yulu to come back later. Clearly, this was a pointless exercise which was just not worth anyone's while.
Gupta was naturally keen on this meeting with Bajaj Auto where he waited in a large boardroom at the corporate office in Akurdi with his laptop ready to be swamped by "10-15 people" as is generally the case with investment discussions. To his surprise, only Rajiv Bajaj walked in and invited him to his room.
"For three hours, not a single person disturbed us while we talked," reminisces Gupta. There was no reason for the laptop either since the Bajaj Auto MD had a little notebook while tea and poha kept coming in along with the "famous cookies Pune is known for".
It was clear that Rajiv Bajaj "just wanted to hear me out" and was curious to know what Gupta's plans were all about. "I then told him about my desire for mobility transformation in the country led by electric as the answer."
Joint effort


Bajaj Auto was already working on the electric Chetak which was due to be launched shortly and it took little time for its MD to figure out"what value Yulu was bringing to the table" and how his own company could be part of this joint effort.
Gupta, in his turn, was practical enough to understand that even though he had a mechanical engineering degree, manufacturing was a completely different ballgame. "I knew very well that manufacturing takes decades of perseverance and experience. At Yulu, we know a lot about mobility while Bajaj knows what manufacturing two-wheelers is all about," he narrates.
Clearly, this was a marriage waiting to happen except that the final nod needed to come from the Chairman, the late Rahul Bajaj, who passed away in February this year. Gupta remembers how he was introduced to the industry titan who then asked him some "fundamental questions" on the overall plan and likely customer behaviour patterns.
It was a long interaction where Rahul Bajaj and Gupta had an intense conversation. "Rajiv later texted me in the evening to say we are in!" he recalls. Since that day, the two companies have begun working closely together with the new product for Yulu all set to roll out of the Akurdi plant near Pune later this year.
"Rajiv is a very clear thinker and does not mince words while articulating his thoughts. We are a great team and I can sound off issues to him where we are quick to agree or disagree," says Gupta. Yulu already had some work going on with an OEM partner outside of India and, in the initial phase, was bringing components from overseas with Bajaj assembling them from Day 1 as part of the effort to build a new platform. "As we speak now, they are almost ready with a product," says a delighted Gupta.
The first batch will be delivered in some months and, hopefully, by the end of this calendar, there will be tens of thousands of these scooters making it to Yulu users across parts of India. "We are very excited," he says while driving home the point that Rajiv Bajaj "takes very few bets…he is a man of conviction and whatever he goes after, he does very well".
The Yulu team, continues Gupta, is looking forward to the new offering and even though it has been a bit of a long wait, it is still worth it because "we are not creating a Me Too product". What is coming out of Bajaj Auto "in my understanding of mobility" is possibly the best in the class in the world…just not India but global.
"Imagine the same product running on a Yulu platform and the strategic advantage we will be having in building this business forward will be truly miraculous," exults Gupta who will clearly be hoping that Yulu-branded scooters can also go global at some point in time.
There could also be "multiple avatars of our EV" from the platform built by Bajaj Auto for Yulu. It can also be leveraged to build "even more world-class" consumer products which will be Bajaj-branded. As Gupta puts it, more versions can be created and tweaked while ensuring that the products of the partners retain their individual DNAs. The Bajaj Auto offerings will clearly be positioned at the premium end keeping in line with its own brand strategy.
Win-win alliance

This is clearly a win-win alliance where the old and new worlds are coming together. "The world of mobility is changing," says Gupta while pointing out that customers of today and yesteryear are as different as chalk and cheese. Mobility is now booming as a service and is also a big buyer base for traditional automakers to literally go after entities such as Yulu.
This is precisely why brands such as Uber and Lyft in the ride hailing business have attracted investments from a host of top carmakers. Big brands such as General Motors and Ford have realised that these ride hailing apps are aggregating a lot of demand which therefore makes investing in them a logical option. DiDi Chuxing of China, likewise, has orders from 10,000 plus cars already on its platforms.
"OEMs need to sell products to companies like us. What is also strategic and powerful is that since their products sit on our platform, the learning coming though is concentrated and digital," explains Gupta. For instance, when traditional two-wheeler makers were retailing scooters, did they have an idea of customer experience post-sale or even care to check? Not likely compared to today's fiercely crowded arena where every kilometre travelled on Yulu is digitally recorded and offers a far clearer idea of what is working or not.
In short, the learnings traversed across hundreds and thousands of million miles is priceless. "You have your learning compounded in no time and that is the power of the Yulu platform," says Gupta. Additionally, traditional two-wheeler makers literally monetise hardware assets by selling bikes or scooters for one time revenue.
Going forward, he says, they can actually create interesting revenue streams which are recurring in nature. "For any company, the hardware margins are given a certain multiple while recurring revenue margins give you a different kind of multiple.
In terms of enterprise value creation, there can be some interesting revenue streams," says Gupta whose company has a "concentrated demand pie which is digitally run". Bajaj Auto can then hope to create a recurring revenue stream which will then increase its valuation to the next level. "If we play it well, the Yulu partnership can add a significant amount of market capitalisation to Bajaj Auto," he adds.
The conversation quite naturally shifts to this growing trend of the new and old worlds coming together as part of the collaborative exercise. Beyond Bajaj and Yulu, Hero Electric and Mahindra & Mahindra have recently tied up for e-scooters while Hero MotoCorp is strengthening its partnership with Ather.
Maturity and perseverance


On the other side of the spectrum are a host of bravados who believe they can make it out on their own. When Gupta is asked to comment on this, he replies that it is not right on his part to "bash up fellow startup founders". Yet, there are some harsh realities to reckon with. While these startups are known for product and process innovations, developing a hardware product takes "a lot of maturity and perseverance".
He cites the case of his Apple laptop which is just not attractive but robust too. Now, for mobility startups to emulate something like this, "you also need to wear that hat of decades of excellence which manufacturing companies have created".
Hence, says Gupta, the perfect marriage lies in these innovators to join hands with those who know manufacturing, supply chain, the "excellence of delivery" and assured product service for the next 10 years.
"Sure, it is easy for me to sell a scooter but who will fix the headlight? A scooter is a moving thing, it is a working machine and not an app. I do not have the DNA of manufacturing and the world is moving fast where I do not have 10 years to wait. I am a startup and a decade to begin learning building skills in manufacturing means the party is over," he elaborates.
Likewise, for the manufacturing OEMs to innovate for five years does not make any sense too and it is here that the two worlds must come together for the "miracle and magic" to happen. "This convergence of old and new companies is critical because someone from China, Japan and Korea will otherwise eat our lunch. Instead, let our ecosystem grow where we collaborate to make world class products and dominate the two-wheeler space," says Gupta.
In his view, traditional companies can play the role of godfather and extend their hand to the newbies. "I was fortunate with people like Rahul and Rajiv Bajaj because they are humble which made our relationship building easy," he says. The bonding has seen the two teams from Yulu and Bajaj Auto constantly interact with each other because both are keen on making this a win-win partnership.
At present, Yulu is present in Bengaluru, Mumbai and Delhi. Even while it remains essentially a pay-and-use concept, there are aspirations to make this an ownership-driven model too. "We constantly get loads of emails from people who want to buy a Yulu and are now looking if we should actually launch a vehicle and sell it upfront," ponders Gupta.
The idea is to "use our energy/service backward" to get recurring revenue instead of competing with traditional players where one sells a scooter and moves on. For Yulu, the task is to figure out an ownership model where the customer engages with its platform and infrastructure in some shape.
"We should have some clarity on the thought process in some months. There is more meat that needs to go into this intent. Value creation is important too. We now give our vehicles for a minute or day and what else can we do in terms of value creation?" says Gupta. When this happens, it will be in the more voluminous B2C segment since Yulu's present business is largely in the niche B2B space.
He also reminds you that beyond putting out vehicles for daily use, the company also gives the battery as a service apart from repairs and maintenance, insurance etc. Plans are on to extend this to another 3-4 cities but "our hands are already full" with huge demand from the existing three.
"If we spread ourselves too thin, we cannot transform the cities which is our intent. This year, we are focusing on depth rather than width. I need to give customers comfort and confidence and not sprinkle ourselves across 100 cities," reiterates Gupta.
The key is to follow demand and here is where the association with large delivery companies will help Yulu establish a presence in those cities which make sense be it Pune, Chennai, Hyderabad or Kolkata. There is tremendous energy within the team which is "very young and comprises thinkers and learners who are passionate about making the world a better place to live in".
Early days
Interestingly, when Yulu started operations in 2018, it launched an app-based bicycle and customers loved the experience. However, they were not doing the distance "we wanted them" to in terms of 3-4 km daily. On the contrary, there were extremes of barely one km or 10-15 km especially during the weekends.
"This did not fit in with our goals of daily mobility. We wanted to introduce something powered by petrol but realised this would put a burden on the planet and opted for electric. We thought of mobility as a service when this was not so cool and the trend has accelerated today," recalls Gupta.
He is pleased that delivery boys using Yulu save considerably on costs compared to petrol-powered scooters. The fact that fuel prices are rising alarmingly is yet another reason for choosing electric coupled with the fact that battery prices have also been falling.
While admitting that fiscal sops have a limited timeline, Gupta cites the "dramatic valuations" of EV makers like Tesla and Rivian. The fact that they can tap private investors and the public is a huge plus which holds true for India too where startups can access funds comfortably.
Two, continues the Yulu CEO, petrol prices will only rise further and extended use of fossil fuels will defeat the purpose of keeping pollution in check. Beyond this, he says using an electric is just an unbelievable experience for the sheer comfort it offers.
"Do fly to Dubai and travel in a Tesla taxi…the experience is awesome and you would not want to get back to petrol," urges Gupta while making a strong point for EVs. A trip to Dubai awaits!
This feature was first published in Autocar Profssional's March 15, 2022 issue.
RELATED ARTICLES