Think7 eyes major business in components with Internet of Things
Bangalore-based software provider Think7's Quality Management Suite is adroitly helping manufacturers monitor operations on the shopfloor.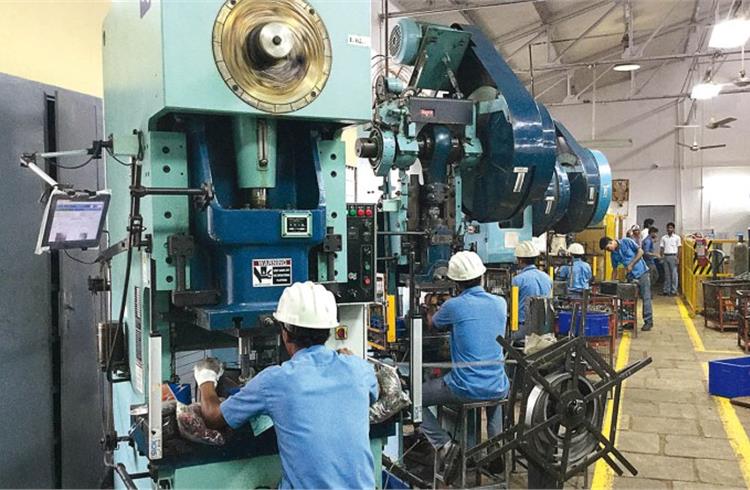 The machines in an auto component manufacturing unit in Bangaluru are monitored with Think7 QMS.
A worker checking out data using Think7 QMS, enabling quick, easy and timely decisions backed by real-time data.
Feedback of the Think7 QMS system displayed on a tablet fitted to a machine.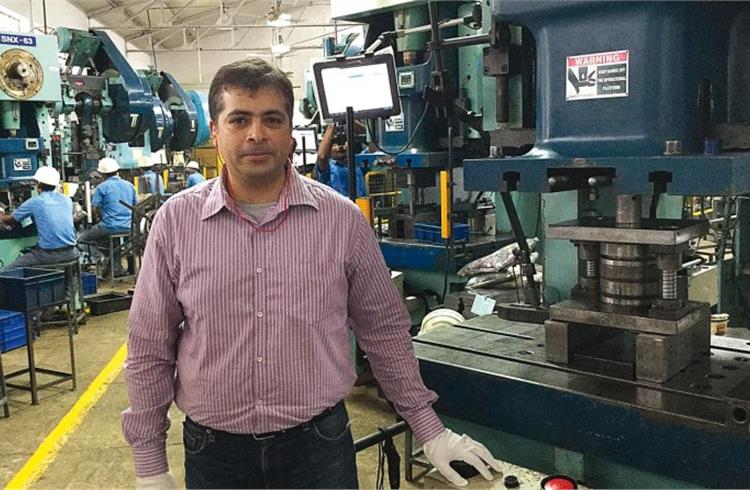 Zubin Jagtiani: "Think7 makes the road to smart and connected factories simple."
As the automotive component manufacturing sector increasingly pays more attention on delivering quality products in mass manufacturing, the Internet of Things (IoT) concept is gaining momentum in adopting automation processes on the shopfloor.
Think7, a Bangalore-based IoT-backed software solution provider for manufacturing units, has developed a system to monitor production on the shopfloor and facilitate manufacture of error-free products.
Talking to Autocar Professional, Zubin Jagtiani, chief operating officer of Think7, says: "The company provides software solutions integrated with hardware to connect the manufacturing operations in factory in simple manner. Think7 makes the road to smart and connected factories simple."
According to Jagtiani, Think7 is driven by the vision of enabling simple and practical automation for factories engaged in manufacturing components for the automotive and aerospace industries.
He is of the opinion that the automotive and aerospace component industries are highly regulated and the customers in these sectors insist that their suppliers have management systems that comply with ISO 9001, ISO/TS 16949 and AS 9100.
THE CHALLENGE OF MANAGING SYSTEMS
While these standards bring tremendous value to the organisation, the real challenge is managing these systems. Think 7's product helps address these challenges and enables manufacturers to integrate their production activities on the shopfloor.
Jagtiani adds that the company has developed an integrated software and hardware product christened Think 7 Quality Management Suite (QMS) to monitor manufacturing operations on the shopfloor.
Think 7 QMS enables the factory management to monitor the production process at a manufacturing facility, even through a mobile phone, from faraway places. The software system also helps forward and backward traceability from raw material through to finished product and it is being primarily used in the automotive component manufacturing sector.
The promoters of Think7 developed the product based on their real-time need in their group company, Sealtite, which is an automotive component manufacturer.
The Think7 QMS, which comprises a hardware unit called piston integrated with software, is fitted on the machine and its output can be tracked on the computer tablet, which is also fitted on the machine.
In the event of any error occurring in the production cycle, the device immediately alerts the supervisor, who in turn immediately can rectify the error on the shopfloor.
The company says it has developed its product after analysing shopfloor behaviour at more than 200 auto component manufacturers across the country. The product has been developed as a single-window solution to address problems faced by manufacturing companies on the shopfloor.
Think7 QMS manages the complete PPAP documentation which drives shopfloor activities. Relevant tasks are pushed to respective roles on time through the Think7 Advanced Task Manager (ATM).
The software automatically interprets engineering drawings and oversees the perfection of the machine, whether the products are being manufactured as per the shopfloor control documentation (PPAP). It helps to achieve real-time analytics like productivity, quality, OEE, rejection analysis and downtime analysis, thereby providing the company management with actionable inputs.
Think7 QMS PPAP documents are designed based on the TS and AIAG (Automotive Industry Action Group) standards, enabling easy document generation and storage in a centralised system readily available anytime, elaborates Jagtiani.
The product rightly addresses all the needs related to automatically interpreting engineering drawings, creation and management of shopfloor control documentation (PPAP), automating the execution of production plans on the shopfloor in line with the PPAP documents, real-time analytics like productivity, quality, OEE, rejection analysis and downtime analysis. It thereby provides customers with actionable inputs, complete forward and backward traceability from raw material to finished product and IoT hardware products enabling machine access and control, adds Jagtiani.
A shopfloor, which is supported with a Think 7 QMS system, helps the factory management to keep track and analyse the downtimes at all levels, thus helping reduce unplanned downtime and in turn improve performance of the production line.
With the help of feedback availed through Think7 QMS, the management can fine-tune production cycle times, thus helping improve operations. By capturing rejection data at a very granular level in Think7 QMS, they have been able to identify the key causes and minimise the number of internal rejections, thus enabling quality improvement. Further, Jagtiani says, a good number of auto component manufacturers in the category of micro, tiny, small and large scale industries are seeing new growth in India and the need for software solutions to fine-tune shopfloor management has also been increasing. This is indicative of sizeable demand for this product in the country.
He says the market size of global automotive component industry stands at $ 1.2 trillion, of which India's share stands at 2.9 percent. The current turnover of the Indian component industry is in the range of $ 35 billion and is expected to increase by seven times to $ 226 billion by 2026.
"Think 7's customer portfolio spans small to medium to large customers. In less than a year since launch, we have a powerful usage-based business model which is friendly to SMEs," says Jagtiani. He claims by using Think 7 QMS, factories can achieve 12.7 percent improvement in Overall Equipment Effectiveness (OEE) within a year.
Its customers in the auto component sector include Turbo Energy (a division of TVS Group), Suma Springs, PKP Components, Bhavani Industries, KVR Industries, KLN Engineering and Cascy Forge Products.
RELATED ARTICLES