The great White Gold rush
The recent find of lithium reserves in the country may revolutionise the EV industry and reduce reliance on costly imports. A deep-dive report: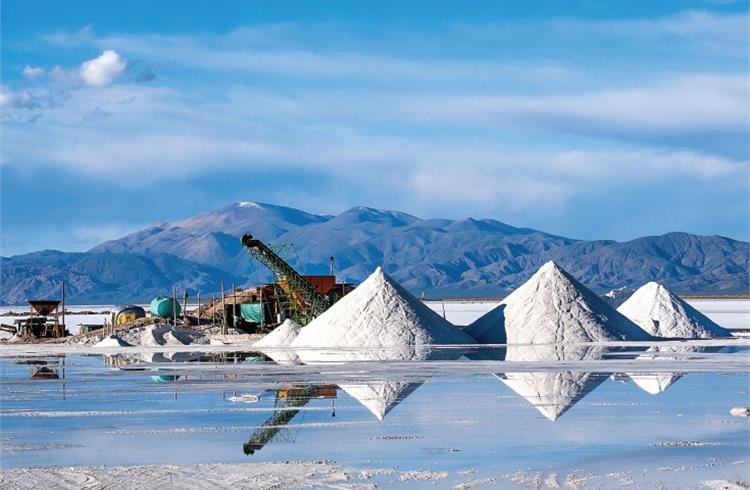 A Lithium mine in Chile. Typically, a lot of water is needed in the extraction process.
The discovery of 5.9 million tonnes of lithium in J&K this year, has cause a ripple of excitement in the auto industry.
A lithium battery pack being worked on by advanced robots.
The glittering white gold is calling upon India and the country is answering.
After finding 5.9 million tonnes of lithium in Jammu and Kashmir (J&K) in February this year, the Indian government is carrying out similar explorations in nine other states and union territories.
Meanwhile, India's auto industry is waiting at the edge of its seat.
India aims to have 80 million electric vehicles (EVs) on the road by 2030. These discoveries, if they fructify, could potentially lower the cost of lithium-ion batteries, making EVs more affordable for the Indian market. Furthermore, it will give impetus to the creation of a thriving domestic EV battery industry, transforming the country's automotive industry.
India imported Rs 18,763 crore worth of lithium and lithium-ion during April-January FY23, data available with the Commerce Ministry suggests.
Currently, 47 percent of the world's lithium is produced in Australia, 30 percent in Chile and 15 percent in China. However, China processes 58 percent of the world's lithium, Chile 29 percent and Argentina 10 percent.
On its path to the net carbon zero future, the Indian government will have to be cognisant of the fact that it does not divert the oil import bills from Middle East to lithium imports from other parts of the world.
This is where the finds in India assume significance. The white gold reserves in India can potentially reduce dependence on China for lithium to make EV batteries.
Do we have more of it?
It is possible.
In response to a Right to Information request by Autocar Professional, the Geological Survey of India (GSI), which creates and updates mineral resource assessments, revealed that it is conducting explorations for lithium and related materials in Rajasthan, Chattisgarh, Jharkhand, Arunachal Pradesh, Nagaland, Meghalaya, Ladakh, and Gujarat, in addition to Jammu and Kashmir, in the field season 2022–23. "The field activities are in progress," the GSI, which functions under the Ministry of Mines, said in its reply.
In the Nagaur area of Rajasthan, GSI is currently building on scientific evidence that suggests the presence of lithium with values of up to 6,701 parts per million (ppm) in debris sheets, up to 3,400 ppm in channel samples, and up to 1,400 ppm in core samples. Previous studies have indicated that a resource of 2.5 million metric tonnes of lithium is present in the granite, although further studies have been recommended. Besides this, the Bhabha Atomic Research Centre (BARC) has also indicated the presence of lithium and topaz in the granite, which can be recovered as by-products. The investigation has currently reached the G2 stage.
The United Nations Framework Classification for Resources (UNFC) classifies the exploration of mineral deposits into four stages: reconnaissance (G4), preliminary exploration (G3), general exploration (G2), and detailed exploration (G1).
Meanwhile, preliminary exploration for lithium and associated minerals in the Katghora-Rampur area, Korba District, Chhattisgarh, has reached the G3 level. The mining site is close to the Bilaspur-Raigarh metamorphic belt and is important because it has an unusual amount of lithium, the GSI said.
In the same way, a reconnaissance survey for lithium, rare earth elements (REE), and related mineralisation in the Tamta, Raghunathpur, and Sureshpur areas of the Raigarh and Jashpur districts of Chhattisgarh found anomalous lithium values in composite stream samples in and around Kilkila. In and around Raghunathpur and Diwanpur, they also found strangely high levels of lithium — up to 266 ppm — in stream sediment samples.
How much Lithium do we need?
Citing a report from Nature magazine, Charith Konda, an energy analyst with the Institute of Energy Economics and Financial Analysis (IEEFA) noted that the battery pack of an average electric car requires eight kilos of lithium. For buses it could be three to six times, whereas for two-wheelers and three- wheelers it could be one-fourth to one-third. Assuming these metrics, India would need 6,40,000 metric tonnes of battery-grade lithium to introduce 80 million EVs on the road by 2030.
While still at the preliminary exploration stage, the deposits in J&K alone form six percent of the world's identified lithium resources. Assuming the global average reserve-resource ratio, the deposit could be more than sufficient to electrify the entire passenger vehicle and two-wheeler industry's installed manufacturing capacity in India, says a research report by consultancy firm Jefferies.
Why is the Indian Government pushing the pedal?
This lithium find could bring down the cost of manufacturing batteries in India and hasten us towards the zero carbon milestone, besides having huge export potential.
In March 2022, the government approved the Production Linked Incentive (PLI) Scheme 'National Programme on Advanced Chemistry Cell (ACC) Battery Storage' to achieve a manufacturing capacity of 50 gigawatt hours (GWh) of ACC to enhance India's manufacturing capabilities with a budgetary outlay of Rs 18,100 crore. Under the initiative, the emphasis of the government is to achieve greater domestic value addition, while at the same time ensuring that the levelised cost of battery manufacturing in India is globally competitive.
The programme is designed in such a manner that it is technology agnostic. The beneficiary firm shall be free to choose suitable advanced technology and the corresponding plant and machinery, raw materials and other intermediate goods for setting up a cell manufacturing facility to cater to any application.
As per government officials, the programme will boost domestic manufacturing and also facilitate battery storage demand creation for both electric vehicles and stationary storage, along with the development of a complete domestic supply chain and foreign direct investment in the country. The ACC PLI scheme is expected to accelerate EV adoption and translate into net savings of Rs 2,00,000 crore to Rs 2,50,000 crore due to reduction of the oil import bill during the period of this programme and increase the share of renewable energy at the national grid level. This ACC PLI scheme along with the already launched PLI schemes for the automotive sector (Rs 25,938 crore) and Faster Adoption of Manufacturing of Electric Vehicles (FAME) (Rs 10,000 crore), will enable India to leapfrog from a traditional fossil fuel-based automobile transportation system to an environmentally cleaner, sustainable, advanced, and more efficient electric vehicle (EV)-based system, the officials added.
Reliance New Energy Solar, Ola Electric Mobility and Rajesh Exports are said to have signed the programme agreement under the PLI Scheme for ACC Battery Storage. In addition to the capacities allocated by the Ministry of Heavy Industries under the PLI Scheme, private players are expected to create battery manufacturing capacity to the tune of 95 GWh.
While it is currently too early to tell how much cost could be reduced by local mining and inventive cell production, as discoveries continue, Jaibir Siwach, the CEO of Kabira Mobility, believes battery pack prices could decline from Rs 13,000–15,000 per kWh to Rs 9,000–10,000 per kWh, reducing the overall cost of EVs by more than Rs 30,000. Further, an estimate by Anirudh Ravi Narayanan, CEO and co-founder of Bharat New Energy, expects cell prices to go down by 20–30 percent, translating to a vehicle cost reduction of 8–15 percent.
On May 2, Vivek Bharadwaj, Secretary, Ministry of Mines, stated that the auction for lithium reserves discovered in J&K may happen by the end of the current year. "We have completed the consultation process with stakeholders on the amendment of the Offshore Mining Act. Hopefully, we will soon bring it to the parliament for discussion," Bharadwaj said, speaking to a news agency.
Should we bring out the celebratory balloons now?
Not quite yet.
The quantity as well as quality of the find are still to be verified. Factors that need to be considered include the quality of the ore, cost of extraction and mining and the cost and feasibility of processing it for the cell manufacturing industry as well as the environmental and human cost of mining.
"The estimated quantum of lithium-ion manufacturing that the reserves can support will be known after lessee has estimated extractable resources," the Minister of Mines, Pralhad Joshi said in a Rajya Sabha reply.
Even if all goes well it might take four to six years to see a usable product, says Amitabh Saran, Co-founder of Altigreen Technologies.
The Indian auto industry is being cautiously optimistic.
Anand Mahindra, Chairman, Mahindra Group, whose company Mahindra & Mahindra (M&M) is a major EV player in the country, seems to be excited about the domestic lithium discovery. In a social media post he said, "Finally, we have sizable reserves of a natural resource critical for growth in the 21st century. This is a signal that India has an 'electrifying future'. But the key element in the supply chain is refining, not reserves, where China has a huge lead. We need to step up quickly to move forward."
Niranjan C, AVP and Head of Operations and Projects, Amara Raja Batteries, said the discovery of a significant deposit of lithium in the J&K region will definitely put the country on the global EV roadmap and help in meeting domestic demand. "This discovery will help India reach its goal of net-zero emissions by 2070, reduce its dependence on China, and also bring down the cost of batteries in EVs," he said.
Sohinder Gill, Director General of the Society of Manufacturers of Electric Vehicles (SMEV), an industry body representing the Indian electric vehicle industry, said, "In the long term, if we can economically mine our lithium and other Li-battery minerals, there can be an upside. In the short term, we may be able to see a downward trend with global prices cooling off; otherwise, we may have to look for alternative chemistries that are less reliant on imported materials."
All that glitters…
Even if it meets all the necessary criteria and proves to be a valuable find for the industry, this lithium find is unlikely to completely free India from geopolitical dependencies. To hasten the process of EV adoption, India will still need to import technologies from outside, especially from Australia which, to some extent, has rocks similar to that in India.
However, India is on a march towards complete self-reliance, atmanirbharta. Being able to cater to the needs and demands of our own people and industries, to whatever extent, is definitely a win. This is what this lithium has the potential to be. To that extent, it is certainly a reason to cheer.
This feature was first published in Autocar Professional's May 15, 2023 issue.
RELATED ARTICLES