Tesla Motors' Gigafactory in numbers
500,000 cars and US$ 5 billion (Rs 33,625 crore); with Tesla's groundbreaking new factory set to open on Friday, here's looking at some of the numbers behind it.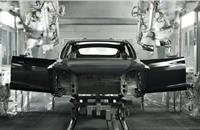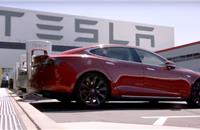 The Tesla Gigafactory will be officially opened on Friday, with the manufacturer ramping up work to get it ready well in advance of its original deadline to be ready for the rollout of its forthcoming Model 3.
The factory is already partially operational, and Tesla says the US$ 5 billion (Rs 33,625 crore) plant, which was originally set to open in 2017, will revolutionise EV battery production. It will supply batteries and components for Tesla's range of electric vehicles, including the Model S and Model X.
The factory in Nevada is expected to slash production costs of batteries by more than 30%, and battery cell production is expected to commence late next year before the launch of the Model 3. The Model 3 is priced at $35,000 (Rs 22.10 lakh) in the US and the Gigafactory is seen as a key factor in helping keep the price down.
These are some of the key numbers behind Tesla's new factory.
35 GWh

This is the planned annual battery production of the factory in gigawatt-hours when it reaches full capacity. "Giga" is a unit of measurement representing "billions", so one GWh is the equivalent of generating one billion watts for one hour. Therefore, the factory could eventually produce around 460,000 Model S lithium-ion batteries a year.
2020

This is the year Tesla expects to reach full capacity, producing more lithium ion batteries annually than were produced worldwide in 2013, 17 years after the company was founded.
500,000 cars

Eventually, Tesla wants to be churning out half a million cars per year from the factory, which would be a seismic shift from a manufacturer that has never built more than 50,000 cars in a year. For further perspective, Nissan's Sunderland factory, which is one of the largest in Europe, took 28 years to make 500,000 units annually after it opened in 1984
3000 acres

The factory currently sits on a 3000-acre site in Nevada and will be one of the largest buildings in the world when it's completed. As it stands, the factory on the land is thought to only take up one-sixth of the total site.
6500 employees


When it's at full capacity in 2020, the factory will employ 6500 people. The number of construction workers on the site is thought to have doubled to try and complete the build, with 1000 workers building seven days a week on two shifts to get it ready.
400,000 bookings

The new Model 3 has proved hugely popular already and is part of the reason that Elon Musk has hurried along the plans to get the gigafactory up and running. Around 400,000 bookings have already been placed for the new mass-market electric saloon, with first deliveries set for late 2017.
US$ 5 bn (Rs 33,625 crore)

The factory is said to have cost around US$ 5 billion (Rs 33,625 crore), with Tesla partnering with various companies, including Panasonic, to help fund it.
Recommended: Tesla to build a Gigafactory in India?
Source: Autocar UK
RELATED ARTICLES