Tata Motors' sourcing strategy evolves with its turnaround plan
From reorganising its component sourcing strategy to plotting new steps in the emerging mobility services sector, Tata Motors is pulling multiple strings to be a strong leading player.
Tata Motors, under its 'Turnaround 2.0' plan, is working to 'win sustainably' in the passenger vehicle business and 'win decisively' in the commercial vehicle industry. In this quest, the OEM is also roping in suppliers for mutual benefits. The significance of the role of a supplier can be estimated from the fact that some of them get involved in a project almost as soon as it is thought of. In some cases, the discussion with suppliers begins even before the product specifications are decided. "The whole objective is to engage with the suppliers at an early stage in the development process, which was not the case in the past," Guenter Butschek, CEO and MD, Tata Motors told Autocar Professional recently.
Tata Motors is increasingly opting for modules and sub-assemblies suppliers and less of independent components. The objective is to reduce the complexity in the production and also allow suppliers to work on the engineering aspect at an early stage. As a result, there is a tierisation happening among the OEM's suppliers. Many of its Tier 1 suppliers have now become Tier 2 suppliers. Apparently, some among them initially were disappointed on losing the Tata Motors supplier code. However, Butschek says that they saw the rationale of the move, which also allowed some to focus on their strengths and build their businesses.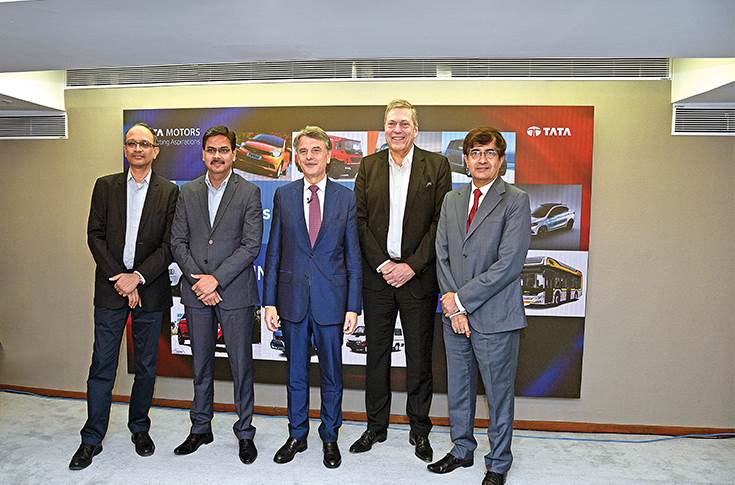 Above L-R: P B Balaji, CFO; Girish Wagh, president – CVBU, Tata Motors; Dr Ralf Speth, CEO, Jaguar Land Rover; Guenter Butschek, CEO and MD, Tata Motors and Mayank Pareek, president – PVBU, Tata Motors.
Many component suppliers are also moving out of Tata Motors' supplier list as it gets pruned to enhance efficiency and cost. A year ago, there were over 1,100 suppliers for Tata Motors. It has come down to 800 now. The number may go down further as the tierisation evolves further.
Electric mobility play
In the emerging electric mobility space, Tata Motors sees a bigger play for itself. Both its new 'Alpha' and 'Omega' platforms on which all of Tata's upcoming vehicles will be based are "battery-protected". The E-Vision sedan concept unveiled at the Geneva Motor Show earlier this year is based on the Omega platform. Butschek is more hopeful now about the prospects of electric mobility in India than earlier. "What has changed is that, in India, more effectively within Tata Sons, we have actually put electrification in the right context. We have moved away from the question of EVs, to the question of the ecosystem. Because at the end-of-the-day it is not just about electrified vehicles, you need to build the ecosystem," says Butschek. Tata Motors has, thus far, supplied 330 electric Tigors to Energy Efficiency Services Limited (EESL).
New alliance in the mobility service space?
As the automobile industry evolves, OEMs are also becoming mobility service providers. Mobility-as-a-Service (MaaS) is set to be a significant business for Tata Motors. Electric vehicles could be a key component here. "For us as an OEM, MaaS is an important play, where we believe we have good expertise, particularly in the context of electric vehicles as part of the Tata Group. That is an important part," says Butschek.
On the commercial vehicle side, Tata Motors has already made an inorganic move in July this year by picking up a 26 percent stake in Bangalore-based freight aggregator start-up TruckEasy. Is there any such move planned in the passenger vehicle space? Butschek says joining forces with a partner "is always an option" and Tata Motors is "actively seeking for partners".
Tata goes bullish, JLR goes bearish
Fuelled by the turnaround in its CV and PV businesses, Tata Motors reported profit at a standalone level but a significant drop in sales of Jaguar Land Rover, which is fighting challenging market conditions, led to a loss of over Rs 1,000 crore.
In Q2 FY2019, the company reported consolidated revenue of Rs 72,112 crore (+3%), EBITDA at 9.9 percent, and Loss After Tax (LAT) of Rs 1,009 crore. This performance was on the back of revenue of JLR (Rs 5,635 crore / -11%) and Tata Motors (Rs 17,759 crore / +33%), with EBITDA of 9.1 percent and 8.7 percent respectively. Along with, JLR reporting a loss of Rs 101 crore during the quarter, while Tata Motors' reported PAT of Rs 109 crore.
Healthy domestic growth
The strong results reported by its domestic business are attributed to the growth in both its CV and PV segment. Tata Motors says the sales demand in CVs is on the back of strong economic growth and demand while its passenger vehicle sales have benefitted from having a range of new products.
According to the company, in Q2 FY2019, its domestic CV business saw growth across segments with M&HCV (23%), ILCV trucks (27%), SCV and Pick-ups (34%) and CV passenger (8%) all witnessing strong numbers. In the PV segment, the company's overall sales went up by 18 percent, with the Nexon SUV and Tiago hatchback said to drive strong sales.
Commenting on the performance, N Chandrasekaran, chairman, Tata Sons, said, "We have improved our market shares whilst delivering robust improvement in profitability in both commercial vehicles and passenger vehicles and generated positive free cash flows. This strong performance in the face of an intensely competitive market situation augurs well for the future."
Tata Motors' domestic businesses have seen a turnaround but Jaguar
Land Rover faces challenging times and has begun a turnaround plan.
"For JLR, market conditions, particularly in China, have deteriorated further. To weather this volatile external scenario, we have launched a comprehensive turnaround plan to significantly improve our free cash flows and profitability. The leadership team at JLR is in mission mode to achieve the deliverables under this plan. With these concerted actions, we remain committed to deliver an improved all-round performance from H2 FY2019," added Chandrasekaran.
JLR has launched 'Project Charge', a turnaround plan with a target of generating 2.5 billion pounds sterling (Rs 24,607 crore) through cost-cutting and improved cash flow over the next 18 months.
Tricky China and uncertain Brexit pull back JLR
Jaguar Land Rover, the Tata Motors-owned British brand, has been witnessing strong headwinds on the back of geo-political developments. The company reported sales of 129,887 vehicles in Q2 FY2019 (-13.2%). The company admitted that challenging market conditions in China, where demand was adversely impacted by consumer uncertainty following import duty changes and escalating trade tensions with the US, were among the prime reasons for the decrease in sales. In Europe, sales were affected on the back of continuing weakness in diesel demand and the introduction of new WLTP homologation rules on emissions. According to the luxury carmaker, UK sales were adversely impacted by diesel taxation and regulations, alongside continuing uncertainty related to Brexit. Reflecting lower wholesales, the company reported revenues of £5.6 billion (Rs 52,897 crore) for the quarter, 10.9 percent lower year-on-year.
On a positive note, the company has reported that demand for SUVs remained strong in North America. JLR has begun production at its new plant in Nitra, Slovakia. The total investment in new vehicles, next-generation automotive technologies and facilities to support its future sustainable growth was reported to be £1 billion (Rs 9,451 crore).
Jaguar Land Rover has also decided to curtail the planned spending by £500 million (Rs 4,719 crore), which would translate to the company spending £4 billion (Rs 37,744 crore). The company (JLR) has now embarked on its turnaround plan, which will focus on cutting costs, preserve cash and improve margin.
In the quarter, net profit from joint ventures and associates reportedly contributed Rs 86 crore as compared to Rs 510 crore in the previous year. The decrease is coming mainly from the lower profitability in JLR's China JV (CJLR) due to market challenges. Other income (including government grants) was Rs 617 crore compared to Rs 506 crore a year earlier. 
(With inputs from Nilesh Wadhwa)
(This article was first featured in the November 15, 2018 issue of Autocar Professional)
RELATED ARTICLES