Tata Motors plots big play in the EV space starting with Nexon EV
The first model to be powered by Tata's Ziptron EV tech platform, the Nexon EV also leads the OEM's strategy aimed at becoming a leader in the electric vehicle space.
Tata Motors plots big play in the EV space starting with Nexon EV
Tata Motors plots big play in the EV space starting with Nexon EV
Tata Motors plots big play in the EV space starting with Nexon EV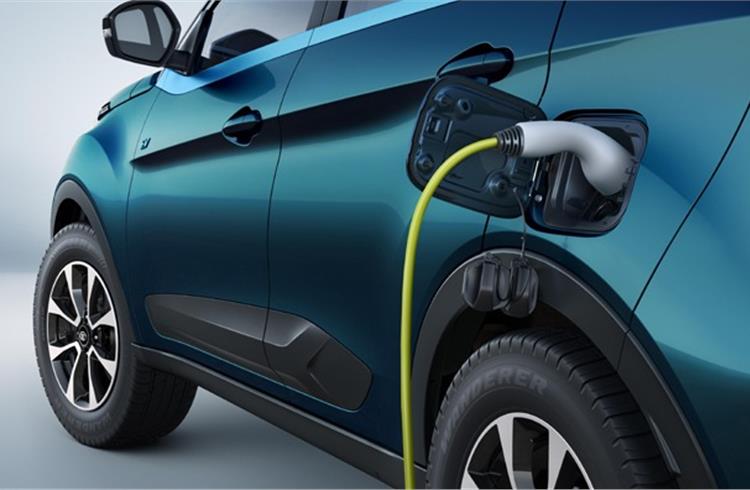 Tata Motors plots big play in the EV space starting with Nexon EV
The electric mobility industry in India can currently be said at best to be fledgling. Especially the electric passenger vehicle space. In FY2018-19, only 2,000 electric cars were sold in India. However, the movement in the sales chart during this year gives hope for the market. 200 units in Q1, 500 in Q2, and 800 in Q3. Shailesh Chandra, president – Electric Mobility Business & Corporate Strategy, Tata Motors, is bullish that the sales volume during Q4 will be "much higher". The Nexon EV would be expected to play a good role in that growth.
The Nexon SUV, a key player in Tata Motors' turnaround drive in the passenger vehicle industry, has an additional role now of helping realise its maker's ambition of being a "proactive winner in the electrification space". It comes with a certified driving range of 312km (240-260km in real-world driving conditions). The 30.2 KwH Lithium-ion battery pack takes eight hours to get fully charged (from SOC 20%) in a regular 15 amp AC plug point. With a DC fast charger, the charging time is an hour (SOC 0% to 80%). Peak power output from the permanent magnet motor is 129PS and torque of 245 Nm.
During an early morning drive in and outside Pune city, I got a good experience of the Nexon EV, which tries to pitch itself as an affordable performance electric vehicle (EV). At an expected entry price of Rs 15 lakh or thereabouts, the base variant of the Nexon EV will cost around 25 percent more than the Nexon diesel AMT that's currently available. "Our research and survey shows that the consumers are ready to accept this car if it is within that price bracket because electric vehicles give you other advantages like lower running cost, low maintenance cost," says Chandra. If that is so, then the Nexon EV should be able to give a boost to the emerging segment of electric passenger vehicles. It joins the Hyundai Kona and MG ZS in the emerging electric SUV space, but sits much below them in terms of price segment.
In terms of performance, the Nexon EV has a claimed 0-60kph acceleration figure of 4.6 seconds, and 9.9 seconds for 0-100kph. Good performance considering it weighs 120kg more than the IC-engined Nexon. While driving, a flick of the rotary switch to 'S' mode added significantly to the vehicle's drive performance. The Nexon EV's CG is lower by 40mm over the ICE Nexon and its weight is equally distributed between the front and rear. The battery pack of the Nexon EV has been smartly packed in the vehicle's floor area, and protected by thick sheet metal steel with reinforced structures. The IP67 rating gave confidence to the Tata team to let us do a water-wading test where the water level stood at 300mm. The vehicle's ground clearance is 205mm.
The Nexon EV's battery pack gets the liquid-cooled treatment to maintain a temperature level of 25-35 degree Celsius. The battery management system gets a master unit and a slave unit to help the battery pack operate efficiently. "Data from each and every cell at every moment is monitored so that the battery runs absolutely well," says Anand Kulkarni, vice-president, Passenger Electric Vehicles, Tata Motors. The Nexon EV's battery has an IP67 rating, which means it can even sit on the bottom of a 1-metre-high pool for half an hour before letting in any moisture. It comes with an eight-year/ 1.6 lakh KMs warranty. With growing concern about environment impact due to disposed batteries, Tata Motors says it's currently working on various aspects of battery disposal, or reuse and refurbishing of batteries.
Three variants are being offered for the Nexon EV. The tyre size (215/60 R16) remains the same as the ICE Nexon. The engineering team had to resist the temptation of going for thinner tyres and extract few more kilometres of driving range. Tata Motors says that there are no tweaks made to the ICE Nexon that will be a compromise in its EV avatar, but some tweaks were required for the vehicle's safety quotient. "We ran a separate, parallel safety programme for the purpose of an EV," says Kulkarni.
As the megatrends of electrification and connected vehicles grow, the Nexon EV tries to enhance its value proposition with a suite of connected features through a mobile application. It boasts of 35 connected features, key among which are geofencing (within an area or out of an area) the vehicle, remote operation of air-conditioning, ignition and find and reach that very important nearest charging station. The Nexon EV is also the first Tata vehicle to offer the 'What 3 Words' feature which facilitates users to reach any place in the world within a radius of 3 square metres based on a set of 3 unique words for every place.
With its set of specifications, performance and features, the Nexon EV makes a good pitch. Whether customers in the 20-plus markets where it will initially be available in take to driving an emission-free vehicle, paying a healthy premium in terms of acquisition cost will depend upon how well Tata Motors' marketing and sales channel educates people and the expansion of EV charging network. While that happens, electric mobility could also be heading towards better times, with some aid from the regulations/technology driven inflationary trend in the ICE vehicle industry.
RELATED ARTICLES