Suppliers bullish on demand for 2-wheeler security systems in India
A clutch of Tier 1 component suppliers in India see security systems for two-wheelers as one of their potential growth drivers in the near and medium term.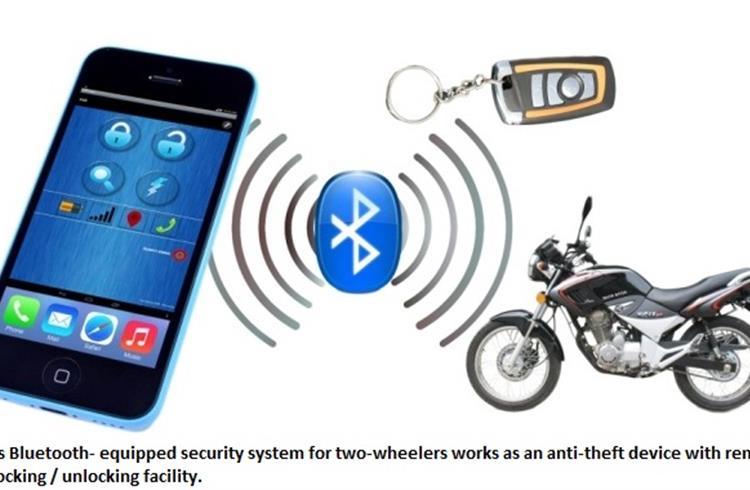 Suppliers bullish on demand for 2-wheeler security systems in India
Suppliers bullish on demand for 2-wheeler security systems in India
Suppliers bullish on demand for 2-wheeler security systems in India
Suppliers bullish on demand for 2-wheeler security systems in India
Vehicle security systems are known to have been a standard feature in almost every premium passenger car manufactured globally. While these features have been percolating down the value chain into the most affordable hatchbacks in India over the years, vehicle security systems are now all set to make their way into the mainstream two-wheeler segments as well in the Indian market.
Two-wheeler security systems primarily comprise alarms, immobilisers and locking systems including throttle locks, vehicle tracking devices and others. The increasing penetration of security systems in the sector is seen to be a result of the growing content of electrical and electronic components in vehicles. These components mainly require sensors, chips and software modules (algorithms and codes) to manufacture the vehicle security systems. For instance, an engine immobiliser, which is an anti-theft system, enables the engine to start only when it matches the correct code from the key.
"When you insert your key into the ignition switch or bring a Smart Key fob into the vehicle, the key transmits an electronic code to the vehicle. The engine will only start if the code in the transponder chip inside the key or Smart Key fob matches the code in the vehicle's immobiliser," quotes the Toyota website.
Industry experts, who expect such features to appear in 150cc and above motorcycles in the coming months, have estimated an initial market size for the two-wheeler security systems to be in the range of one million units per annum in India.
A quick reference to the market size of 150cc-250cc motorcycles reveals that close to 660,000 units were sold in the April 2015-January 2016 period. In addition to that, the burgeoning midsize motorcycle segment is another potential space for these security systems.
A few Tier 1 component suppliers such as Sandhar Technologies, Varroc Group, Denso India and Pricol are understood to have designed and developed certain security systems that may find their way into a number of upcoming two wheeler models.
Denso India develops Doko
Engineers working at Denso India's Manesar-based technical centre have designed and developed a vehicle finder and security system for two-wheelers called Doko, which means 'where is it' in Japanese. According to the company, Doko is the first product that has been developed in India, and is likely to be launched by May 2016.
According to the company, Doko has been specifically developed for India and could be introduced in other major two-wheeler markets in Asia, which includes ASEAN nations.
The Japanese major developed the security solution with an investment of Rs 150 crore which was spent on the project in 2012. The company's Manesar technical centre also covers development for powertrains, electric and electronic systems, information and safety systems, and small motors.
Company officials say that Doko can enhance users' convenience with its functions such as remote motorcycle finder and anti-theft. It consists of a controller carried by the rider and a receiver mounted on the motorcycle. The rider uses the controller to make the turn indicators start flashing and the motorcycle to make a beeping sound in order for it to be easily located in a crowded parking lot.
Furthermore, Doko is also said to work as an anti-theft device as it is programmed to turn on the side signals while sounding an alarm to alert nearby people whenever its built-in receiver detects a sudden force applied to the motorcycle at rest, or when the ignition switch is directly connected to the battery.
Having Doko as a made-in-India product, and its local engineering team supporting the Denso's global projects, the company is now evaluating making further investments to boost its manufacturing capabilities in the medium to long term.
Talking to Autocar Professional recently, Takao Nojiri, deputy managing director, R&D Center, Denso International India said "We are already supporting certain global projects of Denso from India."
While it is known that the company had invested Rs 300 crore on setting up a manufacturing plant at Jhajjar (Haryana in 2013), its next major investment could be made soon after 2020. Confirming the same, Yoshitaka Kajita, MD, Denso International India, said "Yes, of course, 2020 onward, we need to invest for a new production plant in India."
Sandhar Technologies' innovative security solutions
Sandhar Technologies, a leading manufacturer and supplier of locking systems, sheet metal components, vision systems, door handles, latches and hinges and other component assemblies in India, has for the first time developed some innovative security systems for two-wheelers, which were showcased at the Auto Expo.
Designed grounds-up by the team of engineers at Sandhar Centre for Innovation and Development (SCID), which is a new initiative by the company to promote R&D-backed projects, these security systems include an innovative four-in-one lock for two-wheelers, Bluetooth-based security system, immobilisers, flip key with remote and others.
Sandhar's all-new four-in-one lock for two-wheelers integrates the handle lock-cum-ignition switch with fuel tank cap and seat latch actuator to increase customer convenience and eliminate the use of separate locking systems. Company officials believe that this solution has the potential to pick up on a wide scale once it gets streamlined via mass production for commuter / deluxe and premium segments.
The company has also developed a Bluetooth-based security system for two-wheelers, which works as an anti-theft device with remote vehicle locking / unlocking facility. According to the company, this solution comes with an auto immobilisation option.
According to the company website, SCID has filed patent applications for the anti-theft motorcycle stand lock, dimming mirror, rollover valve for two-wheelers, and a replacement rollover valve fitted with fuel filler cap for motorcycles.
Varroc gears up to address security in two-wheelers
Varroc Group's electrical division is working on a number of security systems for the two-wheeler market. It can be recalled that the company had, in January 2015, announced its technical collaboration with Scorpion Automotive of the UK, which is known as a leading manufacturer and supplier of vehicle security alarm and tracking systems, to engineer products on similar lines.
Under the agreement between the two companies, Varroc gets the exclusive rights to design and manufacture the security products for its domestic as well as global clients at its Chakan plant, and Scorpion Automotive benefits in terms of cost competencies via volumes, portfolio expansion and innovative products for the two-wheeler segment in India.
The security products include alarms, immobilisers, heated grips, throttle locks, smart chargers and vehicle tracking devices. According to company officials, of these products, the immobiliser technology along with remote and alarms could gain prominence soon.
Ravi Damodaran, president, technology and strategy, Varroc Group, had then mentioned that if the two-wheeler security systems click in India then the company could target the same for the global markets as well.
Arjun Jain, who joined Varroc Group's electrical division last year as vice- president and business head, is particularly keen on the future prospects of these security systems. He told Autocar Professional that the security solutions for two-wheelers are expected to hit the market in 2017.
"I think this is the right time to strengthen and expand this division's R&D capabilities. For example, we have added a new dimension to it by recently incubating an advanced engineering group, which will be responsible for introducing game- changing technologies," he said.
Varroc Group's electrical division operates via five plants (three in Pune, two in Aurangabad) and one integrated plant in Pant Nagar, Uttarakhand. Primary products that the company manufactures and supplies under this division include the two- wheeler lighting solutions (for domestic clients), digital clusters, motors, magnetos, regulators, switch gear, catalytic converters, relays and others.
Pricol eyes demand for two-wheeler security solutions biz
Coimbatore-based Pricol is another major supplier that is eyeing this space. The company, which unveiled its new brand identity in January 2016, sees potential demand for vehicle security systems in two-wheelers due to a rise in thefts across the country. The company, which claims to be the second largest manufacturer of rider information systems for the two-wheeler segment globally, sees security solutions as one of the main revenue drivers in the near and medium term.
With a vision to achieve a turnover of Rs 3,000 crore by 2020, Pricol (which is also among the top 10 global manufacturers of automotive sensors) has estimated Rs 1,450 crore as its consolidated revenues for 2016.
The four suppliers featured here clearly have a first-mover advantage in the two-wheeler security systems business. With demand growing for executive and midsized motorcycles (read more expensive machines), their owners will only be looking for kit that helps keep their set of wheels secure. While the aftermarket will be the first source of purchase, it won't be long before OEMs look to get security systems factory fitted. The green shoots of growth have already been revealed.
This feature was published in Autocar Professional's Two-Wheeler Industry Special (March 1, 2016)
RELATED ARTICLES