Saluto RX first model under India Yamaha's Project INDRA
India Yamaha's recently launched Saluto RX is the first product under its strategic INDRA project, which was kicked off almost two years ago with an aim to develop more cost efficient and suitable models for the Indian market.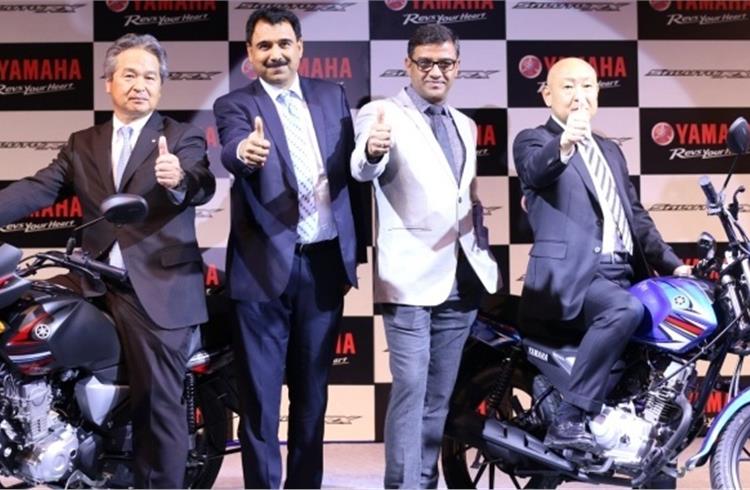 India Yamaha Motor's recently launched mass commuter motorcycle, the 110cc Saluto RX is the first product which has been rolled out under its Project INDRA (Innovative and New Development based on Responsible Analysis).
Project INDRA, which holds substantial strategic importance within the company, began in 2014 with a focus on developing cost efficient and more suitable products for the Indian market. It is understood that under this project Yamaha had earlier planned to develop the world's most affordable motorcycle model.
On the sidelines of the recent launch of the Saluto RX, Masaki Asano, managing director, Yamaha Motor India Sales, told Autocar Professional: "We now have a slight change in our strategy. We are not aiming to develop the cheapest bike because we want to also focus on the quality that we are known for. Further, we cannot ignore the image that Yamaha stands for in the global markets. We want to make affordable bikes and the Saluto RX is one example of that. The Saluto RX is a very reasonable model. We are going to watch very carefully how this model performs in the market. Our future decisions will be based on its performance."
The company, which launched the Saluto RX at an ex-showroom, Delhi price tag of Rs 46,400 on April 14, has priced it competitively to place it among its immediate rivals. While Honda Motorcycle & Scooter India (HMSI)'s 110cc mass commuter CD 110 Dream has a starting price-tag of Rs 44,377 (ex-showroom, Delhi), its Livo model retails for Rs 53,349 (ex-showroom, Delhi for drum brake variant).
TVS Motor's newly launched 110cc commuter model Victor, on the other hand, comes with a starting price of Rs 49,188 (ex-showroom, Maharashtra).
Yamaha is targeting sales of around 60,000 units of the Saluto RX in India within the first year. While this translates into a decent sales of 5,000 units per month, it also highlights Yamaha's intent of climbing further to gain a foothold in the mass commuter motorcycle segment.
It is noteworthy that its 125cc Saluto models, launched last year, have already gathered momentum and are, as per SIAM's March 2016 industry data, averaging sales of over 5,000 units per month. Although this is good news for the company, which has managed to successfully create a name for the Saluto as a commuter motorcycle brand, it now wants to consolidate its presence in the 110cc category using this brand's (Saluto) recognition.
Giving a brief on the new model, Roy Kurian, vice-president, sales & marketing, Yamaha Motor India Sales, said: "This product had to deliver good mileage (82kpl). So we worked upon our BlueCore technology, made it compliant with BS IV emission norms, which reduced its weight, and at the same time the model had to offer decent pickup. The 110cc engine displacement stood out as the right mix for us. The Saluto RX is the outcome of INDRA project and hence has been priced well."
Economy commuter – Soul of Yamaha RX
Explaining why the company named the new model the Saluto RX, Kurian elaborated, "We want to make the Saluto RX as a very well known brand in the market. The Yamaha RX was a very popular bike with a very different image. We thought it would be easy to connect with rural India because they are already aware of the RX name. To give a correct message (of a commuter bike), we had to give it a suitable name, so we chose Saluto. Thus, the Saluto RX stands for a complete package which combines fuel efficiency of a commuter bike along with the soul of RX."
Meanwhile, India Yamaha Motor has been preparing to gun for the mass market and as a result it has set itself a target of establishing 3,000 touch- points this year. Its current network covers close to 2,200 dealerships.
"North India is a huge market for commuter motorcycles. Within that Uttar Pradesh alone contributes to 20 percent (standard segment). That's where we have to work. Also, the Saluto RX's launch timing gels well with the prediction of a good monsoon. I think April-May would be the right time to judge how the monsoons will perform. We will review our plans accordingly," Kurian concluded.
INTERVIEW – Yasuo Ishihara, managing director, Yamaha Motor R&D India
How long did the company take to develop the Saluto RX model for India?
We took close to two years to develop the Saluto RX model for the commuter motorcycle segment. We have been waiting for a new model in this segment for long as we were studying the market (growth, size, products, key features, customer profiles, price movements and others). So including the feasibility study, it's likely that more than five years have gone into the making of the Saluto RX.
Why did you prefer a 110cc engine over a 100cc unit for the Saluto RX?
Yamaha's DNA is sporty. So we had to focus upon sporty riding (power delivery, torque, apt handling) along with best-in-class fuel efficiency for daily use. We considered 100cc and 110cc powertrain displacements for this model. However, we had some history with the 110cc engine and we wanted to utilise that technology in this model.
What new components went into the development of this BS IV-compliant 110cc engine?
The basic design was utilised by the previous engine. However, every other major part is new. We improved the combustion efficiency and a lot of other areas were refined.
How did you manage such a competitive pricing for the Saluto RX at the R&D level?
We had set a serious target and based on that we coordinated with our suppliers. It was a joint team activity at the supplier where a number of components and cost brackets were studied and discussed. The Indian team played a very strong role in the development of this model. Japan R&D headquarters gave its input in the form of the basic layout. Further discussions were carried out here in India. This is how we collaborated for this model.
Under the INDRA concept, are you speaking to your vendors to bring down costs?
The INDRA concept is based on the pattern of the Indian customer. Many members from our team visited the homes of our customers to study their motorcycle usage patterns, expectations and other factors. Based on those inputs, we compared our own designs, our test standards. We discussed more than 100 items under this and went to the market to check each of these parameters.
This is not the goal of the INDRA concept but only the beginning of the activities. We continue to pursue this INDRA activity as it is not for short term. I believe we can surely optimise our products according to real-world Indian conditions.
Will you also study the other existing models under the INDRA activity?
Yes but this model (Saluto RX) is the biggest model for INDRA activity. This concept is for all the other products as well.
Read more:
- Yamaha Motor India's MD (Sales), Masaki Asano talks about the Saluto RX
RELATED ARTICLES