Rinder buy gives Minda Industries new clout in the lighting business
Manesar-based Minda Industries will leverage Rinder's strength in two-wheeler and off-road vehicle lighting and also explore the potential to set up a plant overseas.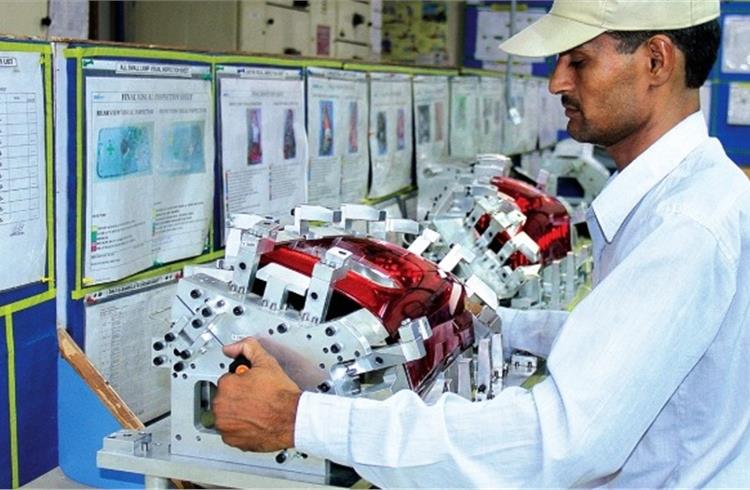 Early March this year saw the Manesar-based Minda Industries (MIL) spread its wings in its automotive lighting domain. The Rs 2,500 crore MIL acquired the global lighting business of the Rinder Group of Spain in a deal pegged at euro 20 million (Rs 145 crore).
With this acquisition, Minda brought under its fold 100 percent equity holding in Rinder India as well as its technical and design centre in Spain along with 50 percent equity holding in Rinder Riducu, Colombia.
In June, Minda Industries, which is part of the UNO Minda Group, closed the Rinder deal through a mix of internal accruals and debt funding. Now the Indian component maker is consolidating its gains into two lighting verticals – one for the four-wheeler business by piggybacking on Minda's strengths and the other in the two-wheeler and off-road business of Rinder. The original two-wheeler Minda business is also being integrated into the Rinder business as traditionally MIL was a supplier to Japanese customers like Yamaha, Suzuki and Kawasaki, Renault-Nissan as well as the tractor market.
With this move, MIL has jumpstarted its expansion in its lighting domain, earmarking a capex of Rs 500 crore over the next three years to finance its growth both in the domestic market and overseas. This growth will enable the lighting division to achieve a consolidated topline of Rs 1,000 crore from over Rs 700 crore today.
Rinder talks tech
Rinder, meanwhile, has a dominant position in the premium lighting segment with its strengths being the two-wheeler and off-road business, backed by strong technological acumen. The Rinder acquisition has given Minda Industries synergies in this stream as well as access to Rinder's entire range of products in the two-wheeler, off- road and truck segments.
Minda Lighting will now draw on the Rinder know-how to offer customers a full basket of products and solutions. It gains from Rinder's expertise in LED lamps and automatic headlamps as also backend synergies in terms of material purchase. It is also exploring synergies of unifying the two technical strengths and building upon them further.
"Since it is a sizeable business together, we are also much above the critical mass and think we will be able to accelerate our pace of growth in various segments," Pradeep Tewari, CEO of Minda Lighting & Horns, told Autocar Professional in an exclusive interaction at the MIL plant in Manesar.
Rinder's manufacturing plant in Columbia, South America caters to similar MIL customers as in India like Honda, Hero MotoCorp and Yamaha. Since the customer base is common and MIL is actively supporting their requirements and global standards across geographies, it is better equipped to supply the product solutions to them in Columbia as well. Rinder is the sole automotive lighting products manufacturer in Columbia, which is a small but developing market. This opens up a plethora of opportunities for MIL.
Exploring the off-road lighting biz
In a bid to expand globally, MIL is also exploring possibilities of growing its off-road business between South America, Mexico and the USA.
"We are studying a possibility of setting up a manufacturing facility for off-road components either in Columbia or in Mexico. The plant will supply conventional lamps and LEDs for all-terrain vehicles and harvesters. We are undertaking a pre-feasibility study on the potential and it will attract a medium size investment of Rs 50 crore," adds Tewari estimating that normally within three years of start of production, the company follows a policy of achieving a turnover of Rs 100 crore. A similar route will be followed in this geography as well.
Good connect in the Asean market
Growing in the ASEAN in various product groups, Minda already has a manufacturing footprint in Indonesia and plans to add the Rinder bouquet to its own over a period of time for serving customers like Kawasaki, Daimler, Yamaha and Isuzu as it has orders for currently supplying to these customers in Indonesia and Thailand out of India.
Now it hopes to conduct a feasibility study in consultation with its clients on whether it would be more economically viable to supply from Indonesia instead of India to save on logistics costs.
Initially, Rinder lamps will be made at the existing Minda facility in Indonesia if the go-ahead is received from customers. Various options are being explored as the factory has moulding and metallising processes in play but has adequate space to establish a separate assembly line for the Rinder lamp rollout.
An estimated Rs 75-80 crore investment is envisaged in Indonesia over the next three years not only on expanding production of the Rinder lamps but also on new orders from customers like Nissan for Minda lighting products like LED headlights there.
But in the long-term more ambitious growth plans are in store for the ASEAN region notably Thailand which is an important automotive market. In addition to a manufacturing footprint in Indonesia, another facility could be explored in Thailand over the next 2-3 years as more OEMs set up assembly operations there.
Among other global markets, Africa is a geography which is being serviced by Minda but it does not offer much potential for manufacturing.
Multi-locational manufacturing
Tewari specifies that the focus of the combined Minda Lighting division is not on exports but on establishing multi-locational manufacturing – spanning India, Indonesia, expansion in Columbia and maybe a greenfield facility in Mexico as well. In the long term, Thailand could be harnessed as a lighting hub to be in close proximity to its end customers.
On March 3, 2016, N K Minda, chairman of the UNO Minda Group, while announcing the acquisition of Rinder, had said: "This acquisition will establish Minda Industries as a technology leader in lighting solutions and will further augment the R&D capabilities of the company. MIL's lighting business will also have a turnover in excess of Rs 700 crore that is currently around Rs 300 crore per annum."
He had further elaborated that the company's vision was to achieve 25 percent of the group turnover from the international business. "The overseas leg of this global acquisition will ensure that the company moves closer to its vision and expands its geographical footprints further."
At present, exports and international business constitute 20 percent of the total consolidated revenues of the lighting entity and in India the focus is on growing the company's two-wheeler and off-road market that is sizeable and fast paced.
New plant in Chennai likely
Locally, Rinder has three plants that will be leveraged, two in Pune and one at Bahadurgarh in Haryana. The company is a major supplier to Bajaj Auto, TVS Motor Co, Daimler, Hero MotoCorp and Honda Motorcycle & Scooter India. It is also a significant player in LED technology, both headlamps and tail-lamps as well as automatic headlamps, that MIL plans to tap for growing its customer and product base.
In addition, MIL is mulling a greenfield facility at Chennai that will offer integrated Rinder two-wheeler and Minda four-wheeler lighting solutions. "We don't have a lighting footprint in Chennai so it should be established within two years at an investment of Rs 100 crore. Construction should start within three months with the plant going on stream in July 2017," elaborates Tewari.
The factory will service South-based customers like Renault-Nissan, Royal Enfield, India Yamaha Motor and Honda with funding for all the investments to be routed through a mix of internal accruals and bank borrowings. This would be the first manufacturing footprint in a new location to supply both the company products from one facility.
Meanwhile, the Rinder R&D centre in Spain has 40 engineers working on various advanced technologies in lighting in addition to the programme management and application work undertaken at each Minda plant. Some of the work at the Spanish centre involves the development of low energy lamps and optics as well as high endurance lamps and usage of new materials. The Rinder technology from Spain will be harnessed in India and solutions based on it for servicing new orders.
Among the upcoming trends, LED convergence is expected to become the order of the day going forward with the focus being on low energy lamps that deliver higher illumination and are more durable than ordinary lamps. Automatic headlamps are also expected to be driven by new automotive regulations and should find higher usage in 3-4 years. By 2020 about 40 percent of the light market should convert to LED lamps from the current 5-10 percent for rear lamps and headlamps.
Globally, LEDs and organic LEDs are growing trends with OEM dependence on lightweighting vehicles to achieve higher fuel efficiency. This is seeing a movement to materials that are light, recyclable and environment-friendly in lighting solutions as well. Overall, the automotive lighting industry in India for the two-wheeler and four-wheeler markets is estimated to be around Rs 6,000 crore with about eight major players. Minda Lighting holds a market share of 18 percent in it and ranks number three after Lumax and Fiem Industries.
Earlier, MIL had established a design centre in Taiwan where Lumax has also set up a design centre recently. But Tewari does not view it as competition as the Taiwan centre serves more as a backend tooling development centre with much of the product development happening in Spain with Rinder. Some tooling for Minda Industries is also undertaken in China and Portugal with some low and medium tools sourced from these regions.
For Minda Industries, its automotive lighting is predominantly manufactured at its plants at Manesar and Pune. Now with multi-locational growth envisaged in the future and advanced lighting solutions under its belt with the Rinder acquisition, the future of Minda Lighting seems as bright as the LED effluence that promises to light up a major part of its business.
RELATED ARTICLES