QuEST Global targets US$ 1 billion turnover by 2020
Singapore-headquartered engineering services company founded by Indians in the USA eyes opportunities in the automotive field leveraging its aerospace expertise.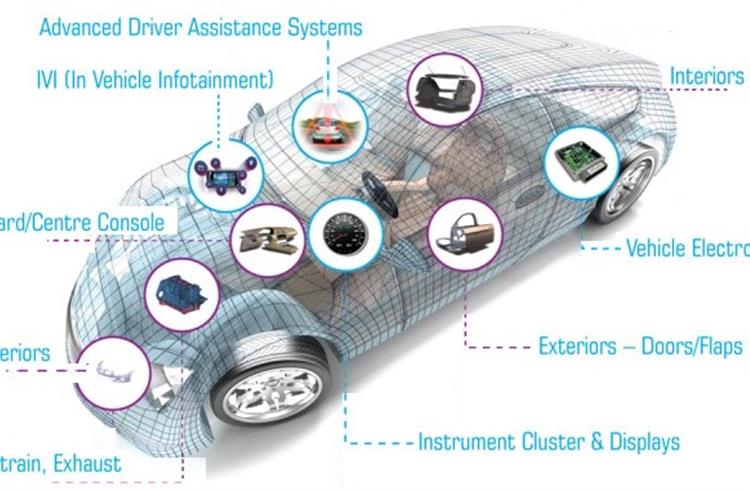 QuEST Global, an engineering services company that was started by two Indians in the USA in 1997, aims to achieve an overall turnover of US$ one billion by 2020. The company, which is headquartered in Singapore and follows the Indian financial year, is expecting to cross the US$ 400 million turnover mark by end-FY2015-16.
In an exclusive conversation with Autocar Professional on the sidelines of Nasscom's annual engineering summit in Pune held on October 7-8, 2015 Ajay A Prabhu, chief operating officer, QuEST Global Engineering said: "Our overall turnover will cross US$ 400 million this year, which is by March 31, 2016. The automotive revenues as of today stand close to 10 percent of the total turnover. However, we expect that the share of the automotive segment will grow more than any other vertical for us by 2020 via organic growth, and will account for close to 20 percent of our total turnover by then. We aim to achieve the magic number of US$ one billion by 2020 in terms of the overall turnover."
According to Ajay, the company has been growing at a compounded annual growth rate of more than 30 percent year-on-year. The management expects to continue the high growth rate year-on-year including the organic and the inorganic growth.
Interestingly, the company, which has acquired six companies in the last six years across Spain, Germany, UK, USA, and India, anticipates a four- to five-fold jump in its automotive business over the next four-five years, all thanks to the services that fall within the gamut of engineering research and development, electronics, embedded software and smart manufacturing.
The genesis
QuEST Global is an engineering services company that was set up by Ajit Prabhu, who came from General Electric, and Aravind Melligeri, who was an employee at Ford Motors. The automotive business isn't new to the company, which had started off with small operations almost 18 years ago. According to Ajay, Ford Motors along with a few other Japanese companies became customers to his company in its initial years.
"However, we got more traction in the aerospace, aircraft engines, aircraft structures and then we diversified into oil and gas and other sectors as well. Back then the aerospace industry was evolving rapidly, many developments were going on and there was a huge need for the engineering resources. In a few years, close to 50 percent of our revenues came from aerospace, and the remaining share came from power generation and oil and gas sectors," he recalled.
QuEST Global has started focussing on the automotive segment again over the last two-three years, thanks to a massive pool of upcoming opportunities its management sees, said the company official. As a part of that, while the company is rebuilding its capabilities, it is also evaluating services that it can leverage from its expertise from other sectors such as aerospace.
Acquisition of Germany's EDF
In February 2015, QuEST Global had acquired Munich-based Engineering und Design im Fahrzeugbau (EDF) GmbH for an undisclosed amount. "We acquired EDF, which is a supplier to BMW for more than 25 years. They specialise in automotive engineering services and this acquisition was made to strengthen our focus on the automotive industry," explained Ajay.
Reports suggest that with this acquisition, QuEST became a Tier 1 supplier to not just BMW but other German carmakers as well including Daimler AG and Volkswagen. Its footprints in Germany and UK have said to have consolidated its business to clients such as Airbus, Rolls Royce, Siemens and preferably others.
Highlighting what QuEST gained from the said acquisition, an official press release mentions that "with more than 320 employees, EDF GmbH offers an integrated range of services including development and design, electronics, electrics and software, prototyping and small-batch parts production, project management and material control, and system integration."
"EDF has an excellent reputation and experienced engineering talent in the automotive vertical. By combining our talented engineering teams, we will be able to emerge as a top preferred engineering partner for our customers," Ajit Prabhu, CEO, QuEST Global, had commented post EDF's acquisition.
Nest(ing) ambitions
In-line with its diversification strategy for the 2020 target, the company, late last year, had acquired a south Indian software firm called NeST Software, which primarily brought in expertise in the areas of electrical engineering and software domain. Besides strengthening its presence in the energy and transportation sectors, it added the vertical of healthcare and medical devices through this purchase.
Giving an example of how this acquisition will benefit QuEST's proposition in the automotive field, Ajay elaborated that "on the electronics side for each of the programs that are launched, we have to have very good concurrent resource planning, make sure that the development is happening as per the specifications, verification and validation, program management related aspects. Since we have multiple customers from the electronics side, so there is some cross-leverage like image processing. We have capabilities in the image processing area via our presence in the medical devices space. These devices use MRI image processing. When in the context of automotive, ADAS (advanced driver assist systems) has a number of features that include image processing."
ADAS is understood to be an upcoming opportunity that includes the development of several driver assist features such as reverse parking, warning systems to lane departures, approaching objects and others, 360 degree view of the passenger car, emergency braking and many others. The information and images generated by the cameras and sensors deployed around the exterior and interior of the vehicle are processed in real time for display to the driver in the context of safety aspects.
Speaking about leveraging expertise across verticals, Ajay pointed out "I think automotive can borrow a lot from aerospace and usage of aluminium and composites are a few examples of that. The rise of human machine interface (HMI) in passenger cars is another example, which is derived out of aircraft's cockpit designs. Similarly, there will be several benefits on the mechanical side also. Fuel efficiency and emissions too are going to be the major growth drivers in automotive."
ADAS and industry 4.0
While talking to Autocar Professional about the upcoming opportunities under the umbrella of ADAS, Raman Subramanian, senior vice-president, QuEST Global Engineering gave an example of collision avoidance system.
"We are working on the collision avoidance mechanism where the vehicle automatically applies brakes on its speed when it gets into an acceptable distance with another object," told Subramanian.
He firmly believes that the world has to accept that the passenger cars can avoid a collision with another object on its own and thus can provide safety beyond human glitches before the autonomous driving cars would find mass acceptance globally.
"The first step to autonomous driving would be to demonstrate to customers that the car has enough amount of sensors around it that it can avoid collision with another object. People will take that leap to the next phase of driverless cars only after they are convinced that collision avoidance mechanism actually works and is safe and reliable," remarked Subramanian.
He further commented that "the involvement of industry 4.0 and this concept of smart manufacturing will bring in a huge degree of flexibility so much so that in another five years' time you can get a customised car."
The company currently has its engineers located around the globe – close to 450 engineers in Spain, 350 engineers in Germany, 250 engineers in UK, a headcount of 1,300 in the USA and almost 5,000 employees in India.
"We are very keen on the electronics side of the opportunities given that there will be huge investments in that space. Looking at the mechanical side of the engineering services, there are several activities that are of interest such as product platforms common to several markets, there is certain amount of modularisation of design. However, we believe that more additions will happen from the user experience side such as in-car entertainment, HMI, which will be driven by the role of electronics," Ajay summarised.
This article was published in the October 15, 2015 issue of Autocar Professional
RELATED ARTICLES