Preparing for tomorrow today
The Japan-India Institute for Manufacturing in Mehsana, Gujarat, where Maruti Suzuki is providing active support, has eight industry-oriented courses, repair and paint workshops and even a small assembly line.
The Japan-India Institute for Manufacturing in Mehsana, Gujarat, where Maruti Suzuki is providing active support, has eight industry-oriented courses, repair andpaint workshops and even a small assembly line designed to make ready a new generation of skilled personnel and address the looming threat of paucity of skilled manpower.
What always seems like an anomaly is that a country renowned for its plentiful young talent also faces a looming skills shortage. Strange but true and the automotive industry, which is one of the biggest employers in India, is currently tackling this challenge of skilled manpower even as it puts its shoulder to the wheel to take on an era of disruptive technologies.
With a population size of over 1.3 billion, India is the second largest inhabited country on the planet after China, and is pegged to be the youngest nation by 2020 with an average age of 29 years, much younger compared to China's 37 and 48 years in Japan. While it is the fastest growing economy with a GDP growth of 7.3 percent in CY2018, its sustainability, however, depends upon the employability of this youth, who have the energy but unfortunately fall short of the necessary skills required to push the envelope in the real world of shop floors, dealerships and workshops, among other areas of core operation in the automotive arena.
Training equipment like welding simulators help students practice their skills in high-quality MIG welds, critical to the auto industry.
The automotive industry in India is among the leading contributors to the country's economic development, contributing 7.1 percent to the GDP in 2017, and forecast to provide 10 percent by 2026, as per the Automotive Mission Plan 2016-2026. While the industry today employs over 29 million people in direct and indirect roles across OEMs, vendors and dealerships, it holds the potential of creating 65 million additional jobs over the next decade, thus having a huge responsibility to train and skill its required manpower. But India Auto Inc cannot do it alone. The onus lies on both the government and industry to join hands, collaborate and bridge the large skill gap.
The government, with its 'Skill India Initiative' launched in 2015, has been actively pushing skilling and chalking long-term roadmaps to empower youth and also roping in industry in a big way to mould India's future. A robust example of the 'Pradhan Mantri Kaushal Vikas Yojana' (PMKVY) has come out in the form of the Japan-India Institute for Manufacturing (JIM) which was born out of a far-reaching thought exchange between the Indian and the Japanese prime ministers in November 2016.
The automobile workshop encompasses comprehensive servicing, diagnostic and repair training across the entire vehicular system.
Established in May 2017, the AS Patel Maruti Suzuki JIM is a tie-up between Japan's Ministry of Economy, Trade and Industry (METI) and the government of India, with the underlining industry support coming in from the country's leading carmaker — Maruti Suzuki India. The first of such institutions to be set up within the pact between the governments of the two countries, JIM in Mehsana was recognised as an educational body offering Japanese manufacturing practices by METI in June 2017, and more recently, the institute also received an ISO 29990 certification in October this year.
The institute, located inside the sprawling campus of Ganpat University in the Mehsana district of Gujarat, near Ahmedabad, aims at holistic development of an individual and offers courses in mechanical, electrical, body and vehicle repair — all related to the different operations within the automobile industry.
The full-fledged facility, which even boasts an auto-body repair (ABR) as well as auto-body paint (ABP) workshop, is only the fourth of a total of 110 ITIs across 27 states in the country, where Maruti Suzuki has collaborated under its CSR, to have its own body and paint repair training facilities, which are rather expensive and cost around Rs 85 lakh to set up. The other three ITIs to have these facilities include ITI Pusa, Delhi; ITI Dhoraji in Rajkot, Gujarat; and ITI, Tollygunge, Kolkata.
The auto electricals domain also offers bright career opportunities for girl students in what is still a male-dominated industry in India.
Housed in a 2-acre plot, JIM sees around 400 students studying in a 70,000 square feet facility, which includes free residential accommodation for close to 300 students, who come to study from far-off places.
Soft skills, hard mettle
While technical skills are a must, the institute pays keen attention on imparting soft-skills training as well. A recent UNDP report suggests that it is attributes such as punctuality and communication skills of an individual's personality, which are the biggest inhibitors in making them suitable to be imbibed in the industry and trained further to handle different operations.
JIM offers eight different trades, namely — ABP, ABR, driver-cum-mechanic, electrician, fitter, mechanic diesel engine, mechanic motor vehicle and welder — for individuals who have either cleared their matriculation or high school, and are keen on a career in the automotive industry. Eligibility criteria includes written and dexterity tests; JIM also conducts a pre-hand colour blindness test to ensure that a student is deemed fit to enter the automotive industry, where this stands as a critical requirement in a high-risk field.
Assembly line fitters get ample practice on simulators to master the art of fitting components to the right torque and tolerances.
While the courses for electrician, mechanic diesel engine and mechanic motor vehicle are all of two-year duration, the remaining ones are one-year programs, with the exception of driver-cum-mechanic, which only needs six months of training on a simulator and in the automobile workshop.
With the course curriculum meticulously designed by the Association for Overseas Technical Scholarship (AOTS) Japan, in consultation with Maruti Suzuki India, the students are required to strike a balance between theory
and practice in order to become well versed in their subjects and also clear the common evaluation conducted by the state government for all ITIs. The institute sees students getting trained in three shifts which are conducted between 8am and 9pm.
A walk down skilling lane
This correspondent's recent visit to the institute was quite an eye-opener. You step into an extremely neat and clean campus, which is usually unexpected of an ITI, considering how their image has been tarnished at a number of government-run facilities. The airy corridors give way to a number of classrooms and laboratories, with students all ears to their teachers and practical instructors.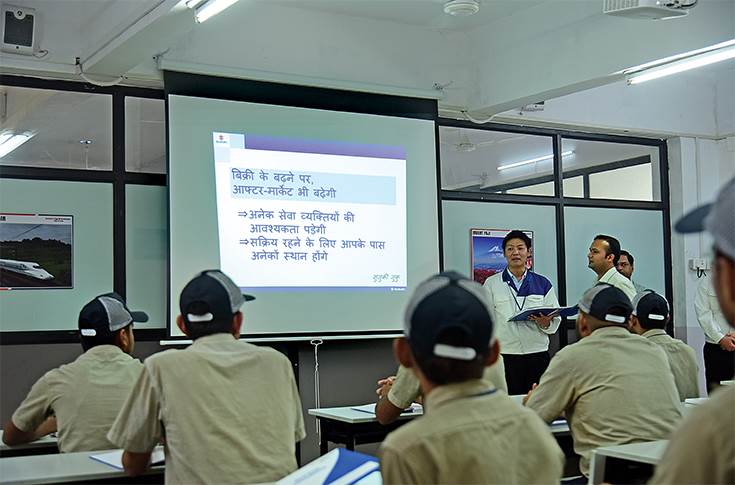 Soft-skills training through the Japanese concepts of Ho-Ren-So, kaizen and 5S are key aspects of personality development and grooming.
While all coaches are appointed as per the government guidelines of minimum experience criteria, an additional consulting coach is also deputed for every trainer, who is generally a retired industry professional and an expert in his or her respective field after having worked in the automotive space for a considerable amount of time.
The visit to JIM also coincided with Maruti Suzuki having invited a Japanese trainer to the facility to conduct a two-week training program aimed at imparting knowledge on global best practices in automotive service and repair, as well as making students learn the Japanese concepts of 'Ho-Ren-So' (to respect, communicate and consult), kaizen and 5S.
Safety First
A clear and sharp focus at JIM can be seen on occupational safety at the workplace, with students taking a safety briefing before they start their shift each day, just like it would be done as a routine activity at the shopfloor of any global automotive OEM or supplier, working in accordance with OHSAS standards.
The safety training includes making students learn basic fire-fighting skills as well as wearing proper safety gear at all times, like helmets, gloves, suits and boots for different operations on the shop floor.
Students get familiar with the layout and working of a diesel engine and also learn the way to reconstruct it from scratch.
The welding laboratory is a prime example of the safety precautions being undertaken, with students wearing protective eyeglasses when working with MIG welding guns to protect their eyes. JIM scores high in terms of infrastructure and the training equipment installed, with the welding lab boasting two weld simulators, which Maruti Suzuki says are not even installed in its main training centre at its Gurgaon plant. The institute has acquired a welding robot as well, and is in the process of installing it over the next couple of months.
A quick round of the mechanic diesel engine workshop shows students receiving hands-on training by dismantling and repairing Maruti Suzuki engines. The electrical department, on the other hand, also has three girls being a part of the training program and working hard towards self-reliance and ensuring a good future in the auto industry.
Assembly line on a student shopfloor
What is even more impressive is the miniature assembly line, mimicking the actual one with door and dashboard sub-assembly lines and multiple fitting stations, as typically seen inside a car factory. Fitters get trained to install the correct parts and the interior trims in the right manner, while practicing to carry out the job within the stipulated amount of takt time on this mini assembly line.
Component fabrication skills can come in handy while performing a critical repair job. Here a student drills a hole in a cylinder head.
Next in line is the automobile workshop, which is meant for students in the mechanic motor vehicle course to get hands-on learning on multiple aspects of vehicle fault diagnosis and repair, as well as auto body repair and paint. Wheel alignment and balancing, air-conditioning repair, electrical and hybrid system troubleshooting are also some of the areas seeing strong student interest as more and more cars adopt these futuristic mobility technologies.
Students could also be seen getting trained in the working of strong hybrids, AMTs, CVTs and conventional automatic transmission systems by the Japanese instructor.
New industry-oriented courses
JIM's first convocation was held in July 2018, with a total pass percentage of 99.70 percent and close to 80 percent students scoring above 60 percent. The first year of placements also saw a total of 254 students appearing before the placement cell and all of them securing jobs with 61 getting absorbed by parent Suzuki Motor Corp at its new Gujarat plant, 120 going to various Tier 1 vendors in the western region, and 59 getting placed at the dealership level.
Seven students chose entrepreneurship, five opted for higher studies, and two were placed at a diamond merchant in Gujarat, thus making JIM a true centre for holistic skill development, and an open ground for students and the industry to come and find a suitable match.
Knowledge sharing. A visiting Japanese instructor explains the working of mild-hybrid technology in a diesel engine.
Maruti Suzuki's CSR wing is now working towards including three more industry-oriented courses — machinist, tools and dies, and jigs and fixtures — which have been suggested by the company's vendors for recruiting people from the institute at their facilities. While these trades will be introduced by August 2019, the carmaker's next focus is to increase the student intake in JIM to 1,000 by 2021.
The average course fee at JIM lies in the range of Rs 8,500 for each semester, with a number of Maruti Suzuki senior employees also coming forward to make a philanthropic effort on their own to sponsor students with weak financial backgrounds.
A total of 254 students from the first JIM batch have been inducted into the industry.
The company says it is committed to provide infrastructural improvement, faculty training, exposure to manufacturing facilities, and train a large pool of students by 2026. This will happen through all its collaborations in the educational training space with 110 ITIs and 52 Automotive Skill Enhancement Centres (ASECs), which it started building since 2014 with a broader vision of skilling the country's youth and enabling them to earn a living and develop a career.
Meanwhile, other leading vehicle makers and suppliers in India are also making earnest efforts to upgrade the skills of their existing workforce even as they tie up with a number of institutions to source skilled and trained personnel, who are industry-ready.
The mini assembly line offers students an overview of the work to be carried out at a single workstation in minimum 'takt' time.
This, in itself, is a big change from yesteryear where the first few years of an out-of-college, theory-laden recruit typically go in learning the ropes. Institutes like JIM are the need of the hour in India, which is one of the fastest growing automotive markets in the world and will be needing skilled personnel in millions to make the most of its growth potential.
(This article was first featured in the December 15, 2018 'Anniversary' issue of Autocar Professional)
RELATED ARTICLES