Pravaig Extinction MK-II: Green, mean and soon to be seen
The Bangalore-based EV start-up is targeting speedy growth in the luxury electric fleet segment in India. The Extinction MK-II sedan will use a subscription or lease business model.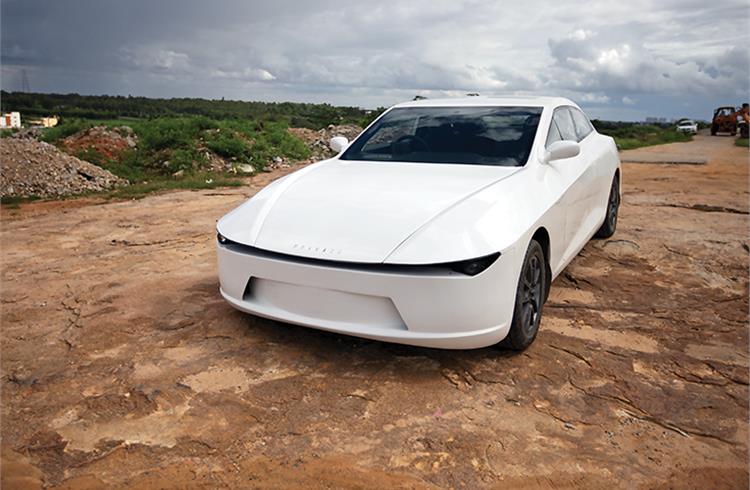 Green. Mean. Seen. Electric vehicles by the nature of their operation are known to be 'green'. They can be mean too, given that some accelerate from zero to 100kph quicker than their IC-engined brethren. And, there can be a luxury-quotient attached, which means they can be bold and beautiful in their persona too. There is a niche segment in the form of electric luxury cars, whose owners are keen to make an eco-friendly statement but also want a vehicle that oozes style and panache. It's an area where Bangalore-based start-up Pravaig Dynamics is keen to make a mark.

Founded in 2014, Pravaig Dynamics is the brainchild of Dhawal Khullar, Siddhartha Bagri and Ram Divedi, who claim to have been active investors in the energy sector in France. The trio, who found India's efforts in the renewable energy sector appealing, decided to introduce an offering related to the energy space but by reinventing the curve.
Pravaig initially was an energy and R&D company, based in Jaipur from 2011 for three years, until the three co-founders brainstormed about plugging into the EV market. The team worked out a business plan and innovation model, with a clear focus on delivering a very specific application with their electric vehicle. "We used to sell kWh and now wanted to sell kilometres," says Ram Divedi, CXO and co-founder, Pravaig Dynamics.
"India is doing a phenomenal job as a country in the renewable energy space, particularly in terms of solar. We want to add value and offer a technology-based service to our customers," adds Divedi.
While the volumes are small and restricted to only 2,500 units as per the business plan's profitability requirements, Pravaig Dynamics believes the Indian market is so big that targeting even this kind of specific luxury customer is going to offer a large customer base in itself.
In 2015-16, the founders became rather serious about their EV ambitions and leveraged their connections in the energy sector to raise funding. While there is an undisclosed amount infused by a major French energy company — Eren Group — subsequently, the Pravaig Dynamics team was able to complete the MK-I prototype by end-2018. The start-up is now set to introduce the much-improved and more realistic MK-II in the Indian market with a commercial launch slated for November 2021 — just around the festival of Diwali.

Pravaig Dynamics has set up a battery assembly facility in KIADB, Bangalore and intends to get its vehicles contract-manufactured by an established car manufacturer.

Recruiting top talent
The growing size of the team, which now includes 80 members across divisions including engineering, business development and supplier coordination, has seen people come together from different parts of the world. The company has recruited NRIs and experienced experts from global biggies such as Airbus and Intel among young college graduates.
Furthermore, it switched bases from Jaipur to the KIADB industrial area in Bangalore in 2019, primarily with an aim to attract more investments while also setting up an in-house battery assembly unit alongside the main office, for easier project coordination.
However, like most other businesses, the emergence of the Covid-19 did impact Pravaig Dynamics' plans and the company has still not been able to set up a fully functional office. While remote working has continued as a result of the pandemic, the company is targeting to have the infrastructure in place by March 2021.
Unique business model
With the advance and adoption of EVs being largely held back by their prohibitive acquisition cost compared to similar petrol or diesel-engined counterparts, Pravaig Dynamics has designed a business model which aims to address this issue and turns the equation around on its head.
The company will only offer its vehicles on a lease or subscription basis and is also willing to take complete responsibility of providing the driver, recharging the vehicle and undertaking its maintenance as well. Pravaig Dynamics is targeting large corporates, MNCs and luxury hotels to deploy its 'plush' electric sedans to shuttle executives, expats and prime customers from airports to their main destinations after landing in India.
"The idea is to improve the experience on Indian roads. If someone is coming all the way on a business-class ticket, we want to extend that same experience through their journey as they step outside the airport in New Delhi or Bangalore," points out Divedi.
Another reason behind setting up HQ in Bangalore and having a small regional workspace in Delhi is that the company wants to start off with these two metropolitan cities with its luxurious offering. While it is directly in touch with some of its end customers and also claims having already received a few confirmed orders, Pravaig is also in talks with leasing companies to eventually finance its vehicles for customer usage when they are launched.
"Owning a car is a model of the past. We are very happy to be working with third-party leasing companies for our target customers — corporates," says Divedi.
What's different?
The Pravaig Extinction MK-II will offer 'claimed high levels of backseat comfort' aimed at a first-class travel experience. Passengers will be welcomed by an opulent interior, uniquely crafted to suit the requirements of corporates or hotel chains who will be subscribing.
Given the intended buyer segment, the highlight of the car will be its interiors. The Extinction will get the option of not having a front passenger seat and, just like the Volvo Lounge concept, it will have a fully extendable rear seat. However, where it will differ is that the company intends to have a near-lie-flat rear-seat experience, which will be as close to 180 degrees as possible. According to Divedi, "We are working on getting the lie-flat seating homologated, by balancing the hip and ankle points. There are ways by which you can safely motor around in a near-lie-flat position. We think we can be somewhere around 165 degrees."
A key difference compared to conventional cars is that there is no fixed design for the Extinction's interiors. The company, via tie-ups with architects, and fashion and interior designers, can create a bespoke setup for prospective clients.



The top highlights of the Pravaig electric sedan will be the functional, opulent and high-on-comfort rear seat. The start-up will work with architects, interior and fashion designers to offer client-specific customisation options.
The car will run a 96kWh in-house assembled lithium-ion battery pack that will drive the 201bhp motor. It claims a range of 500km and top speed of 196kph. The company also claims over 90 percent localisation and is working out with local suppliers to source most of the components on the 4.8-metre-long vehicle, but, says that most of the machines for battery assembly as well as cells are going to be imported. Another claim is about replenishing 80 percent charge in 30 minutes.
While 2,500 units is not a big number to convince Tier 1 suppliers to sit on the negotiating table, "pricing is decent and they are able to deliver on time," says Divedi. "Perhaps, if we would have gone to them five years ago, they wouldn't have taken us seriously," he remarks.
The company will also run a maintenance-cum-driver-training centre in both cities and while it will install fast chargers at customer locations who subscribe to a large fleet, most of its cars will be parked, maintained and recharged at these maintenance centres.
With a significant usage of its vehicles in the future also expected to come from luxury day trips from hotels to popular tourist spots, Pravaig Dynamics is also factoring in setting up its own charging points at strategic locations.
"We will deploy our own changing infrastructure and that is one of the reasons that we cannot go all-India in one go. We want to take away the pain of charging by giving them the car, driver and the freedom to claim unlimited kilometres," remarks Divedi, with an estimation of prospective charging points being set up in Agra, Jaipur and Chandigarh.
Bangalore and Delhi, however, will also see a 'few hundred' chargers installed to streamline day-to-day operations, claims the company.

Pravaig Extinction MK-II sedan promises top-notch specifications like a 96kWh battery pack and 201bhp to propel it from 0-100kph in less than six seconds and on to a top speed of over 190kph.

What next?
The eye-catching Extinction MK-I prototype has drawn considerable attention during its rounds in Delhi and Bangalore on a few occasions. Pravaig will introduce the Extinction MK-II in November 2021 at competitive prices compared to luxury German sedans available in the Indian market. The company is also reportedly in talks with Tata Motors for the assembly of its vehicle, perhaps through the carmaker's tie-up with Chennai-based Jayem Auto.
"We don't have any baggage, so we can be very competitive in terms of pricing," says Divedi.
Although Pravaig Electric has no concrete plans laid out for diversification, it might look at related sectors — drones or even building vehicles for the defence sector — in the future. "We want to make Pravaig a high-end Indian technology company," concludes Divedi, on a futuristic note.
This feature was first published in Autocar Professional's February 1, 2021 issue.
ALSO READ First drive of the Pravaig Extinction
RELATED ARTICLES