Prabha Engineering: making the shift to the silent world of EVs
Mumbai-based wiper and washer motor system manufacturer is developing smaller, lighter and noiseless motors to also cater to electric vehicle OEMs.
The Indian automotive industry is blooming with new opportunities and remains one of the strongest growing markets globally. In fact, the country, which earlier this year, drove past Germany to become the fourth largest auto market is tipped to become the third largest by 2021, pushing Japan to fourth place.
From the automobile industry's point of view, India remains hugely attractive because despite the country witnessing sustained sales demand for passenger vehicles, the per capita penetration of vehicles is still among the lowest in the world. Reason enough for vehicle manufacturers and their automotive supply chain to stay bullish about the future, even if they have to contend with new challenges like BS VI, electrification and shared mobility. Among the many Indian component suppliers who feel this way is the over-60-year old Mumbai-based wiper and switch maker, Prabha Engineering.
Prabha Engineering has had humble beginnings and was set up in 1958 by the late Yeshwant N Chaphekar with a capital of Rs 5,000. Before embarking on his entrepreneurial journey, Chaphekar began his career as a regular worker at an engineering factory in Parel, Mumbai. Losing his job to an untimely strike, he decided to set up a small workshop in a tin shed at Lower Parel, in Mumbai where he started manufacturing tools and dies with only his hands as tools of precision. Those were the days in a young, independent India when the technical revolution was in its initial stages. Thus began Prabha Engineering's journey of success when Chaphekar, at 58 years old, set up his very own fledgling factory, which in today's jargon can be called a start-up. His expertise soon received recognition and by 1975, he gained traction from manufacturing critical components for IBM, Crompton Greaves, Bajaj and Larsen & Toubro.
Prabha is a supplier to Tata Motors, Mahindra & Mahindra, Ashok Leyland, Daimler India Commercial Vehicles, JCB India, Kobelco, L&T Case, Piaggio and Force Motors.
Fast forward to 2015, the year when Prabha Engineering signed a technical tie-up with DYAuto of South Korea, which caters to the global car market. With this new partnership, the company, which is traditionally strong in the commercial vehicle and construction equipment industry, is now targeting the passenger vehicle segment in a big way. After two years of development process, Prabha Engineering has developed a new product for passenger cars in India and also secured new business from a local OEM.
At present, Prabha Engineering is one of the leading players in India to manufacture wiper systems and windshield washer systems. It also exports motorised products to the USA, through two of its manufacturing plants in Maharashtra, which employ over 600 associates. The company has an installed manufacturing capacity of 1.6 million motors per annum and there's enough business to keep the plants humming smoothly.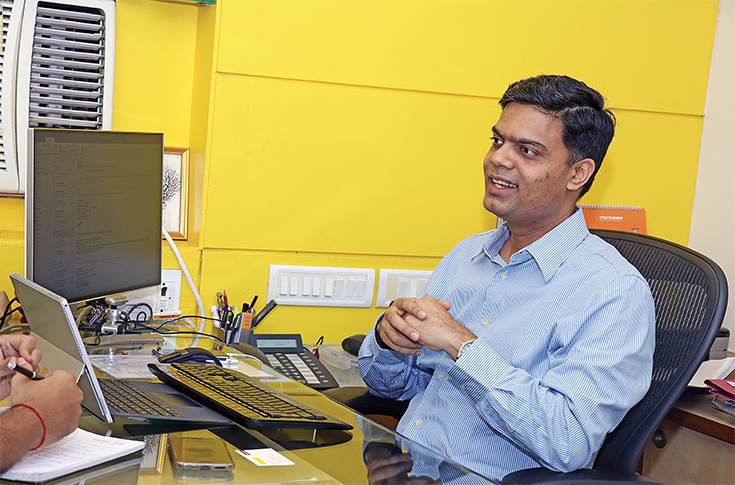 Shrikant J Chaphekar: "With the advent of electric cars, many things which were 'OK' in ICE vehicles will start surfacing out. The challenges include making the motors smaller, lighter and also silent."
The company's wiper system finds application across the passenger car, three-wheeler, commercial trucks and buses and even off-road equipment segments and its clientele includes Tata Motors, Mahindra & Mahindra, Ashok Leyland, Daimler India Commercial Vehicles, JCB India, Kobelco, L&T Case, Piaggio and Force Motors. In terms of growth, Prabha Engineering says it has clocked an average 15-18 percent growth in the past three years. The windshield washer system, which comprises washer pumps, washer tanks, nozzles and hose assembly, is also much in demand with local clientele. The company has also developed a spare tyre lifter, which is designed for attaching a spare tyre to M&HCVs and LCVs.
Not many know that Prabha Engineeering designs and develops specialised mechanical and electro-mechanical products for specialised application in recreational vehicles. These include foldable step, motorised stabiliser jack, tongue jack and awning.
Sound of silence
Change, as they say, is the only constant and the adage is being felt strongly in the automotive world, which currently is taking on a plethora of challenges, particularly vehicle electrification where motion only emits silence, compared to petrolheads' passion for the sound of music from the tailpipes of turbocharged speedsters. And Prabha Engineering's wipers and wiper motors go on both.
As OEMs' demand for smaller, lighter and silent motors grows louder, the company is banking on its partnership with partner DYAuto to develop just the right products for the changing dynamics of the industry. Commenting on the changing nature of demand, Shrikant J Chaphekar, managing director, Prabha Engineering, says, "Even if vehicles get electrified, the demand for wiper products will remain. But what is changing is that the industry (customers) wants the motors to be smaller, lightweight and the noise levels to come down. An electric car, which does not have an engine, is going to be very silent. This means all the other motors which are there in the vehicle will be more audible, and you will start hearing their sound because of the silence from the engine/powertrain."
"With the advent of electric cars, many things which were 'OK' (in ICE vehicles) earlier from the sound point of view, will all start surfacing out in the EV. These are the challenges – smaller, lightweight and silent motors. At present, with our technology partner from South Korea DYAuto, we have already taken the step ahead – for commercial vehicle application, we have reduced the motor weight by close to 30 percent and we are endeavouring on a similar application for PVs, where we have already achieved around 15 percent reduction. The journey has to continue, we cannot stop. We have also been able to reduce the noise through our technology," affirms Chaphekar.
The company competes with global Tier 1s for business, but technology collaboration with its Korean partner and its low-cost base frugal engineering gives it an edge. In terms of business growth, Chaphekar says, "Motor as content in a vehicle is only increasing, and we are working with OEMs to develop different motor applications. We are also developing a non-automotive product line, where motors are required. We are doing concentric diversification and are sticking to motors and their applications, while also searching for new customer base. While we have bagged a new customer in the US, where the motors are being used for actuators, we are also looking at motors for various other applications in the American market."
The company has expanded its manufacturing capacity to 1.6 million units a year
Challenges come in various forms, says Chaphekar, pointing out that while there are varying challenges for different companies, one common phenomenon for the automotive and other industries is the "availability of talent".
In the passenger car market, the big challenge is to break barriers but it is not easy. Every multinational OEM already has a strong global relationship with one or more Tier 1 supplier in other markets and simply extends it to the Indian market. What's more, compared to SMEs, Tier 1 suppliers with their expansive product portfolios can offer more content per vehicle.
"The only way we can meet these two challenges is either by developing technology yourself or acquiring technology. Right now, we have chosen the path of acquiring, this was the fastest way. At present we are focusing on catering to the Indian market. First safeguard the home-turf and then go outside," explains Chaphekar.
E-mobility breaks traditional barriers
As the global trend of electric mobility has no adverse impact on Prabha Engineering's wiper business, it provides an opportunity to develop more efficient motors. On the other hand, Chaphekar has an interesting take on e-mobility. "When it came to petrol or diesel engines, there were a lot of entry barriers (for young suppliers) but as soon as you talk about EVs, people are open to working with start-ups. As an Indian
brand they may not accept you for the existing product lines, but for electric vehicles they are open to youngsters/freshers. A young boy today is entertained in this market (EVs) but in the traditional market, only grey hair will be entertained."
Chaphekar feels that there are lot of new ideas that start-ups can contribute to the industry. "These freshers may not have resources and knowledge but they have ideas, so it will be interesting to see how industry can support them and make successful products and launch them. This is an area to which we are also open to. We have experience of mass manufacturing and they have the energy of ideation and how to manage it can be done."
Even as it plugs into the world of EVs while also maintaining sustainability with supplies to manufacturers of IC-engined PVs and CVs, Prabha Engineering has not forgotten its humble beginnings. The company has been involved in CSR (Corporate Social Responsibility) for over 20 years, much before CSR became a mandatory governmental requirement. This wiper motor supplier supports a Marathi-medium school in Manor village in Maharashtra, where today nearly 2,000 students study. More recently, an English-medium school has also been set up with e-learning facility. Clearly, Prabha Engineering is one more supplier which is investing in the future and in young India.
(This article was first published in the November 15, 2018 issue of Autocar Professional)
RELATED ARTICLES