Powerland's new tech-loaded electric ATV set to tap into niche US market
The new 'Assembled in India' electric ATV is being developed with imported components and its makers are bullish about its export potentials considering the technical features and the low carbon emission benefits it comes with.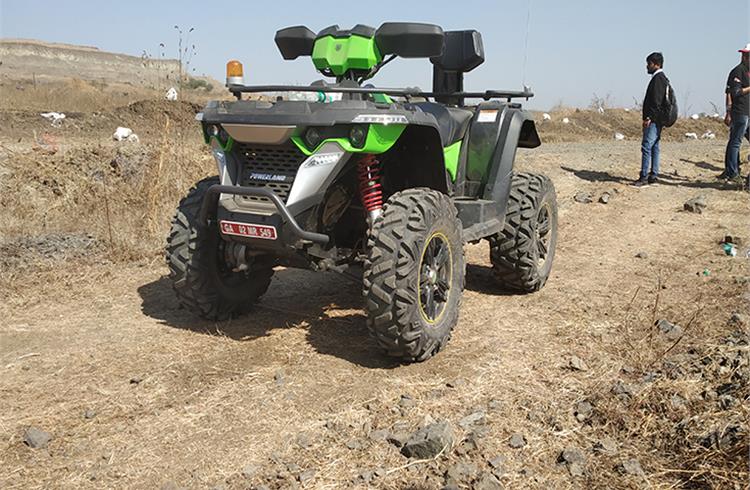 The vehicle is not born in the USA but is headed to the USA. And it's an all-terrain vehicle and with electric power. Goa-based Powerland Agro Tractor Vehicles, which has been developing off-road vehicles since 2014, first unveiled the electric ATV at Vibrant Goa in 2019, More recently, it was exclusively used by the BAJA SAE India track marshals in 2020 for the endurance race at the NATRiP facility in Pithampur in end-January.
ATVs are quickly gaining popularity as they are smaller than a tractor but faster and more easily manoeuvrable than a 4x4 jeep. There is also the added benefit of lower taxation in certain states of India. ATVs cater to the performance-driven, off-road enthusiasts and is popular among farmhouse owners internationally as they enable farmers to transport supplies, and also for plowing, harrowing and mowing applications.
Dr Pawan Goenka, managing director and CEO, Mahindra & Mahindra, takes a quick recce of the NATRiP track for BAJA SAE India event at Pithampur.

Eco-friendly performance vehicle
Powerland's electric ATV comes with in-wheel motors, one of the first in India. While the 900D diesel ATV generates 20hp power and 48Nm of torque, the electric ATV provides a massive 900 Nm of torque. This is largely credited to the indigenously developed VCU (vehicle control unit) along with 13 computers that allow each of the four BLDC motors in each wheel with independent controls.
This allows the vehicle with special abilities like torque vectoring (in a turn, the outer wheels of the vehicle turn much faster than the inner ones) and spot steering/zero-radius steering that allows the vehicle to literally turn on a dime. Powerland claims that the vehicle has a top speed of 95kph and accelerates from 0-60kph in 4.5 secs.
The electric ATV can be charged with a regular 15A socket. Powerland also provides a fast charging set up at a premium of Rs 30,000-35,000.
The e-ATV will come with a 7.5 kWh and 10 kWh battery pack that is expected to give a range of over 80-100km. Powerland is also working on a 14 kWh battery pack that could give around 125km in a single charge. The charger that accompanies the vehicle enables the vehicle to be charged using a 15A socket. It takes 2-3 hours for the 7kWh battery pack. For a premium of Rs 30-35k, e-ATV owners could also opt for a fast charger that could fully charge the vehicle in less than two hours.
L-R: Tej Naik and Narayan Naik with the electric ATV that was used by the track marshals at the Baja SAE India event in Pithampur, Madhya Pradesh on January 26, 2020.
Narayan Naik founded Powerland Agro Tractor Vehicles and currently operates it with his sons - Tej and Jeet Naik. In a conversation with Tej Naik at Pithampur, he revealed that Powerland's clientele includes some farmhouse owners of Rajasthan, Kerala, Mumbai and Pune.
At its R&D and assembly unit in Verna, Goa, Powerland assembles its diesel, petrol ATVs and UTVs and now the electric ATV as well. Tej reveals that the diesel engine is from a Japanese company and is sourced from its plant in China. Since the ATVs come under the farm vehicle emission norms, the Bharat Trem (the new Trem IV is going to come into force from October 2020), the combustion engines are not affected by the current BS VI emission norms.
The in-wheel motor from Powerland that is used in its electric ATVs
Tej further revealed that other vendors source a lot of components from China and then assemble electric vehicles in India. In the diesel variant, almost 50 percent of the components are imported. The current volume in the market does not meet the expectation of the vendors. Hence, the body panels, lithium-ion batteries and a few other components come from China. Powerland is working with a US-based company for the lithium-ion batteries. The tyres are from BKT Tyres in Rajasthan. Currently, the electric ATV is under development for compliance with real-world conditions and is undergoing tests for sub-zero temperature operating capabilities.
Exports more viable than the domestic market
Tej has confirmed that the diesel ATV has been supplied to clients in various places, from Kashmir to Kerala and Bhutan to the US. Powerland currently has touchpoints in Mumbai, Bangalore, Delhi and Kerala. Tej claims that his trained technicians can resolve any issue in the ATVs within 24-48 hours.
In India, the price of the electric ATV could come to around Rs 600,000-700,000 for the 7-10 kWh battery-powered vehicles. Justifying the premium price tag, Tej explains, "Due to the low volume, we are intentionally targetting the premium segment market. However, we do have plans to come up with more affordable models once the volume goes up. The affordable model would cater to those who are looking for lesser performance, lower torque and lesser features. For them, right now, we have our diesel ATVs which costs around Rs 500,000. Our current focus is not the domestic market, but the multi-billion dollar US market which constitutes about 70 percent of the total ATV sales across the world. We would be one of the first companies in the US to come with an electric ATV that has a lithium-ion battery and a hub powered motor. Also, we have observed that our India-developed e-ATVs enjoy certain cost benefits in comparison to other global ATV companies."
Also read: Tej Naik: 'We are bullish about the US ATV market that accounts for 70% sales globally'
RELATED ARTICLES