"Our product is key to a decentralised energy future"
The portable charger will be available in 4kW and 8kW, which depending on the vehicle model can provide a range of 32km to 64 km.
"Our product is key to a decentralised energy future"
"Our product is key to a decentralised energy future"
"Our product is key to a decentralised energy future"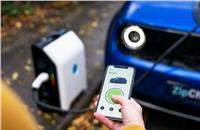 A London-based startup, ZipCharge, founded a year ago is working on a solution for EV charging that it says could provide a boost to EV adoption not only in the West but in a country like India, where EVs are a nascent industry. The brainchild of Richie Sibal and Jonathan Carrier, ZipCharge is developing what it says will be the world's first smart portable charger - christened 'Go'.
In an exclusive interaction with Autocar Professional, Carrier spoke about the origins of the company. "We have gathered a lot of very useful experience over the last 12 months right from the technical challenges that have to be addressed to manufacture a product like the Go portable charger to finding out how to get it up and running in various operating conditions. We are engineering the charger to enable it to function from minus 10 degree to 60 degree Celsius safely and reliably. No matter where you are in the world, somebody will use it."
During their initial research, ZipCharge found that around 40-50 percent of customers are not in position to install a home charger for EVs. Then there is another category of EV users who have a home charging but see advantages in having a flexible charging alongside their fixed one. In addition, the Go portable charger is being designed to use solar power and to power your home. "Actually, it's a portable energy storage device that has a multitude of use cases, not just for charging electric vehicle," explains Carrier.
Startup troubles
In Carrier's view, he says that just like any other player, the geopolitical situation along with the Covid-19 related curbs impacted the company's plans. "We still face some of the core headwind issues that the automotive industry faces which are about the supply chain. It's principally around semiconductors, and connectors, and is quite a struggle for an early-stage business where you don't necessarily have the history and longevity of business or clear revenue streams to enable one to leverage capabilities and also secure the type of supply contracts required."
He said the challenges, among others, including tech-commercial issues as well as to be ready to go for opportunities and growth. It was in early March 2022 that the startup won the British Engineering Excellence Award for R&D Project of the Year conferred for its R&D programme and for putting the portable electric vehicle charger through meticulous automotive industry car development processes and standard trials. The company hopes to have it ready for the market in early-2023.
Charging it up
Explaining the use-case context for the Go charger, Carrier says, "When you have an electric vehicle you don't wait for the battery to reach zero before you charge it all the way up to 100 percent. We know from speaking with EV users and studies out there in the public domain that EV users top up little bit often. The behavioural pattern is to keep topping up every day as and when you need to and add to your mileage (range)."
As an example, he cites the case of countries such as the UK, Europe, North America and even in China as well, where the average daily kilometres that somebody drives, not just commuting to work but in their car, is somewhere between high tens to 27-28km. Even in the USA, the average mileage is around 42km. So, it's really about delivering your daily needs and therefore more like a power bank that people use for their smartphones. One can also take the charger with you on long journeys."
The portable charger will be available in 4kW and 8kW, which depending on the vehicle model can provide a range of 32km to 64 km. Depending on the market response, a 6kW battery pack is also being explored. In terms of pricing, the startup says owning a portable charger will be equal to or cheaper then setting up a wall-mounted charging set-up at home.
Explaining its many advantages, Carrier said, "ZipCharge also provides the flexibility for use on holiday on the one hand and even by corporate fleets that need to go electric. A lot of service fleets will go around and visit customers houses during the day where they can use our charger as a way to be able to charge the vehicle when they're doing something else."
Talking about developments in battery technology, Carrier explains that from ZipCharge's point of view, there are two outcomes. "We either retain the same size and add more energy, or we make it smaller and lighter. By choosing the latter, our product has longevity. It's not something that's stop-gap solution because people still need portable access to power," he said.
With regard to liquid cooling, Carrier says his company is not into air-cooled batteries like some global companies. Citing one example, he says the Nissan Leaf does not have liquid cooling, and that's because it recognised the fact that to get the vehicle weight down and to optimise its efficiency, one needed to eliminate things which includes like liquid cooling. ZipCharge, he says he employing similar techniques and trying to manage the cooling in the most efficient way that minimises weight and complexity and therefore costs. As he puts it, "At the end of the day we're trying to produce something that's accessible in terms of battery packs. That means we have to think cleverly about how we develop and engineer the Go charger but that makes the engineering challenge harder. So, it needs extensive engineering development because we have to be able to make sure it works well and safely."
This conversation is taking place at a time when there have been several battery fires in India and so the issue of safety, not just for EV users in India, but globally too is pertinent. Carrier provides statistics that suggest that EVs have had far less incidents of thermal runway incidents versus internal combustion engine vehicles and that's because EVs adhere to very strict standards including the battery packs. For now, ZipCharge aims to have proper development and testing time to ensure a safe and reliable product.
The feature was published in Autocar Professional's May 1, 2022 issue.
Also read
Jonathan Carrier: ZipCharge has a strong role to play in a decentralised energy future

RELATED ARTICLES