Mild hybrids as an electrification mantra for India
A discussion with Anil Yadav, Head – Region Asia, Business Unit Hybrid Electric Vehicle, Continental Automotive gives an insight into China's EV-centric approach and the benefits of partial electrification.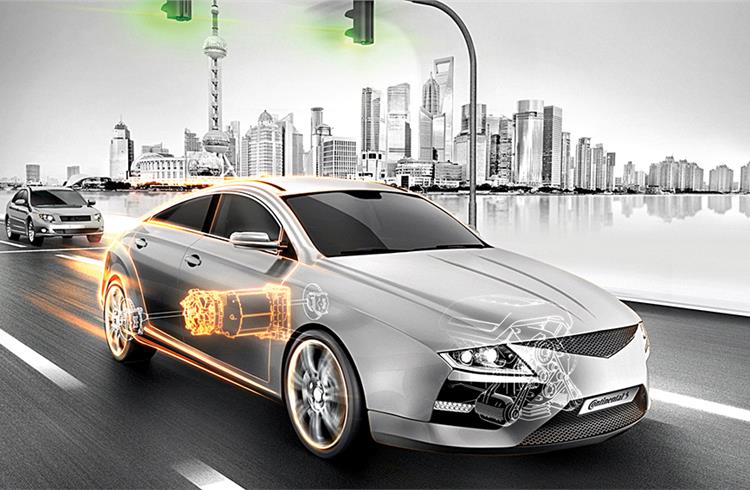 Partial electrification of the vehicle powertrain through GDI engines along with 48V hybrid-electric technology and use of e-compressors and e-turbochargers could bring down vehicle emissions and hike efficiency by 30 percent for mild hybrids.
While sustainable growth and, more importantly, electrification, are the present-day buzz words across the automotive industry the world over, it all began in the land of the rising sun around two decades ago.
The Japanese took a bold step towards adopting cleaner and efficient mobility solutions, with a future vision of saving the planet and for the betterment of society at large. The first-generation Toyota Prius, launched way back in 1997, became the world's first mass-produced hybrid, paving the path for a slew of technological innovations in the area of green mobility.
Anil Yadav, Head - Region Asia, Business Unit Hybrid Electric Vehicle: "It is just a matter of time when we see the need to infuse some more capital and start rolling out hybrid or EV systems for implementation in vehicles for India."
Cut forward to 2018. While Japan continues to remain one of the top nations in terms of developing alternative propulsion solutions for modern vehicles, the gravity of an unremitting harm to the environment has made the world, at large, take notice of the rather alarming situation and address it with some serious thought.
With a common goal to create a better environment, countries are planning to gradually move away from fossil fuels, and many have already rolled out roadmaps majorly focusing on e-mobility as the technology defining the future. Japan, however, continues to be a major hybrid-driven market, with massive strides in other technologies like fuel cells and its infrastructure also being underway. And there is a growing tribe of automakers and component and technology suppliers keen to advance the green cause. Continental AG is one of them.
Anil Yadav, Head - Region Asia, Business Unit Hybrid Electric Vehicle, Continental Automotive, an industry professional with a broad view of the status quo in some of the key global markets, recently shared with Autocar Professional some detailed insights on the technology trends which will shape the future of motoring. "Although Japan is focusing more on hybrid technology and even fuel cells for that matter, with China and the US being two of the most important and strictly regulated markets for Japanese automotive giants, companies of the likes of Toyota and Honda are bound to develop, and are already developing alternates in the space of vehicle electrification like plug-in hybrids, full electrics and mild-hybrids."
Rising air pollution, increasing global warming and a concern for future generations are areas which need some serious thought consciousness in society. "While Japan also faces a lot many of these issues and is certainly moving towards the future, in terms of adopting newer means of vehicle propulsion, it still is a very big hybrid market, with other options such as fuel cells being of larger relevance than pure EVs alone."
"Korea, where almost the entire market is dominated by the home-grown Hyundai-Kia, and other collaborative players like Renault-Samsung and Tata-Daewoo also having a sizeable share of the volume pie, could then be considered as being in a wait-and-watch mode. The Korean automotive companies are analysing the moves being made by the rest of the developed world towards vehicle electrification before they set out to embark on a defined journey towards future mobility.
"The market is still at a very nascent stage of seeing just a few plug-in hybrids and zero-emission BEVs coming out from the stables of these big automobile manufacturers in the country.
"On the other hand, being world's biggest automobile market, China is on its way to completely turn away from traditional fuels and is adopting battery technology in a big way. The country is making major strides in adopting EVs and some of the local automotive firms, including Geely Motors, Chang'an and the likes of SAIC are developing electric technology and aiming to leverage the sheer size of the market, which has rather been gleefully enjoyed by the German and Japanese companies operational in China until now," says Yadav.
How China is going EV-centric
China is confidently looking at a substantial amount of electrification of its vehicle fleet, with the government rolling out a mandate to electrify powertrain solutions by 2025, not just in the form of pure electrics, but exploring opportunities including mild-hybrids and plug-in hybrids as well.
"One of the biggest impediments to acceleration towards EV adoption – total cost of ownership – is being tackled well in the Chinese market. The country is witnessing considerable incentives being doled out from its government, encouraging EVs for private use. Moreover, given its phenomenal market size, it is much easier for automotive companies to bring down costs by leveraging the economies of scale," remarks Yadav.
Apart from promoting EVs through monetary support, the Chinese government is also investing towards EV infrastructure, setting up public charging stations and incentivising indigenous development of technology, including that of batteries. The country is rich in lithium reserves and is already pegged to become the largest battery technology supplier, with more than six Chinese cell manufacturing companies already breaching the 3GW capacity mark. Companies like CATL are set to reach 50GW capacity by 2025.
The 48V mild-hybrid integrated starter generator (ISG) replaces starter pinion in a conventional system and connects with the engine crankshaft via a belt.
According to Yadav, "With consistent efforts being made both by the government and the industry, China could be envisioned to become the world's biggest EV market, with its home-grown companies developing strong competencies, enough to rise to a stature and give a head-on competition to the top global leaders in the space of next-generation mobility."
"Geely-Volvo, Foton-Lotus and Great Wall Motors-BMW are some of the conjoined names, which are not unimaginable from ruling the roost in the EV space across the world in the times to come," he adds.
Sharing a certain length of its boundaries with China, India too, has declared to adopt electric mobility and aggressively move towards vehicle electrification by 2030. But, according to Anil Yadav, "Although the run towards electric mobility by 2030 is a very well-set target, defining the ambitions of the country, vehicle electrification, however, would happen gradually and would need certain clear legislations and strong policy framework to be laid out by the government."
"Incentivising EV adoption, both from a consumer point of view and from a manufacturer's perspective is a must in providing the initial thrust to a market, otherwise dependent to up to 90 percent on fossil fuels," points out Yadav.
The prologue to India's story of vehicle electrification could very well be written by early adoption of EVs and putting them into applications such as for government use in the form of postal vans, delivery vehicles used by e-commerce companies, and vehicles plying in shared mobility. "Implementation of EVs in these spaces will see the initial load of high upfront cost of these vehicles getting easily recovered in a relatively short span of time as these vehicles would spend about 90 percent of their life offering service on the road," says Yadav.
Li-ion 48V battery supports functions like brake energy recuperation and along with coasting in full electric mode, helps conserve up to 0.7 litres of fuel over 100km in the new Audi A8.
Commencing new innings from a closed net ecosystem would mean that a bigger market gets created gradually, bringing in more volumes and eventually inviting the supply chain to localise, expand and benefit the economies of scale, thus, driving a new era in the country's history of economic development.
With the upcoming BS VI emission regulations also being the big challenge on the horizon for India, alternatives to full electrification could play an important part in making the country transition smoothly into a new future.
Partial electrification the way to go
"Partial electrification of the vehicle powertrain, for instance, deploying gasoline direct injection (GDI) engines along with 48V hybrid-electric technology, utilising e-compressors and e-turbochargers, could bring down vehicle emissions and take the efficiency up a few notches by approximately 30 percent in case of a mild-hybrid," says Yadav.
"While a turbocharged motor offers dull performance towards the lower range of an engine's rev band, this is exactly where electric power can compensate by pitching in and bringing an additional surge of power, also cutting down the hazardous amounts of particulate matter emissions, significantly released under initial load of vehicle acceleration. 48V systems help in downsizing engines, also making them quieter and more fun to drive as well," he points out.
Continental recently showcased its mild-hybrid technology powering the fourth-generation of Audi's flagship A8 sedan. The car utilises a Continental-sourced 48V belt starter generator with integrated power electronics and replaces the conventional starter pinion with a belt connected to the engine's crankshaft. Together with a Li-ion battery, the belt starter generator forms the heart of the electrified drivetrain, offering zero-emission coasting between the speeds of 55-160kph, also shutting the engine down once the car reaches speeds below 22kph while decelerating, much earlier than a conventional start-stop system.
The 48V mild-hybrid system aids engine downsizing, helps offset initial turbo-lag in a GDI engine, and enhances fuel efficiency by up to 30 percent.
The combination of coasting in the full electric mode, coupled with brake energy recuperation and earlier engine shut down, all aim at attaining fuel savings in the range of 0.7-litres over a 100km driving cycle. With a starter output of 8kW and peak transient torque of up to 60Nm, the asynchronous motor developed by Continental achieves continuous power rating of up to 5kW in generator mode, with peak output of up to 15kW available for shorter periods. This is made possible by a water-cooling system that protects the motor, and particularly the power electronics, from overheating. The coolant is supplied by the primary engine cooling system, eliminating the need for a second, low-temperature cooling circuit. The 48V board net makes it possible to provide four times as much electrical power at short notice, at the same current. This power burst comes handy for high power features like adaptive suspension system to draw power while being on the road at any given speed.
Future-Ready
Being a Tier 1 supplier in various component segments, spanning across powertrain solutions, chassis systems and safety applications among others, Continental is one of the largest vehicle system solutions provider in the world, much better cushioned to tackle the hits of the visible future shifts in vehicle architecture, than some of the other major firms, dealing primarily in the core components business of IC engines.
Assessing its main power to be lying in the form of engineering resources, the company feels competent enough to muster its know-how from the various verticals of its components supply business, and offer future-ready solutions to its clients, significantly reducing the development time and cost, in an era of cut-throat competition.
"Leveraging our inter-operational skills, knowledge and decades of experience in mechanical systems, electronics as well as utilising our software capabilities, we are much better placed to turn around a client's IC engine platform from say, Mahindra & Mahindra, and transform it into a 48V hybrid system in no more than six months of testing and development time," says Yadav.
Continental says it already has the infrastructure to cater to electrified vehicles in the Indian market. This is the Continental Emitec plant in Pune.
The company already has the basic infrastructure set, with its three operational plants in Bangalore, Pune and Manesar and "it is just a matter of time when we see the need to infuse some more capital and start rolling out hybrid or electric vehicle systems for implementation in vehicles for the Indian market," affirms Yadav.
The German automotive technology major is clearly looking forward to the future and is eyeing innovations emanating out of its research labs, like thermal management systems, that utilise compressed CO2 for battery cooling. Yadav comments, "We are also developing EV-specific, low rolling resistance tyres, which would generate lesser heat, in limits, safe enough for electric and battery-powered propulsion."
Continental set off its electronics business with the acquisition of Motorola in 2004, when it ventured into the space of embedded systems. The company also views connected technology and vehicle telematics to be one of the key drivers of future automotive systems and has already initiated its own cloud-based vehicle telematics services. "Data is going to be the next business model and we want to ensure that all the major vehicle OEs and technology companies in the world get uninterrupted supply of that data, which is being routed from our sensors."
"With a slew of changes lined up for the future, the automotive industry is under a phase of disruption, and is set to witness dramatic transformation in the coming times. We are in a cusp right now, and future technologies including AI and big data are set to revolutionise human life in a big way," says Yadav.
With its Intelligent Transportation System, Continental is already working with governments and city planners, creating digital twins of future-ready road infrastructure, which would see autonomous cars, and self-driving pods drive in harmony with vehicles driven by humans.
The company is also utilising India's IT and software strengths in innovating for the future and is developing smart technologies. Its 2,500 strong R&D workforce at its development centre in Bangalore is busy working on new ideas and fulfilling local as well as global projects. A surefooted vision to scale up and soar to a substantially larger team of 3,900 engineers by end of CY2018 is evident enough a plan, indicating at a seriously exciting future in the mobility space not just abroad, but in India as well.
(This article was first published in the 1 April 2018 issue of Autocar Professional)
RELATED ARTICLES