India becomes driving force for Visteon's AI development program
The global supplier, which is building Level 3 and 4 automation for autonomous driving, is seeing much work emanating from its tech centres in Chennai, Pune and Bangalore.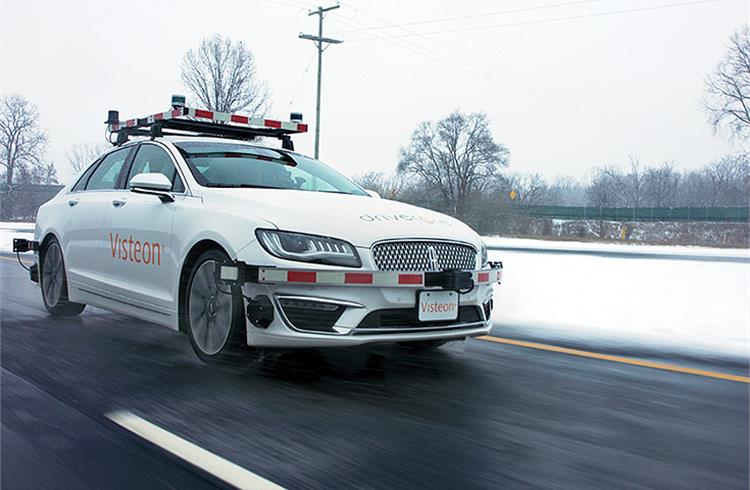 Visteon, the global supplier, which is building Level 3 and 4 automation for autonomous driving, is seeing much work emanating from its tech centres in Chennai, Pune and Bangalore.
The automotive industry worldwide is witnessing rapid change and as part of this transformation, automakers and suppliers are actively engaged in staying ahead of rivals in the technological revolution underway in the world of wheels. Visteon Corporation, a global technology leader in cockpit electronics, is making a massive shift toward connected cars and autonomous vehicles.
Being one of the key players in this emerging segment of automotive technologies, the company is leveraging new areas such as artificial intelligence (AI), augmented reality (AR) and deep learning to get ready solutions for rapidly shaping autonomous car technologies. While Visteon is working in these technologies on a global scale, the interesting part is that India has emerged as one of the major technology development sites in these new developments.
Speaking to Autocar Professional, Umang Salgia, Artificial Intelligence and Augmented Reality, Visteon India, who leads an AI team in Pune, said, "The real opportunity in the autonomous driving as of today is in highway pilot, auto parking and we are working on some of the technologies with finer progress with India taking the real lead."
Umang Salgia: "We use a lot of AI and deep learning models which can process data coming from various parts of cars and which are going to affect the driving decisions."
While the key skills for new technologies are spread across the world with certain locations being ideal for some technologies, software development is a predominately strong area for Indian engineers and a significant work is being carried out in India. A large portion of the software part of the technology is being delivered from India to the company's global projects. Nearly 80 percent of Visteon's work in AI is delivered from India to the company's global network of autonomous driving and augmented reality.
Visteon has a team of over 1,000 engineers across three technical centres in India – in Chennai, Pune and Bangalore – that are a key part of its advanced technology development program. The Pune technical centre plays a key role in developing automated and autonomous technologies such as augmented reality. Pune is also home to several of the AI, computer vision, sensor fusion and computer graphics experts who are working towards realising this critical goal for Visteon. These teams also collaborate with experts in the field of optics, HMI design, hardware and systems engineers spread across the US, France, Germany, Bulgaria and China. "Indian engineers are curious, ready to try out new things and applying things differently. Even in failure, engineers learn quickly; therefore, it offers the flexibility and helps significantly," says Salgia.
Taking on Autonomous Driving through AI
Visteon is currently building Level 3 and 4 automation in passenger cars. Its autonomous driving feature called Highway Auto-Pilot – a hands-free vehicle operation in a highway environment – enables a vehicle to travel from the entrance of a highway to the exit on its own, using AI and other autonomous driving technologies, while the driver can sit in hands-free and pedal-free comfort. The second major characteristic of this evaluation is the self-parking of cars where the solutions evolving rapidly.
Visteon is also taking on autonomous driving through AI employing a technology called reinforcement learning, where the vehicle observes and learns how to stop at the light perfectly, rather than following the pre-defined logic. This is done by creating a huge number of simulations of the vehicle stopping at the light, with good and bad outcomes. Each of these different scenarios helps train the AI algorithm to perform that manoeuvre perfectly while avoiding collisions and undesirable situations.
Augmented reality head-up display
Visteon's DriveCore platform accelerates adoption of self-driving technology by facilitating OEMs in building driving solutions quickly, in an open collaboration model. DriveCore consists of hardware, in-vehicle middleware and PC-based software toolsets needed to develop machine learning algorithms for autonomous driving applications of Level 3 and above.
The DriveCore platform provides OEMs a high-performance, reliable domain controller allowing them all major areas of autonomous driving including sensor-fusion with perception, AI and computer vision algorithms, automated drive-by-wire actuation, and vehicle-to-vehicle and vehicle-to-infrastructure technology. It also uses highly advanced security protocols to prevent hacking into vehicles, while supporting the integration of data from multiple cameras, Lidar, radar, and other sensors.
"We use a lot of AI and deep learning models which can process this data coming from various parts of the cars which are going to affect the driving decisions. We are doing a lot of work with maps, using them with the dynamic information coming from the sensors and static information from the map. With this data, we are able to have a clear understanding of the speed the car is driving at the particular moment. We are also able to apply the algorithm which can predict what will happens next," says Salgia
Visteon sees 2018 as a defining year for this area and its highway pilots are working quite well with a lot of advance trial and testing. Visteon believes the autonomous driving solutions for highway driving will be commercialised in the next couple of years. Also, there are several companies working on some form of highway driving for autonomous cars and some of them are at different levels of readiness.
New advances in HUD and Augmented Reality
Another area in the realm of autonomous cars where Visteon sees an increasing shift is head-up displays (HUD) and new advances incorporating augmented reality (AR). AR-based HUDs enhance the surrounding view for the driver – and passengers in case of autonomous cars – directly in their line of sight to represent objects in the vehicle's path, provide navigation guidance or offer driver assistance related information, such as a lane departure warning or unsafe distance margins.
Visteon is anticipating AR-based HUDs could gain a significant market share in the coming years. The AR harnesses a lot of work that the company is currently doing for the cockpit electronics. AR with navigation can improve safety and driver confidence. It can instantly alert the driver and display the safest path around it. The embedded front-view and driver monitoring cameras trigger smart alerts in the form of lights and sounds (visual or audio alert) when the driver is not paying attention to the road, if the vehicle strays from its lane, or if the vehicle is at risk of potentially hitting an object.
In autonomous driving, AR helps build confidence in the vehicle's automated features by keeping the occupants informed about the environment – recognising pedestrians, obstacles, situations – and the vehicle's planned decisions and actions. In partnership with the company's autonomous driving computer, DriveCore, the AR HUD helps the driver understand what decisions the automation is making. AR could be an important medium for delivering these additional services to the driver and passengers unremarkably. Visteon estimates that by 2022 nearly 10 million vehicles across the globe would have built-in AR technology.
OEMs as partners in progress
The company has tied up with leading OEMs in this area and work is progressing rapidly. While Visteon is working alone on several of these technologies, it sees OEM partnerships as crucial to fast forward the process. Most global OEMs are already been working in some way or the other in the autonomous vehicle domain. There are a fair number of large OEMs who want solutions but have not progressed long enough or don't want to make higher investments. This is where Visteon sees possibilities of partnerships coming along with its core technologies and working with an OEM's precise requirements.
Visteon's DriveCore autonomous driving platform made its China debut at the 2018 Beijing Expo in April.
In addition to being a cockpit technologies provider, Visteon sees Artificial Intelligence (AI) for autonomous cars as a good business opportunity for the future. As a corollary of this dramatic change in technologies, the company is deploying a lot of resources. "We see this as a big growth area for Visteon, and one of the most important technologies which will drive our growth in coming years. We are making the right investments to make that happen across the globe to get the right talent available," says Salgia.
While some part of the new area of work will complement the existing work of the company of its cockpit technologies, some of them would be completely new. "Some of the things in today's cockpits may not be required tomorrow, the new technology may replace the old one," affirms Salgia.
(This article was first published in the 1 August 2018 issue of Autocar Professional)
RELATED ARTICLES