India Auto Inc's new lean mantra
To be lean and green is the avowed mission of vehicle manufacturers and their suppliers, as they gear up for a sustainable but disruptive future.
Of the global megatrends having an immediate impact on the automotive value chain and on vehicle weight is lightweighting. As OEMs look to shed weight by slashing kilos and shaving grams to develop lighter but stronger vehicles, there is an increasing need for sharing of technology and best practices. Industry experts believe that given the short time frame of meeting regulatory deadlines pertaining to fuel efficiency and vehicle safety, a good amount of learning could be imbibed from the aerospace sector, where use of composites and lighter materials such as aluminium has been an ongoing process for decades.
The concept of implementing multi-material technology and know-how transfer from aerospace to use composites can deliver some amazing results in making automobile platforms lightweight to meet industry requirements. The use of polymers in the auto industry is increasing and carbon composites now see around 22 percent contribution by weight and over 13 percent by value, thus taking the average vehicle weight on a downward trend. While a composite is a mixture of two different elements, the automotive industry is seeing examples wherein carbon and glass fibres are being bonded together with bonding chemicals to offer the mechanical strength from the fibres and structural integrity from the binding material, which can sustain high loads over considerable amounts of time.
Earlier this year in April, apex component industry body ACMA conducted a day-long conference on automotive lightweighting, drawing industry leaders and specialists. Among them was ZF which has effected innovation in making 25 percent lighter dampers, 10 percent lighter calipers and a remarkable 23 percent reduction in sheet metal weight for passenger car shock absorbers. According to the company, it is doing all of this by using alternate materials without affecting the structural integrity of the vehicle chassis.
ZF also showcased its Modular Semi-Trailing Active Rear Suspension (mSTARS) for UV application, wherein the upper and lower control arms have been made of aluminium. The company claims a 12 percent weight reduction in the overall vehicle weight.
Its upcoming range of AMTs for CV application also claims a 20-25 percent weight reduction because of using plastics and aluminium in the holders and actuators. This helps in improving fuel efficiency and can be implemented in long-distance trucks as well, the company says. The company has also come up with lightweight tie-rods, drag links and ball joints for commercial vehicle application.
Anand Group
Representing the Anand Group, MS Shankar, president, Technology and Innovation, shared his viewpoints by citing that "the industry imminently needs to focus upon the intent of reducing emissions, whether we do it through electrification or BS VI is a different case."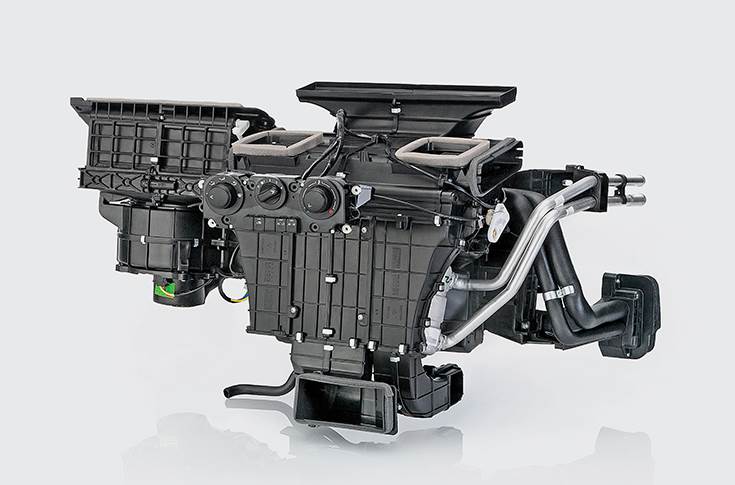 Anand Group and Mahle have succeeded in reducing HVAC system weight by 15% while also getting 20% higher heat rejection.
The company, Shankar said, is working on multi-material concepts with its JV partner Henkel and using adhesives to bind materials together to eliminate weld joints. "We are looking if we can do a product that is 80 percent lighter than steel assembly," he added.
Anand Group's MS Shankar: "We are looking at replacing steel assembly with a new concept to see if it is possible to reduce weight in the range of 50 to 80 percent."
Within the Group, he spoke of other examples for instance, making the spring seats in a MacPherson strut suspension system out of plastic for Gabriel, and working with Mahle to bring a 15 percent weight reduction in an HVAC system while getting a 20 percent higher heat rejection.
BAPL Rototech Plastics
G Raju, CEO and director, BAPL Rototech Plastics, said plastics are set to see increasing penetration and growth till 2030. "BS VI and CAFE are posing huge challenges for vehicle manufacturers in India to be able to comply to these stricter norms and plastics and 3D printing are areas which are picking up pace in the automotive domain."
BAPL Rototech Plastics' fuel tanks can reduce the component weight from as high as 50kg to 30kg in a commercial vehicle.
He pointed out that plastic fuel tanks can cut down on the component weight from as high as 50kg to 30kg in a truck. The company is working with vehicle manufacturers to develop new materials to reduce vehicle weight.
BAPL Rototech's G Raju: "BS-VI and CAFE norms are posing challenges to OEMs. Plastics and 3D printing are picking up pace in the automotive domain."
Volvo Japan is BAPL's first customer and today it largely exports to major OEMs abroad and also supplies to Mahindra Trucks, Cummins and Eicher Trucks in the CV space. A manufacturer of fuel tanks and urea tanks, BAPL has a plant in Pithampur.
Varroc
Tier 1 supplier Varroc, which started focusing on developing new materials and manufacturing processes to save weight on its components by increasing use of lighter plastics, still believes that there's an opportunity to reduce up to 10 percent of a vehicle's body weight by using structurally strong materials such as polymers or composites to replace sheet metal.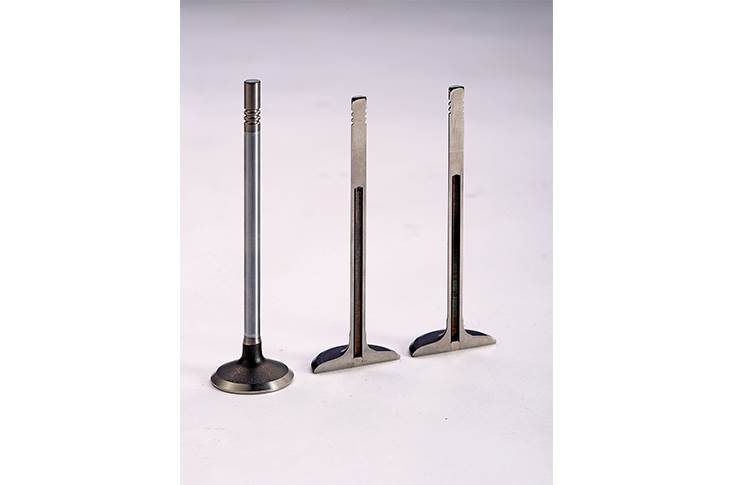 Varroc has developed sodium-filled hollow vales that not only weigh 25 percent less but are claimed to be very effective in reducing engine temperature.
The company says its R&D teams across segments are working on developing new technologies and materials to shed component weight. In terms of polymers, it is working on composites with combination of polymers and fibres besides other lightweight polymers that also achieve higher mechanical strength by using additives. "We are also working on co-moulding and 2K moulding technologies to reduce weight. Then we have got technologies for two-wheeler seats that help reduce weight while providing more comfort to the rider," says Arjun Jain – president (Electrical & Electronics Business), Varroc.
With regard to metallics, Varroc has developed engine valves made of titanium that weigh half that of the conventional valves of the same specifications. It also offers sodium-filled hollow valves in India which not only weigh 25 percent less, but are also very effective in reducing the engine temperature.
Varroc's Arjun Jain: "We are working on co-moulding and 2K moulding technologies to reduce weight. Also, for two-wheeler seats that help reduce weight and offer more comfort."
"In electronics department, we're working on technologies like the ISG that eliminates starter motor and few other parts thereby reducing the sum of parts for carrying out starting and charging functions in a two-wheeler," he added. The company has also designed a traction motor for e-scooters in-house, which is good on energy density and achieves lightweight through its optimal design.
For automotive lighting, one of the most important innovations brought out by Varroc is the development of the Opti-LED headlamp, which, is supposedly a low-cost LED headlamp that is targeted for mass-market segment. Traditionally, LED headlamps require heavy die-cast heat sinks to cool the high-powered LEDs for a low or high beam application, but Varroc claims that it has developed more efficient optical systems and thermal management designs, which have eliminated the large die-cast components and replaced them with simpler, smaller, and lightweight stamped aluminium elements. These new designs have achieved a 40 percent weight reduction.
Varroc has successfully demonstrated its lightweighting efforts for the CV segment as well, wherein it was able to save 65 percent of the body part weight by converting a sheet metal panel to a high-strength plastic part. For another OEM, it replaced the metal engine cover with plastic, thus achieving 45 percent reduction in weight while meeting all the stringent requirements for the part to function efficiently.
MSI Automotive
Ravi Shankar, who heads the Rs 150 crore Myoung Shin India Automotive (MSI) located in Coimbatore, and a key vendor to Hyundai Motor India, supplies body shell components — skin, top panels and the body frame — which contribute to around 40 percent of the overall vehicle weight.
Myoung Shin India Automotive supplies body shell components, which contribute to 40% of the weight of Hyundai India cars.
While aluminium has better strength and rust prevention than steel, the oxide layer on the surface curtails joining during the welding process. Also, it impacts the painting of the component and poses challenges during repair in the aftermarket as well. As a result, it is being globally seen that OEMs are reverting from aluminium to high strength and ultra high strength steels for use in vehicle body structures, especially in the frontal and rear portions, which are highly critical crumple zones in a car.
The company has an integrated line at its plant in Coimbatore and, on a bigger canvas, is supplying to Tesla in the US and Byton in China. With its acquisition of the GM line in Korea, is set to contractually assemble electric cars in Korea by 2021, which it also expects seeing getting launched in India by 2024-2025.
Insights from OEMs
There was representation from the OEMs as well and two of the country's major players delved deep into the subject of lightweighting and shared their experience of dealing with the situation in a highly competitive market environment.
Mahindra & Mahindra
Dr Akella Sarma, senior general manager, Product Development, Mahindra & Mahindra, said, "Product development today requires right-weighting in order to build products which comply to crash and emission regulatory norms."
The engineering veteran stationed at the Mahindra Research Valley in Chennai says that "the regular design and development process needs to evolve and be changed as technology is making it possible to simulate all scenarios in the virtual world and thus, from the conventional Concept-Design-Optimise development flow, it is needed to increase the time spent in conceptualisation and then doing concept optimisation, then moving over to design, and then finally doing the design optimisation. This will also help in controlling costs."
Mahindra & Mahindra's Dr Akella Sarma: "Product development requires right-weighting to build products that comply with crash and emission regulations."
Sarma explained, "In case of modular platforms, the entire load path should not be directed to the chassis itself as it would then need the chassis for a lot of reinforcement."
"There are many simulation tools and technologies for lightweighting in terms of 1D, 2D applications on design calculations and that designers today are also aided by designer level CAE automation, for instance, morphing, wherein a designer takes the upper body and is able to validate the lower body of the vehicle. Also, multi-domain optimisation is key in the present day," he added. Mahindra & Mahindra is using various parametric finite element modelling software from Dassault Systemes and Altair.
Maruti Suzuki India
Alok Jaitley, vice-president, Technical Administration and Engineering, Maruti Suzuki India, said, "With the use of Advanced HSS and Ultra HSS, while the cost increment is 15 percent the weight reduction achievable is to the tune of 35 percent. On the other hand, aluminium becomes very expensive as a solution to be deployed in a cost-effective vehicle segment."
Suzuki's Heartect platform, which underpins a number of cars from Maruti Suzuki India, enables 15% reduction in BIW weight.
Jaitley explained these materials have challenges in the sense that once they become stiff, they show a spring back action and thus, don't return to their shape. "Thus, if there is a design change during development, the tool and die modification becomes very difficult. Also, the costs will be relatively higher during repair of such accidental panels. Hence, designers need to factor this very early on in the design process, and work in collaboration with the tool designers and even the raw material suppliers," he added.
Maruti Suzuki India's Alok Jaitley: "With Advanced HSS and Ultra HSS, while the cost increment is 15 percent the weight reduction achievable is to the tune of 35 percent."
With Maruti increasingly shifting its model line-up to the new Heartect platform, Jaitley explained that the innovative architecture allows 15 percent weight reduction in BIW. Also, the energy flow path in it has been modified wherein the load is transferred to the rear end of the vehicle through the sidelong members, which in turn help in keeping the cabin shell intact in the event of a crash.
He said that while the company could look at 780-980MPa strength steel, as well as hot-stamped parts, but both cost and manufacturability are a concern. Maruti Suzuki, according to Jaitley, is also using composites, wherein it has been able to achieve a notable 33 percent reduction in the weight of the fuel tank in its Vitara Brezza SUV and by also switching over to plastics with some components in the engine bay.
MSIL's approach for lightweighting also includes an accelerated durability performance with NVH testing so as to bring the component level noises into resonance with the overall vehicle vibration and noise while running on the road.
Material substitution, Jaitley says, is possible with engineering plastics, which can be done in the engine compartment, chassis as well as body parts, and that the future also hints at carbon composites coming in, only that the cost needs to be offset.
EV development is also another area that would need considerate lightweighting efforts and Maruti is looking at the possibility of using Advanced HSS to build these charge-sipping vehicles. A reduction in the battery box weight which today hovers around 200-300kg is something it is innovating on to aid EV range in its future models.
(This article was first published in the October 1, 2019 issue of Autocar Professional)
RELATED ARTICLES