How to make a greener car
As the pressure to improve environmental performance ramps up in all areas of our life, what are car makers doing beyond cutting vehicle emissions?
As the pressure to improve environmental performance ramps up in all areas of our life, what are car makers doing beyond cutting vehicle emissions?
As the ongoing debate about cutting emissions – both in the car industry and more widely – shows, there are no simple solutions when it comes to reducing your carbon footprint.
Although electric cars produce no tailpipe emissions, the inconvenient truth is they're only as clean as the electricity that powers them – and as Polestar's and Volvo's lifecycle analysis shows, producing an EV is more carbon-intensive than producing a comparable combustion-engined car.
Which means that electric cars are only the start: the automotive industry's move towards sustainability will affect every aspect of how cars are produced and built in the future. Here are just some examples of how cars are changing as the industry attempts to reduce its carbon footprint.
Bodywork and chassis
Car buyers seeking sustainable solutions might notice the use of an eco-friendly seat fabric but some of the biggest gains can lie in reducing the carbon impact of the materials used in the car's frame and bodywork.
Advances can come from working with suppliers: Kia has launched a carbon emissions monitoring system for its suppliers and has pledged in future to use only 'green steel' – metal produced without the use of fossil fuels. That could have a substantial impact, given that steel production accounts for 8% of global greenhouse gas emissions.
In August, SSAB announced production of the world's first fossil-free steel and delivered it to a customer. The trial delivery is an important step on the way to a completely fossil-free value chain for iron- and steelmaking and a milestone in the Hybrit partnership between SSAB, LKAB and Vattenfall.
Swedish joint venture Hybrit has started producing steel by replacing the coking coal traditionally used with renewable energy and hydrogen. Volvo Group recently took delivery of the first customer shipment.
Car firms evaluating new materials for bodywork also include Volkswagen. With the ID Life concept, for instance, it showcased a removable roof and bonnet made from recycled PET bottles, making them both lighter and cheaper to produce than traditional examples.
Paint
Painting a car is one of the most resource-intensive parts of the production process and trying to reduce the environmental impact of paint shops has become a major focus of manufacturers' sustainability drives.
For example, as part of the expansion of its Sant'Agata factory to build the Urus in 2019, Lamborghini opened a new paint shop that was designed to reduce its environmental footprint by 30%.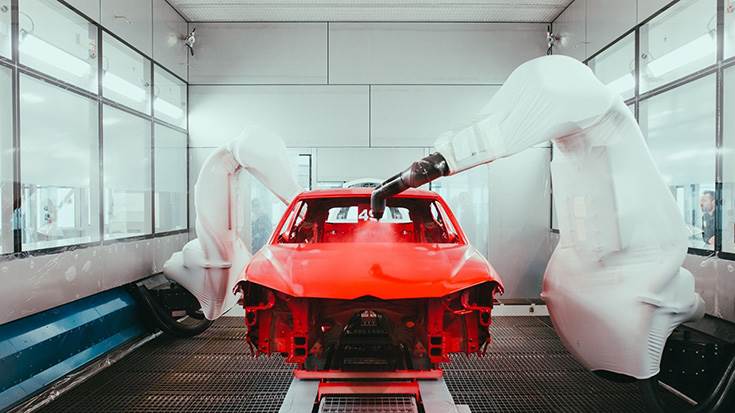 The paint shop at Lamborghini's Sant'Agata factory. It has switched 95% of the colours it uses to water-based paints and also reduced solvent emissions.
That was partly down to the use of higher-quality insulation and LED lighting, but also by switching 95% of the colours it uses to water-based paints and reducing solvent emissions through an afterburner that recovered heat from the process Paint shop is a key area for eco-related improvement to power the ovens on the paint line. A new air mining system meant that 80% of paint sprayed was applied to bodywork.
But the simplest way to reduce the environmental impact of painting cars is to stop painting them. Both the BMW i Vision Circular concept (see below) and the ID Life feature unpainted exteriors made from metal that has been treated with a special anodised finish. The ID Life, for example, employs a finish that uses recycled wood chips and a bio-based hardener, and is designed so it can be entirely recycled without processing. The technique has yet to make it to a production car, but it's something that manufacturers are actively looking into.
Interior trim and materials
Introducing new interior materials in a car isn't as simple as just picking out a new fabric and covering a seat: being used in cars places huge demands on materials. Maria Mulder, Bentley's head of colour and trim, says it takes at least seven years to source, test and evaluate potential new materials for use in the firm's vehicles. By comparison, that process takes around four years for a more mainstream brand such as Volkswagen.
Bentley is targeting greater use of sustainable materials and also sustainably-sourced materials in the production of its luxury vehicles.
"Around 80% of Bentleys built to date are still on the road, so we'll only use a material that we're really confident will last for at least 100 years," says Mulder. "We're always looking for interesting new materials. We keep a close eye on fashion. We'll see new materials used in clothing that we'll start to track for the car industry."
Bentley has a 'shelf' in its colour and trim department for materials that it is interested in but haven't been proven for use in cars yet. Mulder notes materials can stay on that shelf for "seven years or more".
Nor is introducing sustainable materials as simple as switching to ones that have the least impact on the environment, especially if you're following circular economy principles and want any material you do use to be fully recyclable. Anna Goldhofer, a sustainable materials specialist at BMW, notes that the best material for usage is not necessarily the one with the lowest CO2 involved in its production, "because it won't necessarily be circular if you need to colour or process it before it can be used".
Seat upholstery made from secondary raw materials are used in the fourth- generation Audi A3.
Seatbelts and seat covers made from recycled PET bottles are now relatively common. You'll find them in both the Renault Zoe and the Polestar 2. The recent Fiat 500 and Panda hybrids were the first production vehicles to feature a seat trim containing Seaquel yarn, which is made from recycled waste, including fishing nets and plastics, recovered from the sea.
It's not just the more noticeable materials that car firms are looking to switch. BMW, for instance, has been evaluating natural materials for use in the construction of interior door panels, including a foam made from hemp fibres. Goldhofer says: "It's got several benefits beyond just using less CO2 to produce. It's lighter, which helps to make the car more efficient, and because the natural fibres are grown, it serves as a carbon sink: it absorbs CO2 while it's growing, so it can be carbon negative."
Polestar has teamed up with Bcomp to make use of two of their game-changing composites Amplitex and Powerribs. Both are made from flax composite.
Similarly, Polestar is evaluating Bcomp's Powerribs and Amplitex materials for use in future interior panels. Both materials are made from flax composite, which is often grown during crop rotation so it can be produced without competing with food crops. It's also lighter and stronger than traditional car panel materials.
Leather
Some newer car firms including Polestar have committed to leather-free interiors, but it remains a popular option for customers of premium brands such as Bentley. Although the Crewe marque is looking at alternatives, Mulder says the use of leather "is a key part of our brand".
However, Bentley is looking to prove that the leather it uses can be part of a responsible, sustainable approach, with all of its leather sourced from a handful of European manufacturers where the hides are by-products of the food industry. Bentley says all of its suppliers meet the high production standards set by the Leather Working Group (of which Bentley is a member) and it has refined its cutting process to maximise the use of each hide.
But although leather will continue to be in demand among many Bentley customers, the CO2 and methane linked to its production, even as a by-product, mean that some car buyers will seek to move away from any animal products – while still wanting seats with the feel of the product. So Bentley is closely investigating alternatives.
Bentley is exploring the use of Vegea's plant-based alternatives to fully synthetic oil-derived materials for its seats.
One promising option that Bentley and other car firms are looking at is Wine Fabric by Vegea, which, as the name suggests, is a vegan leather made from grape skins, stalks and seeds that are discarded during wine production. So far, Mulder and her team have yet to determine if it is fit for use in production cars, but testing continues.
As if grape-skin-based leather isn't odd enough, other options that car makers are evaluating include Pinatex, made from pineapple fibres, and Desertex, which is made using cactus.
Tyres
It's not just about what a car itself is made from: what it stands on can also have an impact on sustainability. As such, there's a push to increase the sustainability of tyres. Michelin has been trialling a tyre in the Moto E bike racing championship that is made from 40% recycled biobased material. In the future, that could go further. The ID Life showcases a tyre concept made from a blend of sustainably produced rubber, recycled rubber, rice husks and vegetable oil.
Ways for production to be more sustainable
Reducing the environmental impact of the actual process of making cars is another key area where companies are striving to reach net zero. The most obvious way to do this is to switch to 'green' energy. Bentley's Crewe factory features 10,000 solar panels covering 1378 parking spaces and 20,815 panels on the roof of the factory, which gives the firm the ability to generate 7.7MW of power – enough to power more than 1750 homes.
In Sant'Agata, Lamborghini has a deal with a local biogas cogeneration plant. Excess energy generated during that process is used to heat water that is then sent to Lamborghini's factory, saving around 1,800 tonnes of CO2 each year.
Bentley's 250-plus forklifts have been converted to electric power and 10 HGV trucks that transfer parts between the firm's factory and its Winsford storage depot have been converted to run on renewable fuel created on site using hydrotreated vegetable oil. Bentley says the switch has reduced the tailpipe CO2 emissions of its logistics vehicles by more than 86%.
Last year, the firm upgraded its waste water recapture system with a reverse osmosis plant, which uses high-pressure pumps to remove contaminants from waste water that are created during the painting process, resulting in pure water that can be used in the factory and grounds. Bentley was able to recycle 350,000 litres of water during 2020.
What about the batteries in an EV?
The biggest contributor to the environmental impact of an electric car is the production of its battery. Moreover, the rare elements such as lithium used in EV batteries are often sourced from mines in the Democratic Republic of Congo that are frequently criticised for their safety standards. It's a challenge with various possible solutions as technology develops. Volvo, for instance, is using blockchain to trace the exact source of the resources used in its cars.
There are also growing steps to maximise the life of batteries. Porsche has developed a process for high-voltage battery repairs for the units in the Taycan, using both dedicated repair centres and specialist 'flying doctor' technicians who can travel to where the repair is needed. These mechanics are trained in how to disassemble a Taycan battery, identify which of the 28 or 33 modules are damaged, and then replace those individual units. This ensures the entire battery can continue to be used, where once it would have had to be scrapped.
But the ultimate goal is to recycle batteries. Multiple car firms are developing prototype plants that are designed to break down batteries into their individual elements, and they're working on processes that will allow those materials to be separated and then reused in future car batteries instead of having to mine further elements.
BMW's vision for car production in 2040
Manufacturers frequently use concept cars to preview future production models, but the i Vision Circular that BMW displayed at Munich this year was designed to preview the future of car production in 2040.
It showcases circular economy principles and is designed using 100% recycled material – all of which can subsequently be recycled. The idea is to follow the four principles of circular design: rethink, reduce, reuse and recycle.
This is how the i Vision Circular showcases sustainable design principles and materials.
Tyres and wheels: The tyres are made largely from sustainably cultivated natural rubber, into which extra recycled rubber particles are worked to give them additional strength. The rims are designed to use a minimum of materials, with exterior surfacing that 'encloses' the wheel and improves aerodynamic efficiency.
Bodywork: The i Vision Circular features a body made largely from secondary aluminium with a light-gold anodised finish. At the rear of the car are surfaces finished with heat-treated steel. BMW claims the refinement process of both gives them "visual impact" while also allowing both metals to be easily reused. The bumpers are made from recycled plastic that is treated to give a 'marbled' effect.
Exterior design elements: The i Vision Circular's body is an example of how to rethink and reduce. All of the chrome elements and bodywork appendages have been removed. The kidney grille has been turned into a digital surface – without a chrome surround – and even the BMW roundel is laser-etched into the car to avoid using extra parts. That also makes it easier to recycle later on. "Chrome was something that was invented in the 1920s and '30s to have something shiny on the car so there's light to break a surface – but it's just jewellery," says Dukec.
Dashboard: A greatly reduced number of controls and components feature on the dashboard and instead sensors and screens react to a driver's command. The main instrument panel is built around a 3D-printed crystal body, bordered by naturally treated wood. Rather than a driver display, a head-up display beams all of the information needed by the driver directly onto the bottom of the windscreen. The dashboard has also been stripped of non-essential materials. "In current cars, you have materials that serve no function other than to be decoration," says Dukec. "Customers are used to having some 'jewellery' inside, so we've started to make the jewellery the functional parts of the car: the switches to change the seat [position] now serve as a jewellery part."
Steering wheel: It's 3D-printed from biobased wood powder. "We didn't do this just because we thought it would be cool to use wood," says BMW design chief Domagoj Dukec. "Today's steering wheel has a metal structure covered with foam and then plastic or leather, and to disassemble this is impossible. So you create secondary material that's not the same quality as the original. We realised that in the past, you had steering wheels made from wood, but they were made from one piece so you have a lot of waste. But with 3D printing, we can make it from wood powder with absolutely no wastage."
Upholstery: The seats are covered with a velvet-like fabric made from recycled plastic, affixed to a light-gold aluminium frame. The rear shells are also made of recycled plastic. "We want the material to be more pleasurable than before," says Dukec. "You see in furniture design today that textiles have a higher price point than leather, because leather is no longer the most desired product: it's just the skin of a cow. "With textiles, the way you produce it and the craftsmanship involved has a real impact on its feel and luxury. That gives the car an indulgence inside that you wouldn't normally associate with recycling." The deep-pile carpet in the car is also made from 100% recycled plastic.
RELATED ARTICLES