How really connected are users to car connectivity?
Like their smartphones, car users are keen to stay fully connected in their computers on wheels, which is why OEMs are pushing the connectivity envelope with plenty of tech-driven features. However, the connect slows down once the initial euphoria dies out.
As connected-car features become the new norm for carmakers to inject a sense of excitement and attract customers to these latest in-car digital technologies, there's also the unanswered question as to their actual usability in the real world.
Once the initial euphoria and novelty factor dies down, the charm could be hard to sustain, with most consumers unlikely to get accustomed to these services / features and therefore, giving in so easily to the idea of annual subscription charges, a new phenomenon in the automobile world.
While OEMs are constantly pushing the envelope to offer services and solutions that cater to the demand coming in mostly from the young buyer (millennials), 40 percent of whom are willing to go the extra mile in loosening their wallets to get these tech-intensive features on-board, a significant number also end up shunning the services once they find them hard to relate to.
According to a recent Capgemini Invent report titled 'Connected Vehicle Trend Radar 2', usage of OEM-provided connected services is "generally low" with about 44 percent customers not having any such features in the first place, and only about half of those who do have them, being frequent users.
The key reason cited for this slow rate of infusion among customers is OEMs' tendency to assume that they can deliver connected services in almost the same way as they deliver cars, essentially meaning doing most of the work themselves and simply assembling elements from different suppliers, instead of working alongside best-in-class partners.
As a result, a lot of the connected-car services on offer today in cars could feel cumbersome to use, and not add enough value to the ownership experience, thereby hindering their off-take with consumers. The only exception, the report mentions, is that of Tesla, which has sort of created a global benchmark in offering a connected-car experience that is one of the top-selling points for the young EV maker and its breakthrough electric cars.
However, while spotting a Tesla driving down on India's roads is still a distant reality, we take a closer look at the various connected-car products and their sub-services currently being offered by OEMs in India and try to understand how they can exploit the full potential of these services.

Among the plethora of features, it is emergency services like vehicle summon, immobilisation on theft, urgent repair and roadside assistance that are high on demand from customers.
Connected — inside out
In the mass-market car segment, the Korean duo of Hyundai-Kia can easily be credited to have stepped on the gas pedal on the connectivity front quite early, in an attempt to be ahead of the curve. The two car brands have plenty to offer to connected-car aficionados.
While Hyundai Motor India offers its connected-car tech under its trademark Blue Link brand, Kia Motors India has its UVO Connect connected-car suite. Both, however, are remarkably similar with the kind of functionalities that can be obtained from the in-built features.
The Blue Link suite in the latest-generation Hyundai i20 and Creta offers 50 connected-car features including over-the-air (OTA) updates to constantly improve the in-car connectivity experience of vehicle occupants. 'Hello Bluelink' can be used as a wake-up command to control essential features such as the climate control temperature, fan-speed, air-flow direction, radio, media and navigation. Some of the remote features include remote lock / unlock, find-my-car, tyre-pressure information, crash notification, stolen-vehicle tracking and immobilisation.
Kia's UVO Connect in-car connected tech is enabling rapid adoption by car buyers in India. The company says it registered up to 55 percent of total sales of its maiden product Seltos between August 2019 and December 2020, from the variants with on-board connectivity.
The UVO Connect suite comes with 57 smart features and a three-year free subscription plan. The system also allows seamless integration with smartwatches based on either iOS, Android or Samsung's Tizen platform. There are a total of nine voice-command categories of the likes of calling, weather, media control, navigation and climate control, and the system can be activated by the 'Hello Kia' wake-up command.
According to Roshan Batheri, director, Automotive and Manufacturing Industry Hub, Capgemini, "Car manufacturers have prioritised connectivity features as part of their respective brand strategies and positioning of the products. In India, vehicle makers have introduced an array of connected vehicle features in the areas of safety, security, service, entertainment, health and SOS services. Within these, certain aspects of concierge services, for instance, navigation assistance with real-time traffic information, as well as select examples of service use cases in the area of emergency services like vehicle summon requests, urgent repair or roadside assistance, geofencing and valet parking, are features high-on demand among consumers."
"Furthermore, as customers are becoming more conscious of their health, modern-day cars also have enhanced features such as AQI displays, and with the increase in spending power, PoIs (points of interest) is another area of focus for carmakers along with intelligently monitoring the speed and utilising Live Cloud data for actionable insights," he adds.
How to sustain usage?
However, getting the customer to recurrently use the plethora of features bundled in the connected-car package is one of the biggest challenges for OEMs. While there are customer constraints such as not exactly knowing how to use a connected-car feature or the system becoming handicapped without a cellular device or even the features not working most of the times, there are some success stories as well.
MG Motor India, for instance, introduced its Hector SUV with the iSmart connected-car technology and almost immediately wooed buyers with deeply-integrated features such as voice commands in native languages to control vehicle systems such as opening or closing the sunroof.
The company, along with Chinese voice-recognition player Nuance, has put diligent efforts to polish the AI engine of the iSmart suite, in order to offer a seamless voice-based user experience inside the vehicle.
Similarly, at the higher end, Mercedes-Benz India is drawing premium customers to its latest MBUX infotainment software, which aims to offer a clean, smooth and relishing user-experience to customers. The user-experience platform drives the connected-car suite christened 'Mercedes me connect', which allows not just control of various in-car functionalities and vehicle health monitoring, but, goes on to offer assistance in searching and navigating to available parking spots in cities such as Delhi, Mumbai, Bangalore, Pune, Bangalore and Hyderabad. The company has partnered Get My Parking to embed the feature into MBUX platform's navigation pane.
According to Batheri, "The need of the hour is a 'platform' architecture with advanced analytical capabilities, contextualised to the need of customers from a business use-case perspective. OEMs need to have a clear approach towards the architecture and offer relevant use cases to generate initial interest."
"Progressively, as the customer starts using these features, it's the strong analytical capabilities which will enhance the interest by providing actionable insights and details, being shared live as part of connected features. For example, PoIs in the navigation pane would need to be backed up with complete usage analytics and integrated with the connected infrastructure, to ensure relay of real-time, relevant and connected information. Technological advancements in 5G can also further lead to enhancing the current capabilities of the connected vehicle platforms," he adds.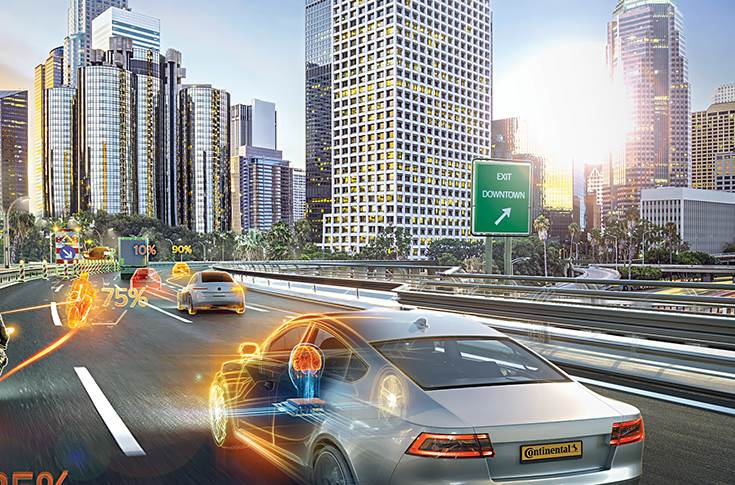 Connected-car technology will drive the growth of ADAS as well as V2I and V2V-related active safety systems like adaptive cruise control and AEB in the near term.

Realising the full potential
As much as these features give an opportunity to flaunt one's stylish new car, the connected car suite runs deeper into the neural architecture of the vehicle to tap into the critical data, and offer the desirable comfort and convenience.
The systems include an infotainment system, telematics control unit (TCU), antenna, e-SIM and boundless amount of software that works endlessly to integrate the different subsystems of the vehicle. Leveraging these, a connected vehicle can access data, download OTA updates, as well as make up to six types of connections with its environment, including – vehicle-to-infrastructure (V2I), vehicle-to-vehicle (V2V), vehicle-to-service provider(s), as well as with the driver(s) and other co-passengers.
While features like remote lock and unlock are basic safety and convenience-related aspects of the connected-car technology, V2V and V2I communications are driving growth of active safety systems such as adaptive cruise control, automatic vehicle braking and automatic route planning.
More interestingly, while these features and systems are the face of the connected-car tech for the consumer, the behind-the-scenes action is equally interesting, which is fast opening up the possibilities of data acquisition, analyses and monetisation.
According to the Capgemini Invent study, the major revenue streams that OEMs can unlock by offering connected-car technology include service provision, service integration and data monetisation. When the OEM offers, operates and maintains the service all by itself, the revenues could see an indirect positive impact by the service being able to influence the sales of a particular vehicle.
Third-party service integration, on the other hand, can allow the OEM to charge these service providers while maintaining connect with the customers. Thirdly, data monetisation becomes the main source of direct revenue from connected-car techwherein OEMs can provide the service providers with either raw data or insights into the driving and commuting behaviour of a vehicle user, their biases and locations as a basis for better services. One of the key examples of this is usage-based insurance wherein an insurance company would offer flexible premiums based on the driving patterns of a customer.
The study says that to make its customers as future assets, OEMs need to position themselves to exploit all three of these revenue streams, and to be successful, they must ensure that the services offered are relevant to customers, and OEMs must allow different players to provide services while providing a seamless experience to customers.
"The data-driven approach mapped around the user interests, locations, usage and driver behaviourbrings a huge opportunity to monetise data. The 'as-a-service' model for vehicle or systems such as battery, is on a really high growth path. This is feasible only with intelligent positioning of the user data by utilising key analytical capabilities," says Batheri.
"Data monetisation must adhere to stringent regulatory norms and follow more aspects of consensus with customers in order to ensure data privacy," he concludes.
This feature was first published in Autocar Professional's March 1, 2021 issue.
RELATED ARTICLES