How end-of-life vehicle scrappage can drive progress
Global experts met at the Asian Environmental Forum in New Delhi to discuss and debate end-of-life vehicle scrappage.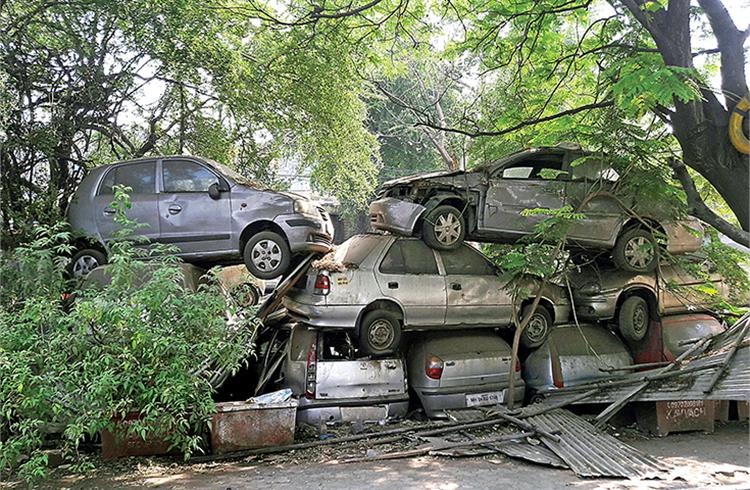 India, which is battling severe pollution levels in many cities, is also manufacturing and selling a record number of vehicles. A scientific approach to keep old, unfit vehicles off the road will ensure cleaner air and greener motoring. Among the revolutionary ideas whose time has come to be implemented in India, vehicle scrappage is one to be accorded top priority, given the country's battle against rising environmental pollution and road safety.
Scores of ageing, inefficient vehicles, on two, three and more wheels continue to ply on Indian roads, spewing out pollutants every kilometre. According to government data, over 24 million end-of-life vehicles (ELVs) need to be recycled in India. These poorly maintained cars and commercial vehicles cause 10 and eight times more vehicular emissions respectively, compared to their modern counterparts that meet the current emission standards.
The average age of a car in India is pegged to be 18 years, most of them not in the pink of health, which means the majority of them are unsafe and contribute to India's poor record of road and vehicular safety as well. With 14 Indian cities including New Delhi in the Top 15 of the world's most polluted cities list according to the World Health Organisation report of May 2018, the time has come for the government to take some concerted action.
NITI Aayog's Sujeet Samaddar stressed upon the need to focus on the recycling industry as the Indian auto sector sees rapid growth.
If India has to drive towards speedy vehicle fleet modernisation as a measure to curb pollution, its existing car, two-wheeler, as well as CV parc, needs to be gradually phased out in a scientific manner. Importantly, vehicle buyers need to be educated about the benefits of a policy like end-of-life vehicle scrappage. A big gain is reduced steel imports, as the country imports 6 million tonnes of steel scrap each year. Vehicle recycling thus holds the potential to reduce about 58 percent of the CO2 emissions generated by compensating for production of new steel.
A car or a two-wheeler, for most Indian households, is the second-most valuable asset for a family, after the house itself. As a result, a vehicle is not considered just a means of transportation but is welcomed as a new member of the family, and, over due course of time also strikes an emotional connect with its users, more so with those who also generate income by plying their vehicles for business.
However, in an emerging market like India, vehicle ownership is now becoming dynamic, and higher disposable incomes are giving wings to people to upgrade and change their passenger cars within short spans of 3-5 years. Not surprisingly, PV sales are on the rise and in FY2018 3,287,965 cars were bought (+8%). Concurrently, two-wheeler sales were pegged at 20,192,672 units (+14.80%) and CV sales too registered overall growth of 20 percent with sales of 856,453 units in the fiscal. This means in FY2018, a tad short of 25 million new vehicles across segments rolled out on Indian roads. Thanks to BS IV emission norms, which were implemented in 2010 for cars and two-wheelers and from July 2017 for CVs, vehicular emissions are cleaner but can be much better still. With India leapfrogging BS V to go directly to BS VI in April 2020, the path to greener motoring has already been shown. But there is a dire need to reduce existing levels of air pollution now. Studies claim that vehicular pollution contributes to around 28 percent of the total particulate matter (PM) in the environment.
SIAM Recycling Group's Captain NS Mohan Ram said industry cannot function amidst a stark mismatch of modern manufacturing and primitive recycling technologies.
While the Supreme Court has already banned the extended fitness of a vehicle beyond its 15-year stipulated life in metros like Delhi, the big challenge lies as to how vehicle owners go about disposing off their ELVs, which have completed their time on the road, in a legal manner.
No life insurance for old vehicles
To discuss and debate this issue, the Society of Indian Automobile Manufacturers (SIAM), the apex national body representing the Indian automobile sector, in collaboration with Japan Automotive Recyclers Alliance (JARA), organised the 11th Asian Automotive Environmental Forum (AAEF) in New Delhi on November 1.
Tohoku University Japan's Prof Yu Jeong Soo: "Responsible recycling and sustainable development are crucial for automakers. Japan ships out large quantities of second-hand next-gen vehicles to low-income markets like Mongolia. This needs to be effectively resolved."
Held in India for the first time, the AAEF's overall theme was 'Automotive Recycling in India: Pathway to the Future - Towards a Sustainable Society' with industry experts focussing on setting up of a viable recycling infrastructure and providing solutions for handling ELVs in India.
The day-long event saw participation from over 150 delegates from China, Japan, USA, India and other countries including representatives from government departments and key stakeholders, who shared their experience in establishing vehicle recycling infrastructure, ELVs and learnings for India.
Various panellists, all eminent experts in their countries, urged the industry to proactively involve and help reduce dependence on a single technology, while also looking at the various forms of automotive recycling used globally to take on the growing need for recycling ELVs on the back of the rapid growth in India's vehicle parc. They urged the government to ensure that issues related to vehicle recycling in India are addressed and the requisite policy roadmap put in place.
Welcoming the delegates, Yu Jeong Soo PhD, professor, Tohoku University, Japan, said that responsible recycling and sustainable development are crucial for automakers and there is an urgent need to create a viable infrastructure and provide solutions for dealing with ELVs in India.
ARAI'S Rashmi Urdhwareshe: "Government initiatives and the upcoming policy on vehicle scrappage will enhance the scope of ELV regulations, fleet modernisation and vehicles nearing their end of life."
Sujeet Samaddar, senior consultant, NITI Aayog, pointed out that the ground reality for recycling vehicles is not so good in India and needs to be redressed immediately. He said there needs to be a focus on the automotive recycling industry, as it needs to grow at the same speed as the Indian automobile industry. The kind of vehicles recycled now will be unique to India in terms of recycling capabilities, he added.
Samaddar clarified that India now ranks 77th globally in the 'ease of doing business' ranking, which should encourage global companies to set up advanced automotive recycling plants in the country. "This will also set the tone for investments. The demand driver is very clear. Automobile recycling will not only ensure a strong economic growth, but also create a large social impact and offer immense opportunity for rationally putting in effective interventions for recycling end-of-life vehicles in India."
Scientific approach to ELVs
Captain N S Mohan Ram, advisor, TVS Motor Company and chairman, SIAM Recycling Group, stressed the need to evolve an environmentally feasible, socially acceptable and economically viable regime for recycling of ELVs. "We are the fastest growing economy in the world and have a huge consumer base and demand for mobility, both for personal and public use. However, lack of ELV recycling procedures and infrastructure makes it a big mismatch, as we are one of the world's biggest manufacturers of vehicles."
TVS Motor's Capt NS Mohan Ram: "The unorganised sector needs to be relocated from residential areas into recycling parks. Business owners should be compensated with land and initial funds."
He said the automotive industry cannot function with a stark mismatch of modern production technologies going along with primitive recycling methodologies. He informed that while shredders are hugely capital intensive and require millions of units of feedstock to recover investments, the unorganised sector needs to be relocated from residential areas into recycling parks, and business owners should be compensated by being offered with land deeds at market rates, and also getting initial funding to retain jobs.
Moreover, workmen need to undergo rigorous training at demo-centres, to prepare them to work in an eco-friendly manner. He also shared that the concept of lifetime road tax (LTT) is the biggest enemy curtailing vehicle recycling in India, and that post-shredder treatment also needs to be considered for effective disposal of automotive waste.
He lauded the role of SIAM's recycling taskforce group, which participates in global conferences to collect data and supports actions to set up world-class recycling infrastructure in India.
Scrappage policy soon, bearding the Li-Ion battery
Rashmi Urdhwareshe, director, ARAI, spoke about the central government's vehicle scrappage policy, which is expected soon. The policy will also have fleet modernisation schemes and is aimed at encouraging voluntary scrapping of old vehicles. "The government initiatives and the upcoming policy on scrapping of vehicles will enhance the scope of ELV regulations, fleet modernisation, vehicles nearing their end of life, and dismantling centres to be located and controlled in a structured manner."
NATRIP's Neeti Sarkar: "Vehicle recycling in the unorganised sector leads to weak reporting of data of scrapped vehicles. India needs sufficient recycling centres to ensure a robust infrastructure for ELVs."
While ARAI had formulated the AIS 129 draft standards for vehicle recycling, along with Ministry of Road Transportation and Highways (MoRTH) and SIAM in March 2015, there was a concept note announcement on a voluntary vehicular fleet modernisation policy (V-VMP) from the government in 2016, which is still to be passed by the parliament and be implemented for a sustainable road environment in the country.
Neeti Sarkar, CEO and project director, NATRIP, expressed her concern over scrapping of vehicles in India that is largely managed in the unorganised sector. This results in weak reporting of data of scrapped vehicles. In this regard, she recommended establishing of sufficient number of 'Recycling Centres' across the country that would ensure robust network between agencies and organisations involved in collecting, dismantling and disposing ELV wastes.
Also, with the level of steel used in vehicles gradually reducing from 78 percent of a vehicle's weight in 1988, to around 56 percent at present, due to OEM lightweighting challenges and pedestrian safety requirements, the challenge also lies in proper segregation of ferrous and non-ferrous automotive waste for proper disposal and recycling.
Sarkar mentioned that NATRIP's Global Automotive Research Centre (GARC) in Chennai has installations of recycling and segregation machines, and that the government needs to set up more such demonstrative laboratories to impart knowledge to entrepreneurs targeting the field. "The role of public-private partnerships will be paramount in developing a robust ELV recycling infrastructure in India," she said.
ECO-R Malaysia's Cho Chee Seng: "Malaysia too faces similar challenges like India for recycling of ELVs. Almost 85 percent of the locally used parts in the automotive sector in the country are unfit for reuse."
Adding to that, N S Mohan Ram said, "Mahindra Accelo's JV with MSTC (under the aegis of Ministry of Steel) – Mahindra Cero – is a progressive and laudable step in the right direction to aid ELV recycling in India." The demo unit at GARC was set up with the help of SIAM, where it contributed for the equipment from its auto cess funds. Moreover, the industry body also donated 75 vehicles to kickstart the unit in Chennai.
With Li-ion batteries having the capability of being re-used even after 70-80 percent into their lifecycle, and the country also moving towards EVs in the future, Sarkar also stressed upon the need for battery recyclability to be given high importance in the government's upcoming EV policy. While lead-acid batteries made and supplied by established local manufacturers such as Exide and Amara Raja, have a proper recycling channel in place, Li-ion batteries, on the other hand, require to undergo a completely different process and thus, need an entirely different set of recycling infrastructure and ecosystem, as the country seriously takes on its road towards electric mobility, discussed the panel.
ELV policy status in other markets
The conference also offered an opportunity for participants to interact with global experts on the subject of automotive recycling and other related sectors. Yu Jeong Soo gave a picture of recycling in the Japanese market, where the country exports large quantities of second-hand new generation vehicles (NGVs) to neighbouring low-income markets. The Toyota Prius hybrid remains the most exported second-hand vehicle from Japan and sees around 1.2 million units getting shipped to Asian and African markets including Mongolia. As a result, with no ELV regulations and infrastructure in these countries, the quantum of battery waste has substantially increased in these markets, which needs to be taken care of immediately, Soo explained.
Commending the role of the Indian automotive recycling industry, Sanjay Mehta, president, Material Recycling Association of India (MRAI), said that India doesn't have specific recycling zones unlike some developed countries. He added that MRAI would spread awareness for recycling by organising public programmes at different levels. "Our vision is to make India a zero-waste country by developing 'Circular Economy Parks'. The metal recycling industry in India employs nearly 1.9 million people and has the potential to contribute around 5 percent to the country's GDP."
Automotive waste holds the potential to be recovered and reused by up to 85 percent, with over 80 percent material recyclability. Added benefit of around 58 percent CO2 reduction comes along by compensating for production of new steel
Sosho Kitajima, managing director, NPO JARA, spoke on the increasing number of vehicles in India, and the means to ensure and contribute to sustainable development in the country. "The AAEF will become a big platform for relevant industry bodies across Asia to exchange the latest vehicle disposal techniques and build a sustainable future."
David Nolan, executive-director, Auto Recyclers Association of Australia, shared the Australian industry report, and concerns that the country faces including problems of metal theft and illegal practices in recycling industry linked with criminal networks. "India must also regulate this sector by putting in place enforceable laws and enforcement resources," he pointed out.
Sue Schauls, executive-director, IOWA Auto Recyclers Association, while submitting her report on the United States, said self-audit can help companies stay one step ahead. "Self-governing will help you participate in the formation of recycling laws. All waste too have value that can be reused or burnt."
Proper dismantling and careful segregation of vehicle components can render many salvaged parts for reuse, and also minimises contamination of one material type with another, to aid effective recycling
Cho Chee Seng, general manager, ECO-R, Malaysia while submitting Malaysia's industry report stated that Malaysia too faces similar challenges like India for recycling ELVs. He revealed that "almost 85 percent of the local used parts in the automotive sector in Malaysia are unfit for reuse."
In his closing remarks, P K Banerjee, executive-director (Tech), SIAM said, "The E of Evolution and Engineering is important, right from product engineering to process engineering while dismantling ELVs. India needs to evolve, as recycling is the central theme of sustainable life."
(This article was first featured in the November 15, 2018 issue of Autocar Professional)
RELATED ARTICLES