Henkel shows how to slash weight and cut development time
German chemical major Henkel is eyeing smart gains with its strategic alliance with RLE International. The company says it can help OEMs shed vehicle weight, by a substantial 30kg in most cases.
Pilot engineering project on an e-SUV concept demonstrates perfect integration of both solutions: Materials and Engineering. The project saw use of structural hybrid solutions, structural adhesives and panel reinforcements and reduced BIW and closure weight by 42kg (from 431kg to 389kg), achieved crash performance targets, and reduced joining elements by 6 percent.
Application areas of structural inserts.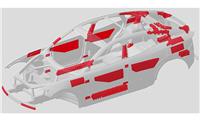 The battle against weight gain is a constant one, both for human beings and for vehicles too. Lean translates into mean and slashing the kilos and shedding the grams is the mantra that gives both man and machine the fuel to extend their range.

Reducing vehicle weight, through a combination of lighter but stronger parts, new materials and modern production processes to achieve a happier but stronger mobile machine, one which goes farther in terms of fuel efficiency, is what automakers the world over have been striving for a long time. The quest for lightweighting has become even stronger with the advent of electric vehicles, which depend on batteries to give them their travel range before they stop to juice up at a charging station.
For German chemical major Henkel, which is a leading partner for the global as well as Indian automotive industry for improving performance, reducing weight, and enabling sustainability through its adhesives, sealants and functional coating, the focus on lightweighting has been a constant one.
In addition to its core business, in 2018, Henkel joined forces with RLE International to form a strategic alliance to drive automotive innovation, expand value creation opportunities and become the premiere design-in engineering solution provider for the mobility industry. This meant the joint approach to market would grant customers access to a unique global combination of long-term engineering know-how and best-in-class material science to enable next-generation design solutions and new levels of lightweight structures. Through a holistic development approach from concept to launch and series production, Henkel and RLE International aim to ensure process security and sustainability of all development, engineering and material processes. That's the overall strategy.
To understand more on how Henkel India is working on new products and technologies to slash vehicle weight, Autocar Professional spoke to Barun Bharadwaj, Regional Head of Automotive OEMs — India, Middle East and Africa, Henkel India. When asked about the progress with RLE, Bharadwaj said: "That is going very well. We have very positive traction along with our customers, not only in India but also globally. Talking about India specifically, since we announced the alliance, we have been awarded three programs which, at present, are in the design phase and the vehicles are due to be launched in 2023."
"What this means for us is first, we can engage with our customers and define the engineering for the Body in White (BIW), which will make the entire BIW a lot lighter. Also, most importantly, we have been able to demonstrate through our several FEAs (Finite Element Analysis) is that when it comes to both the frontal crash as well as the side crash, we have been able to enhance the crash resistance. That's a big deal with some of these OEMs the platforms that we are talking about is all to do with electric vehicles, where there is a need for higher crash resistance. The battery is pretty much like a flatbed of a bomb lying down and any crash is going to have a significant impact, not only on the occupants of that vehicle but also the other surrounding vehicles and/or people surrounding that. Therefore, there has to be a very, very strong crash resistance built in for these cars right from the chassis standpoint to the body, so that the body absorbs the impact and does not allow it to be passed to the battery location. We have got EV programmes running for two large Indian OEMs and also some for large multinational brands," details Bharadwaj.

Closely bonding with the OEM
Henkel has for long been working with automotive companies, but the stage at which the company was engaged didn't always begin at the design phase. Now with the strategic alliance with RLE in place, Henkel has been able to work closely with OEMs and not just share its products as a tourniquet.
"This is a completely new dimension compared to how was it functioning in the past. Earlier, the engagement happened when an OEM comes to the point of SoP, the first build or the prototype if they notice that either the crash performance is not up to the standard or there is a higher noise level as compared to what they had initially anticipated originally in the design. That's when our engagement with the product engineering team kicks off and what we are offering essentially at that point in time is a band-aid work. Because the design is already done, all that we are trying to do is to salvage the design, or rather optimise the design so that we can get to vehicle to the same level as it was originally conceptualised to be set up. But it is still a band-aid. After the RLE alliance, we are going way advanced from the time the designers are designing the vehicle. Once the concept is done and they start the designing work that is the engineering aspect, as in where do I have to add what type of elements and what should be the material of those elements and we get engaged at that point of time. How it is different now? We are now doing a segment of engineering work (with Henkel-RLE alliance)," says Bharadwaj.
This means that Henkel has been able to work closely with the OEM to understand its targets, be it reducing NVH, improving strength, reducing weight or getting a five-star Global NCAP safety rating. Furthermore, Bharadwaj mentions that depending on the customer requirements, "We start doing the engineering together with RLE which continues to keep reducing the element of the steel. Then our (Henkel) material science engineers sit and the data points of what our materials can provide to enhance the strength. Let's assume that the thickness is going to be reduced from 3mm to 1mm; then we offer our material which is much lighter — one-tenth the weight of steel and that would provide much more strength. That is going to be pretty much an FEA analysis to be done on RLE and it is compared to the 3mm thickness vs the 1mm thickness with the Henkel material. Then we take the overall weight, that is also something we check and then we make the proposal to the respective OEM, stating that we have achieved this objective and by the way we were not only were able to maintain it at 20kg but we have also been able to reduce it by an additional 2kg. We have a couple of cases. In the last week of August, we had a web-seminar with all our customers. We ran through the case studies of all the successful case studies we had and in most of these projects, we were able to save weight of over 30kg," reveals Bharadwaj.
He acknowledges the fundamental difference between how it (lightweighting) has worked out in the Western countries compared to India. In those advanced markets, OEMs started to adopt lighter weight materials like aluminium and magnesium quite significantly in their vehicles rather early on." But in India, it is still very largely limited. Even Mercedes-Benz, which imports through CKD, has only started to do this now; this happened during the Covid-19 period. They have started to get most of their doors, which are either aluminium or GI (galvanised iron), but prior to that it was all steel."
One of the prime reasons for Indian OEMs to continue to use steel is not just only because of the cost factor, but also the technology aspects. Steel technology, which is one of Indian industry's strengths for several decades now, is well established. In case of aluminium, the industry needs to create additional infrastructure or a different infrastructure which is cost intensive. "Now there is a trade-off that the OEMs are looking at — do they focus on building an EV or focus on utilising other technologies that can help reduce the weight versus actually moving to aluminium?" queries Bharadwaj.
Structural adhesives and inserts
So how does the German chemical major plan to assist OEMs in India in their lightweighting initiatives? Bharadwaj says, the company offers two broad solutions. First is the structural adhesive that eliminates the weld process, which typically increases weight. Replacing the metal with structural adhesive helps cover the entire surface area; therefore, the load distribution is much better than the welding process and also helps avoid any breakages. In addition, it adds just 1gm compared to 50gm application of metal. Clearly, there is much to be gained with this process.
Second is the use of structural inserts. "The solution is to have the OEMs transform more to a hollow section and then fill those sections with our hybrid materials inside which expand as they are heated and provide two times the strength of the steel," points out Bharadwaj.
When one talks about vehicle safety, the Global NCAP rating has been for long considered an international benchmark to provide the vehicle safety ranking. Indian automakers too have started focussing on making their vehicles comply with the global benchmarks, which has resulted in some popular passenger vehicles like the Mahindra XUV300, Tata Altroz and Tata Nexon bagging a coveted 5-star GNCAP rating.
Speaking on growing demand by OEMs to attain the five-star GNCAP rating, "It is changing on a daily basis. They have old platforms for which they will have to manage with the current ratings that they have but it is significantly rapidly changing; because of the move towards e-vehicles they have no option but to comply with Global NCAP. Even the GNCAP is now getting slightly modified. In fact, earlier the GNCAP crash test was done on a stationary vehicle; now they conduct it on a moving vehicle at a speed of 65kph. In the past, it was just a stationary unit and hit by a moving object at 50kph speed. We see there is a greater interest and pretty much that's the work that we get. Everyone is interested to get this towards the latest GNCAP, at least for their 2023 platforms," signs off an optimistic Bharadwaj.
This feauture was first published in the October 1, 2020 issue of Autocar Professional.
RELATED ARTICLES