Fixcraft bullish on standardised aftermarket body repair in India
Gurgaon-based start-up looks to tap  growth opportunity in qualitative body shop services in the aftermarket.
Fixcraft founder and CEO Vivek Sharma: "The initial response has been really amazing."
Trained bodyshop technicians work inside paint booths sourced from Wurth and Precision to deliver top-notch quality and workmanship.
Fixcraft also offers car detailing and interior deep-cleaning services that are usually availed by customers after bodyshop repairs.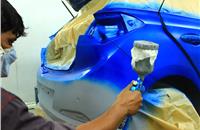 It was October 2018 when Fixcraft – an automotive aftermarket repair brand – which currently has outlets in Gurgaon (Haryana) and Sahibabad (Uttar Pradesh), both coming in the National Capital Region, was set up by Vivek Sharma, Abhishek Goyal and Inderjeet Rao.
The young start-up has a single motive – solve the existing problem and offer a five-star experience to customers looking for repair jobs for their vehicles in the aftermarket.
While the opportunity is big, it isn't quite as easy owing to the sharpened focus on quality and transparency by established OEMs on one hand, and the scores of trustworthy and pocket-friendlygarages and workshops operational in the open market on the other.
Still, Fixcraft, which was bootstrapped for the initial years, and is now in pre-talks for its Series A round of raising up to US$ 5 million (Rs 35 crore) in capital, has been able to scale up from its maiden workshop in Gurgaon, and has further plans to expand and become operational in Hyderabad laterthis year in May.
Moreover, the start-up is betting big on the demand and growth potential,and is investing into 'adopting a 'Walmart-style' concept and opening up life-size workshops usually spread over 20,000 square feet, and capable of turning around up to 700 cars every month. And, this is just talking about body and paint repair on cars and SUVs.
"There were very few players who were ready to get their hands dirty and on top of that, there was no nationalised aftermarket brand present in India that could take care of people's denting and paint-repair needs. We clearly spotted this gap and that was the birth of Fixcraft," says the founder and CEO Vivek Sharma, who is an IIM-B 2012 alumnus and has prior experience of handling operations at start-ups like Snapdeal and Droom.
With these giant workshops that are equipped with high-end paint booths and paint-mixing systems from reputable brands like Wurth and Precision, the company is looking to leverage economies of scale to realise profits with its up to 30 percent lower repair costs compared to authorised-OEM workshops, while still ensuring top-notch quality.
"For a new player like us to come in, and ask customers to send their cars to us, we needed to drop the prices significantly. This made a lot more business sense to leverage economies of scale. It's more of a warehouse kind-of setup by design with no compromises on quality," says Sharma.
While the scope of work was initially very broad and Fixcraft wanted to offer preventive maintenance, collision repair and services like vehicle detailing and interior deep cleaning as well, "We wanted to offer services where we could objectify the output and standardise the process. So, we figured out that body repair is much more tangible to build our brand, and slowly venture into other areas like AC system repair and preventive vehicle maintenance," he adds.
Sourcing the right talent
A repair job that deals with the very aesthetics of a customer's priced possession ought to be done in the most meticulous manner, and to ensure that, Fixcraft claims that it has sourced the right people from the market and is training them right.
"We have a all-India tie-up with Glasurit (BASF brand) for our entire paint supplies, and they also help us in training our manpower in terms of understanding the different nuances of the paint process like surface preparation, dent removal among others," Sharma says.
"We are also already in talks with some vocational institutes and ITIs, as well as partnering in certain initiatives under the Skill India programme in order to start building a funnel of skilled people and make them market ready to be able to offer more services, and also expand to more cities in the future," he adds.
The company claims to be also changing the status quo and keeping its workforce happy by offering payouts above than the sub-par market standards for such high-precision jobs, as well taking care of their health insurance.
Customer response
While the strategy does looks promising, it would be crucial to understand how well has Fixcraft fared in the market over the last two-and-a-half years?
"The initial response has been really amazing. We have achieved the fundamentals of ensuring a good-quality output and are serving customers right from owning a Maruti Suzuki Esteem to a BMW Z4. So, we are touching the two extremes of the spectrum in that sense."
"Butwe haven't been able to make a dent in the premium car space, as much as we would have wanted to. We are trying to understand the customer psyche and trying to solve this problem," Sharma admits, emphasising on the fact that the value-for-money quotient for aftermarket repair only improves while moving up vehicle class order.
With having a complete cashless facility owing to its tie-up with majority of general insurance providers, Fixcraft also has huge customer footfalls availing repair against insurance claims. However, a substantial number of new car owners also come in, wherein these customers prefer getting minor repairs done from their pockets in order to protect the no-claim bonus on their policies, and this is where the company is able to lure them in for its higher quality standards, as well as lower prices.
Sharma also admits that of late, there have been pushbacks in terms of delayed deliveries because of the supply chain issues due to Covid-19, but they are currently being streamlined. On the other hand, trust and transparency is being given precedence by adopting technology.
"We are a tech-first company, so everything happening at the workshop can be monitored remotely by the customer. We are also working towards a step-by-step process update mechanism and share it with the customer right on his mobile device. We want to offer that transparency to our customers," Sharma tells.
Future roadmap
Fixcraft says it is profitable even with servicing 30 percent volumes of its current installed capacity at the two workshops, and is not aggressively pushing for more profits like any other hypergrowth start-up.
The sourcing and delivery of partsfor replacement also aids to its operational efficiency as it done on a just-in-time basis from key OEM distributors in the local markets, based on the repair demand. While part replacement also springs an opportunity to enhance margins by around 10 percent, the current focus lies on offering the best service and quality.
"We take a lot of pride in building a superior customer experience and are trying to capitalise on that. While very comfortable in our current position, we are not laid back either. We have an eye to scale up like no other local player has been able to do so in this space," Sharma shares the company's long-term vision.
"We will start with the ground work for setting up the Hyderabad workshop in April, and by end of this year (CY2021), we plan to enter 5-6 more cities and could perhaps look at a franchise model as well," he concludes.
RELATED ARTICLES