Display Audio: bridging automotive and consumer electronics
Display audio technologies enable smartphone integration to different display units inside a vehicle that can be a head unit, centre stack, rear seat entertainment units or passenger display.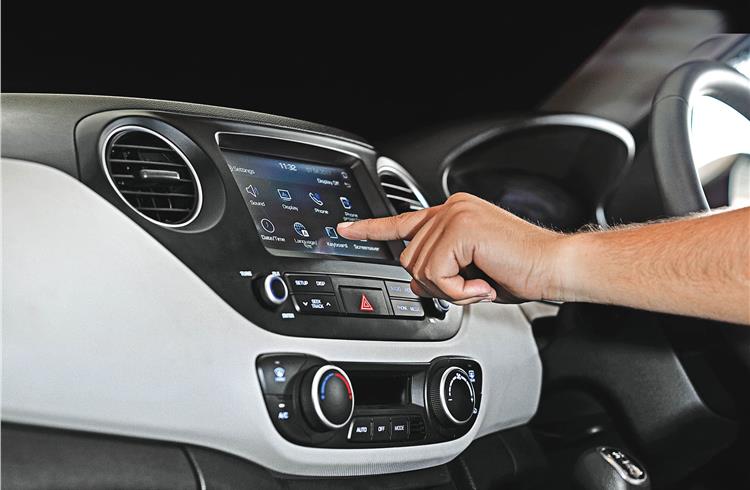 Automobiles are becoming like consumer devices with vehicle owners expecting seamless connectivity and continuity between different devices. In order to meet this requirement, OEMs are leveraging smartphone and wearable devices that enable connectivity when one moves between home, office, and vehicle. Here, the short-range communication technologies used in the consumer electronics world become significant in enhancing the digital lifestyle inside a car.
Display audio technologies are either wired or wireless short-range communication technologies that help in transmitting both video and audio to a display unit or vehicle dashboard. This type of technology enables smartphone integration to different display units inside a vehicle that can be a head unit or centre stack, rear seat entertainment units, and passenger display.
In-vehicle communication technologies like Bluetooth and Bluetooth Low Energy for hands-free vehicle access, phone book access, and music streaming have been present for a while now. Smartphone mirroring techniques to project smartphone screen to dashboard thus enabling access to smartphone applications such as navigation, multimedia and telephony are becoming popular due to additional safety and security features provided by these technologies.
According to a forecast published by IHS Markit, Display Audio infotainment system will reach 25.4 million in 2020 worldwide; that is more than in-vehicle navigation system shipments. Smartphone integration has become the most important and desirable feature in in-vehicle Infotainment systems as per Global Trends Report 2017 on 'The Electric Car Revolution' by Prime Research.
The table below shows a comparison of different smartphone integration technologies in the market:
As the above table illustrates, there is no standard technology that can satisfy all requirements, hence automotive OEMs are using a combination of technologies i.e. Android Auto and CarPlay to cooperate with Google (Android) and Apple (iOS), who together have more than 99% global market share for smartphones (operating systems). Some OEMs have tried SDL like Ford Applink and cloud-based smartphone connectivity solutions such as OpenCar that overcomes some disadvantages like loss of brand differentiation and third-party application restrictions. These, though, have not seen huge success primarily due to a high product development effort.
Display audio technologies provide more smartphone like in-vehicle experience, while reducing driver distraction, as compared to Bluetooth supported head units. With Artificial Intelligence and newer method of vehicle interactions, there are limitless applications that we can achieve using these technologies.
Sasken has been working as an in-vehicle connectivity partner with automotive Tier 1s to bring the aforementioned technologies to cars and enable vehicle-to-sensor use-cases. Sasken has also licensed firmware and middleware IPs for connectivity to various Tier 1s and has developed an LTE based on board diagnostic dongle with BLE and Wi-Fi hotspot capability partnering with a Tier-1 for in-vehicle connectivity.


About the author
Debashis Panigrahi is a specialist (Telematics and V2X), Automotive Portfolio, at Sasken Technologies.
RELATED ARTICLES